Have you heard of the Virtual Row House? Demonstration experiment of a 90+ year old row house x virtual reality
2023.03.20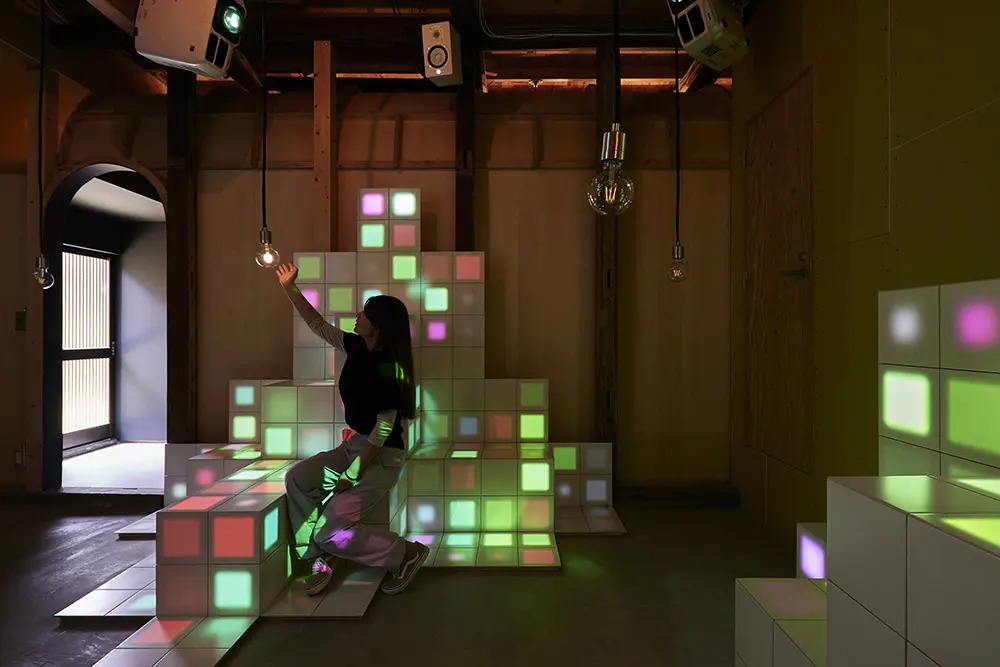 Hello everyone, this is Mayo from GP.
AR, virtual, metaverse, etc. With the sci-fi world on our doorstep these days, I have found yet another interesting news. The name of it is "virtual row house".
What is happening in this miracle of mixing the austere row house with the virtual world? This time, we would like to talk about "XR HOUSE Kitashinagawa Nagaya 1930," a fusion of a 90-year-old row house in Kitashinagawa and cutting-edge digital technology!
XR HOUSE Kitashinagawa Nagaya 1930
First, let's start with an overview of the XR HOUSE Kitashinagawa Nagaya 1930. To quickly explain, this is a large-scale project to renovate a 90-year-old tenement building in Kitashinagawa by introducing cutting-edge digital technology. This cutting-edge technology is called "XR technology," which is a generic term for a range of technologies that combine reality and virtuality, including augmented reality (AR), virtual reality (VR), and mixed reality (MR).
So, what kind of new experience can we experience in this row house? An experience as if the house has a personality. The house reacts with sound and light in response to the movements of people, as if the house itself has a personality of its own. By combining the building structure and digital technology, the project "XR HOUSE Kitashinagawa Nagaya 1930" aims to create an unrealistic virtual experience in the house we live in. Isn't that exciting!
A joint project by three major companies
This project is a joint venture between "Daiwa House Industry", "NAMCO BANDAI LABORATORY" and "noiz". Daiwa House Industry is in charge of the planning structure of each floor and providing knowledge about the building, noiz is in charge of the approach from the entrance and the first floor, and NAMCO BANDAI LABORATORY is in charge of the second floor in terms of digital technology planning. You can tell from the names of the participating companies alone that this is a large-scale challenge.
What were they looking at in the demonstration?
Now, I first introduced this project as a demonstration experiment. When you hear the word "experiment," naturally you wonder what's being verified.
The value of a building includes its legal value (land value), financial value (collateral value), real estate transaction value (commodity value), and usage value (living value). The value of a new building declines steadily from the time it is built. This is the point of this verification experiment.
In this verification experiment, digital technology and entertainment technology were incorporated into a building that had been constructed several decades ago, in order to verify how users would feel about "usage value (living value)" through the experience. The concept of "living value" is new to the ear.
What's in the Virtual Row House? What's new?
Now, from here on out, I will show you what the contents of this virtual row house are like. By the way, this tenement is not open to the public.
SHINAGAWA 1930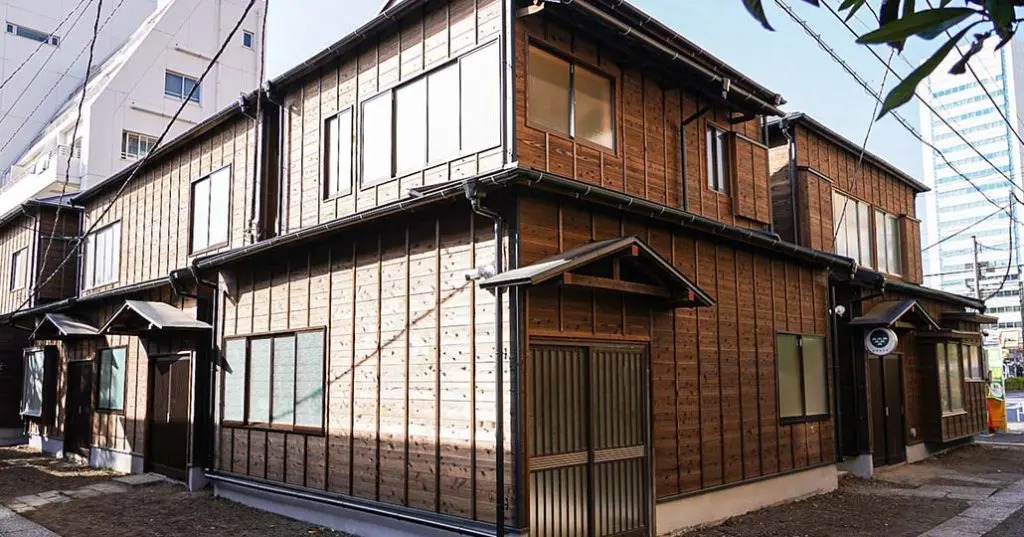 The location is "SHINAGAWA 1930". It is said that the reason why there are few old historical buildings in Shinagawa is because of the air raids during World War II. Since its opening in 2020, it has been gaining popularity as a cultural facility, and with several stores, it is a wonderful combination of history and trends. This project was conducted in one of the buildings of "SHINAGAWA 1930", which was renovated as an experimental facility for verification.
First floor: A space where the house and people communicate with each other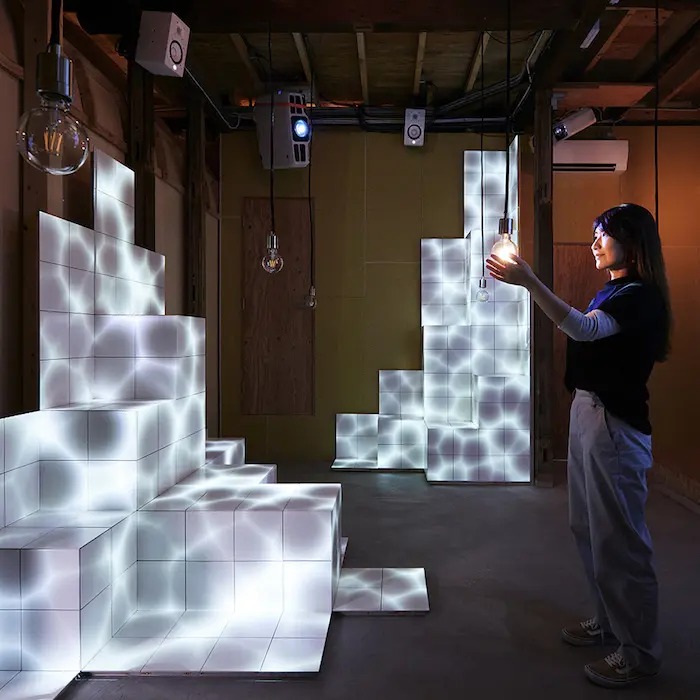 When you enter the first floor, you will find a mysterious space where the house reacts to your movements with sound and light; when you touch a hanging light bulb with a built-in G-sensor, the design of the furniture around it moves and changes. This may sound like a bit of a stunt, but what is amazing is that the house understands the location of the person, rather than the equipment being turned on by a human being.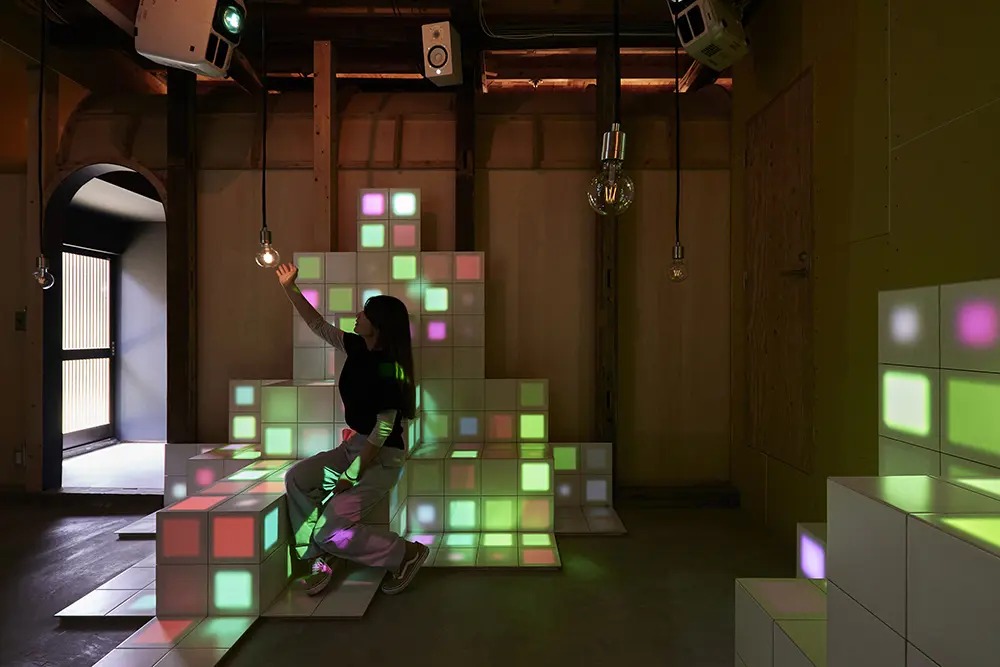 The design of the area where one sits on the floor changes according to the multiple projectors. This experiment is a departure from the conventional, obvious concept of "people living in a space called a house," to a design in which the house communicates with people, and the house changes as if it has its own personality.
2nd floor: Interface that lowers the barrier between the everyday and the virtual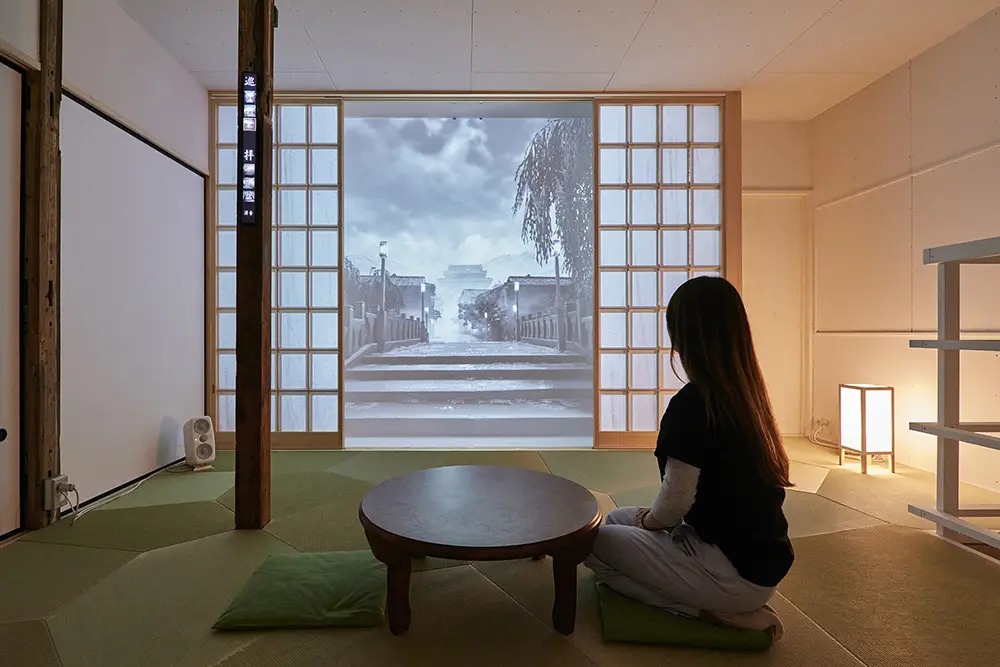 The second floor is a space that aims to create a symbiosis between the real and virtual worlds by incorporating the digital domain into the "everyday" space. As virtual forces such as VR and AR dominate the entertainment world, the future is just around the corner where virtual experiences in the real world will also become indispensable.
The second floor, created with this idea in mind, focuses on an interface that lowers the barrier between the everyday and the virtual. The fusuma (sliding doors), shoji (paper sliding doors), and tatami (tatami mats) found in Japanese-style rooms have been augmented with digital expressions that permeate everyday life, which are different from digital games.
For example, when you open the shoji at the back of the room, a monochrome outdoor space appears, as if you are peering into the virtual world from "everyday life".
The effect of the three-dimensional acoustics allows visitors to enjoy an open space that seems to be connected to the outside behind the shoji screens. Furthermore, when the "fusuma" sliding doors, which create a closed space, are opened, an indoor space opens up.
Like the shoji space, this new experience allows visitors to enjoy a calming time coupled with high quality ambient sound. In addition, by incorporating LED technology into the "Voronoi Tatami" designed by noiz, it is also possible to create a highly flexible presentation in line with the content.
The project's background was a sense of "zeitgeist"
This is a new approach to this demonstration experiment that has never been done before, but there was a reason behind its development that is unique to this time. Yes, the Covid Pandemic.
Daiwa House Industry had been thinking about how to respond to the DX problem caused by the pandemic and the problem of vacant houses as one of the issues to be addressed. Then, Keisuke Toyoda of noiz, an architect with deep knowledge of digital technology, proposed the idea of incorporating an entertainment perspective into "future living". He then held a workshop with Bandai Namco Research Institute, which has a track record of joint research with noiz and is involved in the research and development of "XR technology," and as a result, a joint project was launched by the three companies.
Daiwa House Industry and noiz, which specialize in architecture, are trying to find ways to incorporate digital technology and entertainment into real spaces, while NAMCO BANDAI Labs, which is strong in entertainment, is trying to find ways to incorporate digital technology into real spaces. This is how the project "XR HOUSE Kitashinagawa Nagaya 1930" was launched.
This is a groundbreaking virtual value-added creation that has never been done before. It is a very interesting concept. I'm sure that it's only a matter of time before these technologies become indispensable for event spaces. It will be exciting to see what these three companies will do after the demonstration experiment is over. So, what did you think of the "XR HOUSE Kitashinagawa Nagaya 1930," a project that also crosses over into the entertainment world? Keep your eyes on this project team! See you again soon!