Staying alert and safe: The coolest social distancing ideas in the world.
2020.07.06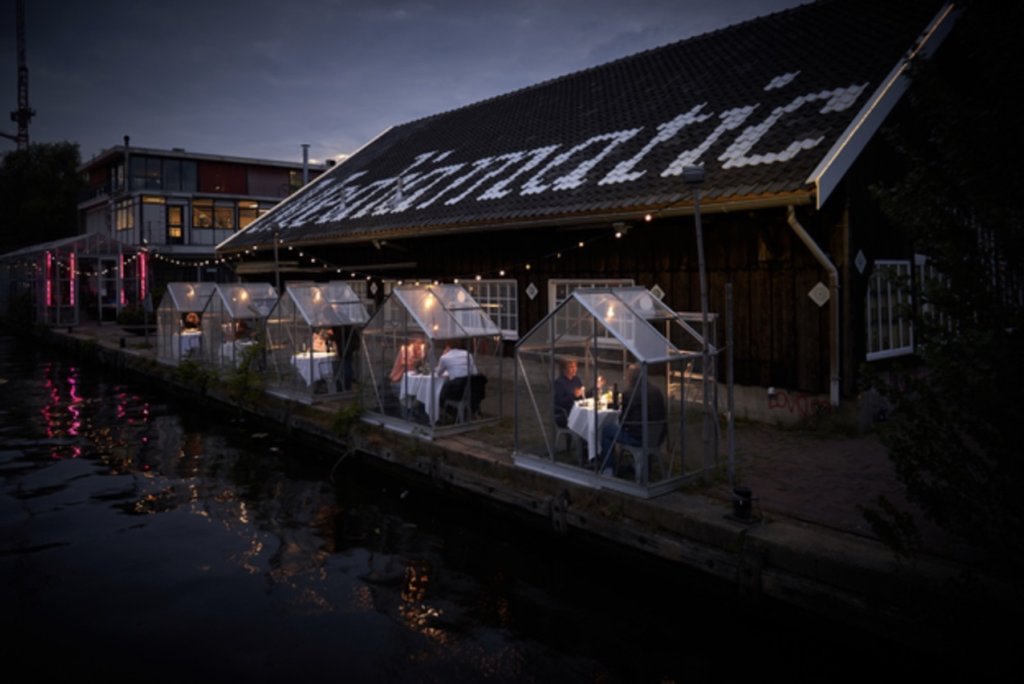 Photo: Mediamatic official website
Hello everyone, this is Miyanaga. If you look around you, the world is gradually regaining the energy it had before the state of emergency was declared…
But, I am wondering that "Is it okay that there are so many people out there? ".
But I understand the desire to go out.
In that situation, the key is social distancing. So, here are some tips for having fun while keeping social distancing intact!
Unique social distancing ideas from around the world
I've done a lot of research this time! As an event planner, I'm inspired by a lot of fashionable ideas! Ta. Let's check it out right away!
a romantic restaurant with a greenhouse as a private room (Netherlands)
First, let me introduce you to an idea from the Netherlands, where mitigation policies began to be implemented in earnest in early May. While restaurants are now allowed to open, it's not comfortable to eat at a distance from your surroundings! The idea for the seat was born.
Here's an idea that was born.
This idea was put into practice by the restaurant Mediamatic. They turned it into a private dining room with a small greenhouse in between. Very romantic! Nothing beats the luxury of a leisurely meal with a view of the Amsterdam canals.
Stylish box seats on the beach (Italy)
This one was conceived by Rome based designer Umberto Menasci This is a design idea that was published in Its name is SAFE BEACH.
A box is set up which is separated by a clear panel.
It is a little bit different from the conventional open beach, but it is finished with a stylish design that makes you want to use it.
It's an attractive world that has never been seen before. It's a world of charm that, if realized, will make the trendy crowd want to be the first to go.
Social distancing by an elegant table set (France)
France, which has produced many modern and stylish interior designers, is not to be outdone.
They took advantage of the social distancing to create interiors.
Christophe Gernigon designed this interior.
Wow, it's fashionable!
This makes me suspicious that this was created to preserve social distancing. The design is as refined as it is sophisticated. How elegant, as expected of France. This will not only be used in high class restaurants, but will also add color to a room after the coronavirus has ended. It's going to be a great addition to your life.
A futuristic helmet. (Germany)
For us Japanese, we are used to wearing masks and we don't have any trouble with it.
However, when we conduct surveys overseas, the majority of respondents say they don't want to wear a mask.
Two artists from Berlin proposed an alternative to masks for such people. It is. They've created a transparent helmet.
This futuristic plastic sphere of a helmet expands when air is added. Two transparent hollow halves are attached to each other to make holes in the shape of the head.
It takes about 30 minutes to make, but the cost of the materials is about 24 euros, which is quite reasonable.
I think that even people who don't like masks can use them without any worries.
You can take a walk in peace! Strange Labyrinth (Austria)

From Austria, where fables abound, here's a labyrinth that looks like it came out of a fairy tale.
Austria-based design firm Studio Precht has unveiled a maze in a vacant lot in the city of Vienna.
It's called "Parc de la Distance" and it's the perfect maze. Only one person can enter the fruit tree lane and it takes about 20 minutes to get out. In this maze, you can go for a walk without worrying about a virus. Just might have to be careful not to get lost in this magical world!
Enjoy social distancing through street art (France)

Street art that makes adults and children want to stop and admire it. The Paris-based design office 5.5 has been working on social distancing. The project's name is "Mairie de Paris".ートに展開しています。その名も「Mairie de Paris」。
These waves look like the hollow of your foot, and don't you want to put your own foot in it?
The city's motto, "fluctuat nec mergitur!" which means "it is tossed by the waves but does not sink" is written on the street.
Paris was the place where democracy originated after a fierce history, and it seems to inspire the fighting spirit to overcome this crisis with their spirit as well.
Screen on the wall, turn your house into a movie theater! (Germany)

In Berlin, Germany, an initiative is underway to show films on the walls of buildings as a screen I am. The project is called "Window Flicks," and when the sky gets darker, they put a projector on the wall. And, the film is shown to the audience.
Residents are watching the movie through the window or on the terrace with a beer in hand. In a time when people are afraid to go out, it's going to be a fun way to spend their days.
You have to be far away to read the newspaper ads (Finland)

Social distancing is said to be about two meters, but you may not know how far away 'two meters'.
A newspaper ad that solves that question is a hot topic in Finland. HOK-Elanto", a cooperative, took out an ad in the newspaper that at first glance looks like it doesn't say anything at all.
But if you follow the ad's hint to "keep your distance to read it" and step back a bit… …my goodness! The words emerged.
It says, "KEEP IT SAFE. FROM A DISTANCE. That's right, there's a hidden message telling us to keep this much distance for safety! Right. Well done!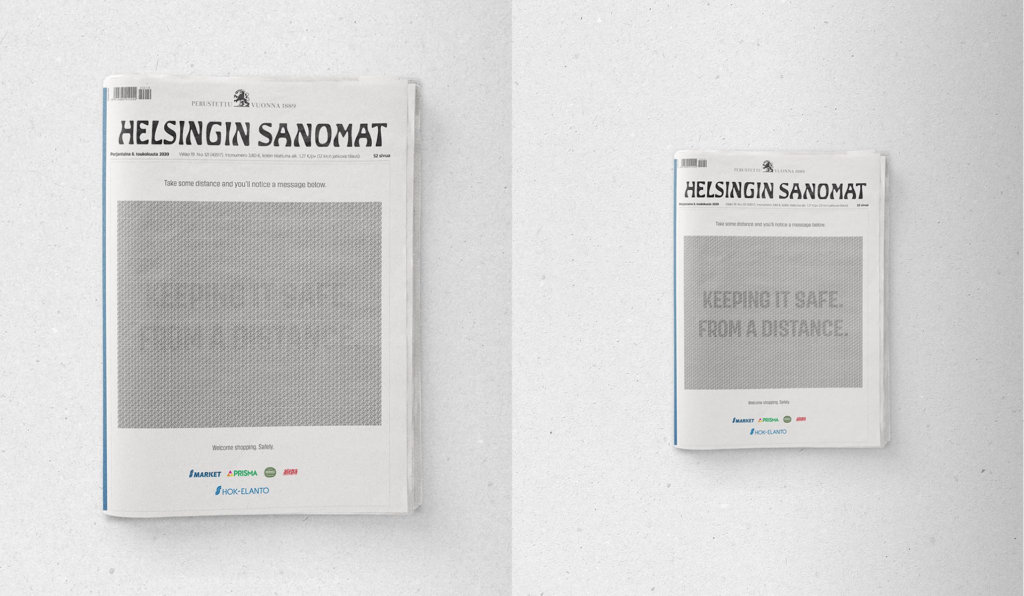 Photo: Joni Furstenborg official site
The mannequins have been turned into ads! (Japan)

Of course, there is also a great example in Japan.
The Social Distancing Mannequin Project was set up to help the food and beverage and fashion industries, which were in serious trouble due to the spread of COVID-19.
Eight mannequins are seated at "The Pig & The Lady" restaurant. By seating the mannequins, you are able to create a natural distance between the mannequins.
In addition, the mannequins are wearing products from the boutique Beams, which also serves as an advertisement for the apparel.
This is a unique idea to protect the social distancing of visitors, advertise products, and even brighten the mood of the store.

What did you think? As the world battles COVID-19, the creators of We're trying to come up with ideas and get our lives back together.
In a pinch, you'll come up with new and innovative ideas that have never been seen before.
It would be fun to explore the ideas from around the world and create an event that can only be done now!