You can hold events even there is a coronavirus?! "LIVE CONVENTION"
2020.02.25
Impossible to hold company events because of COVID-19! But we have something to tell!
Must check! for a person in charge of corporate events
Global Produce Co., Ltd. will launch "LIVE CONVENTION," a studio recording and virtual space event that can be held from 20 February (⽉) to March 2020, exclusively for 20 companies.
We have produced many types of events held by companies.
In-house events held by companies include annual presentations from management and annual commendations that affect employee development and motivation. These are important events.
These in-house events will move people with a special feeling. The effect is far beyond expectations.
But these days, many companies have been forced to cancel part in in-house events due to pneumonia caused by the coronavirus. Many managers told us, "I've been thinking and preparing this for one year, and I've also adjusted the schedule of other measures." It was almost screaming.
Even if the coronavirus will be over and the event will possibly be held afterward, it is too late for them. They/we need to tell it NOW, so it is not possible to delay the timing that must be communicated.
Studio recording / Virtual space
"LIVE CONVENTION"
Every day, we have been discussing what we can do as a company specializing in event production in an emergency meeting.
And we were able to provide the service of "LIVE CONVENTION" provided this time.
"LIVE CONVENTION" is a studio recording and virtual space event.
When you hear "digital video distribution", you may have the image of a "teleconference." But our product is different.
With a track record of producing about 110 events annually from planning to operation, our company's LIVE CONVENTION is particular about achieving the effects that are as close to real events as possible even if they are digital.
We have a lot of inquiries about virtual events since February.
The "heart" of the event is planning, so we would like to focus on produce virtual events as same as real events.
We would like to be able to provide it to all customers who are in trouble as much as possible, but this time it will be possible to offer only 20 companies to keep the quality.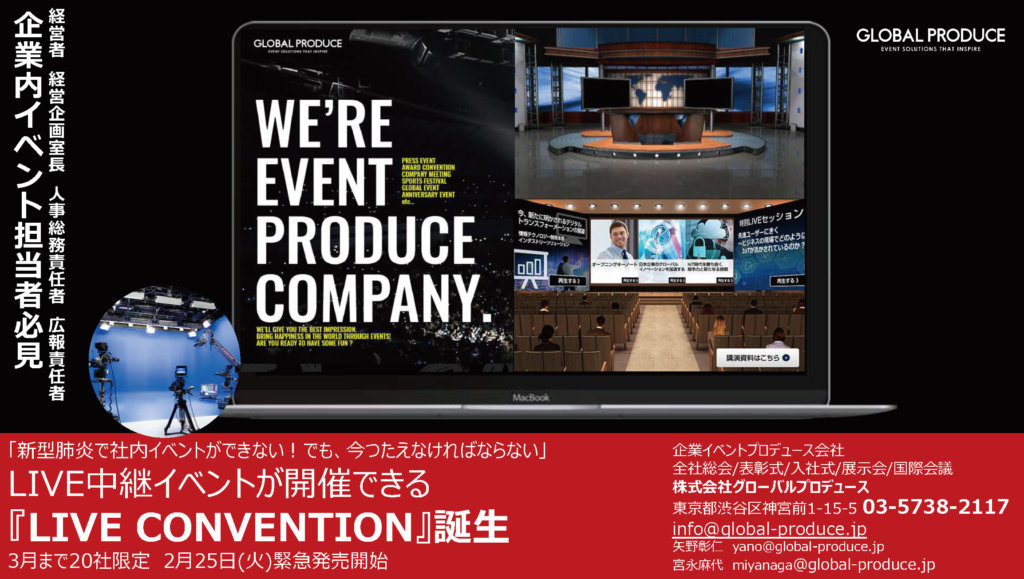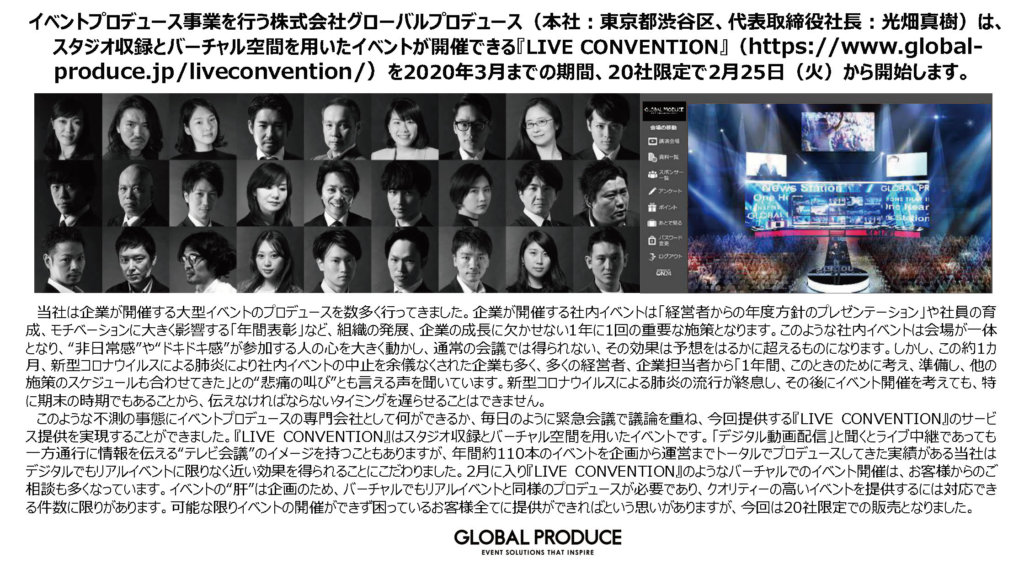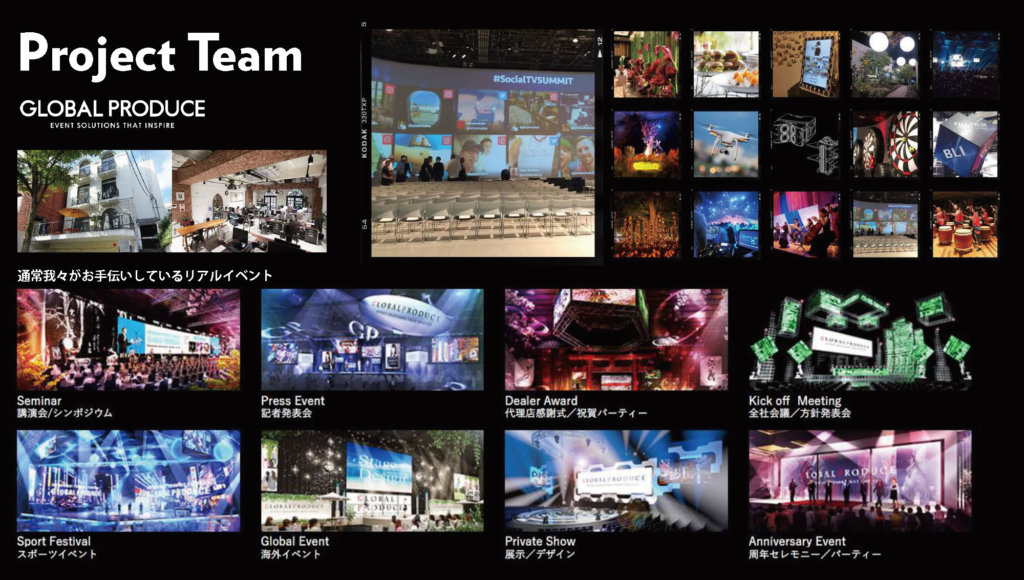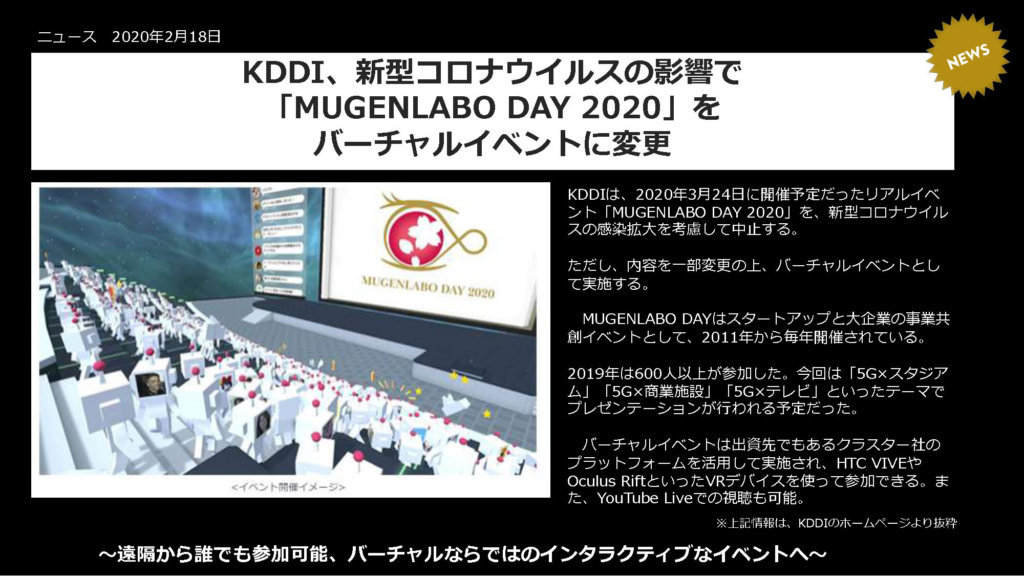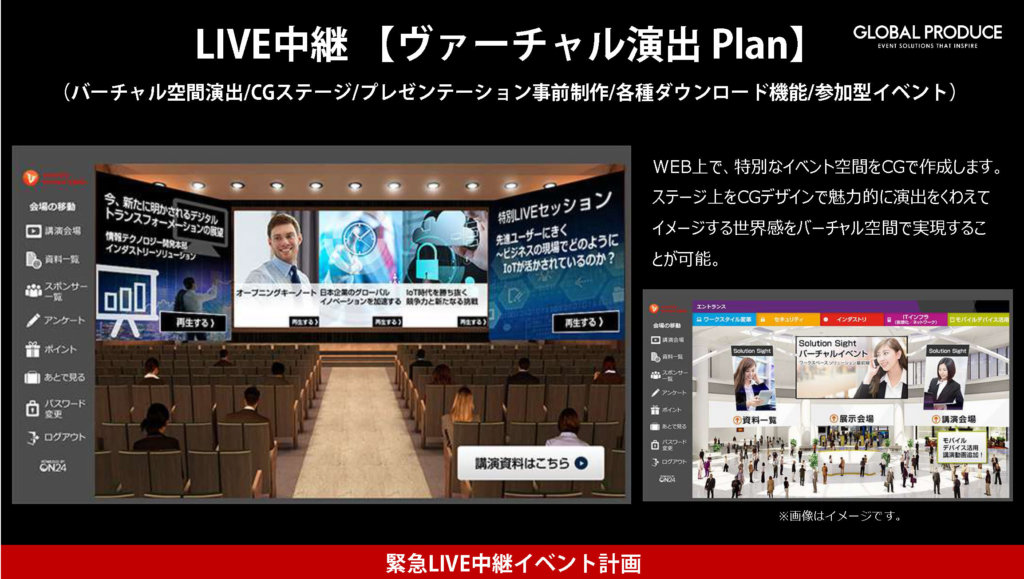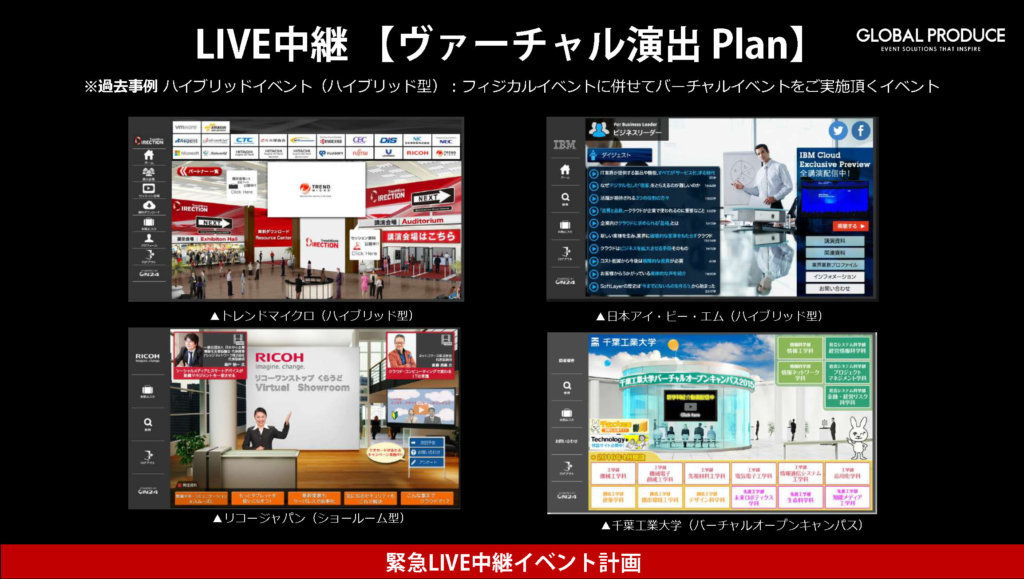 ▷ Click here to download documents
* Up to 20 companies until the end of March
Release on 25th of February
Global Produce Co., Ltd.
1-15-5 Jingumae, Shibuya-ku, Tokyo
TEL: 03-5738-2117
info@global-produce.jp