2021 JAPAN Hybrid Conference! We will show you what a hybrid event is all about!
2022.08.25
Hello! This is Okawa from GP.
We recently held GP's first public hybrid event, "2021 Japan Hybrid Conference (JHC)". Hybrid Event "2021 JAPAN Hybrid Conference (JHC)" for the general public.
We were happy to see a large number of participants both at the venue and online.
We usually produce events for corporations, but JHC was a new challenge for us.
We will show you what kind of event it was, what kind of production was done, and what exactly a hybrid event is about!
What kind of venue did we hold the hybrid event?
The venue was the 3rd floor hall of WITH HARAJUKU, located right in front of Harajuku Station, the first IKEA store to open in the 23 wards of Tokyo, and a new symbol of Harajuku, the fashion center of Tokyo. With great accessibility!
There is a terrace right by the entrance, giving it a great sense of openness (unfortunately, on the day of the event it was raining and we couldn't go out…)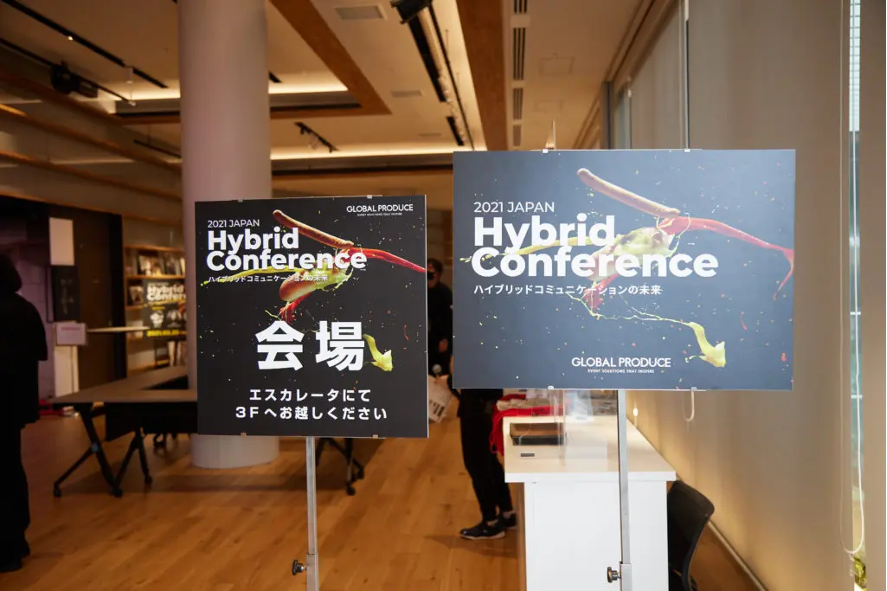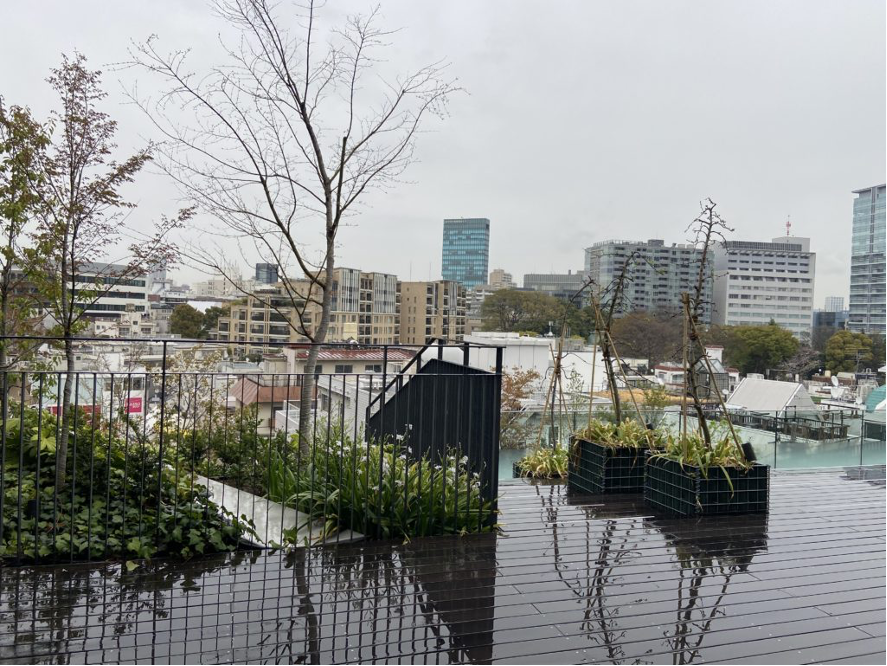 The venue is relatively compact and can fit a little over 50 guests when keeping social distance.
What? Fifty people? That's not that many!
You must think so. It is true that 50 people is quite small for a real event.
But this is a hybrid event.
This time, 50 people attended at the venue, while 2,000 people participated online. That's a 40-fold difference!
This is a hybrid event that allows us to increase the total number of participants while keeping the number of participants at the venue smaller than ever before.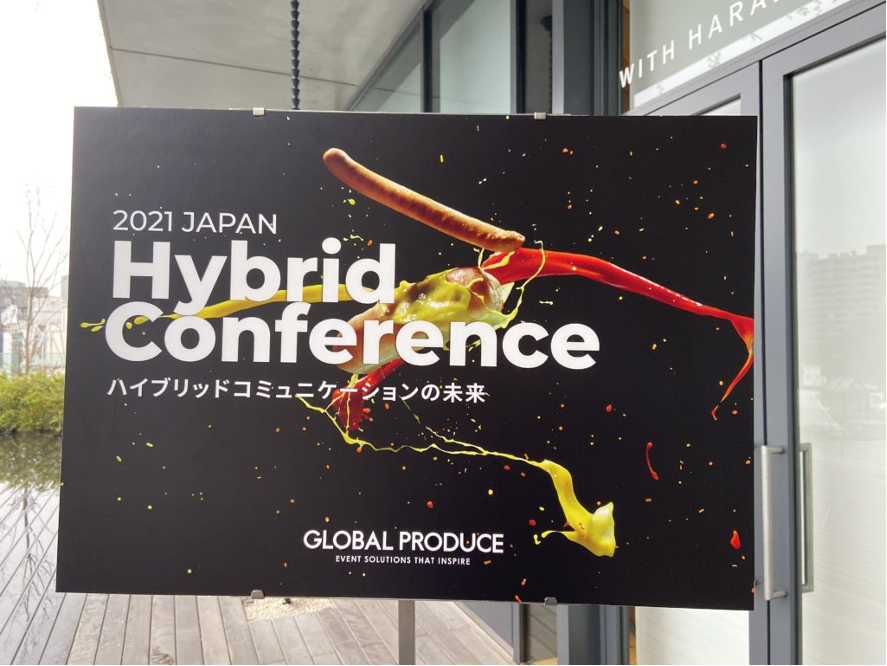 The interior of the venue was designed with natural wood grain in mind. This time, we placed decorations that actually adorn the inside of the GP, making it look as if the GP office was right there in the venue.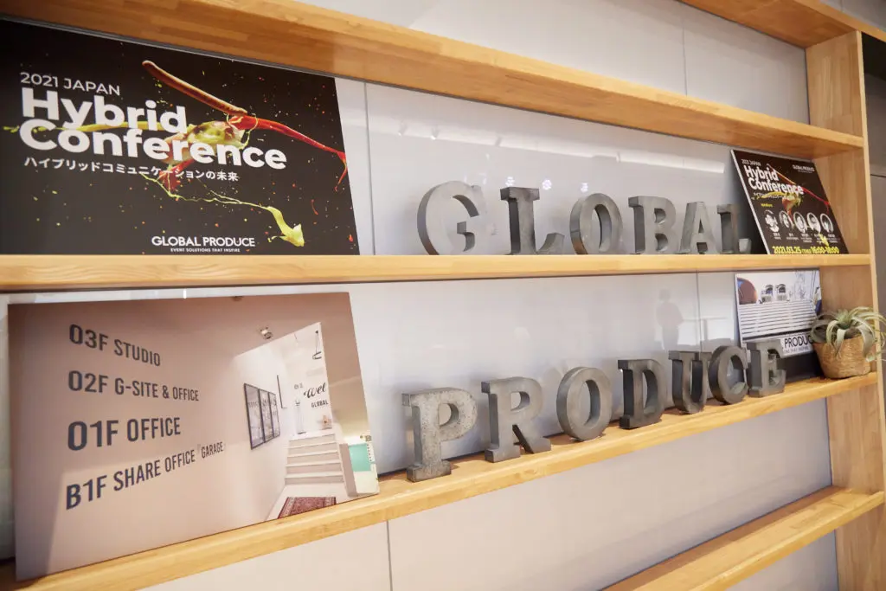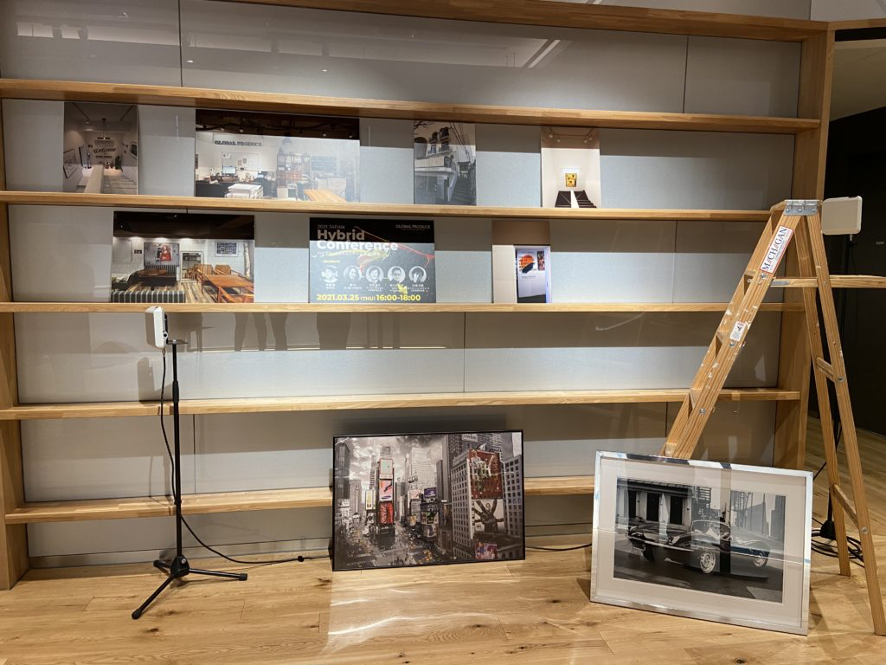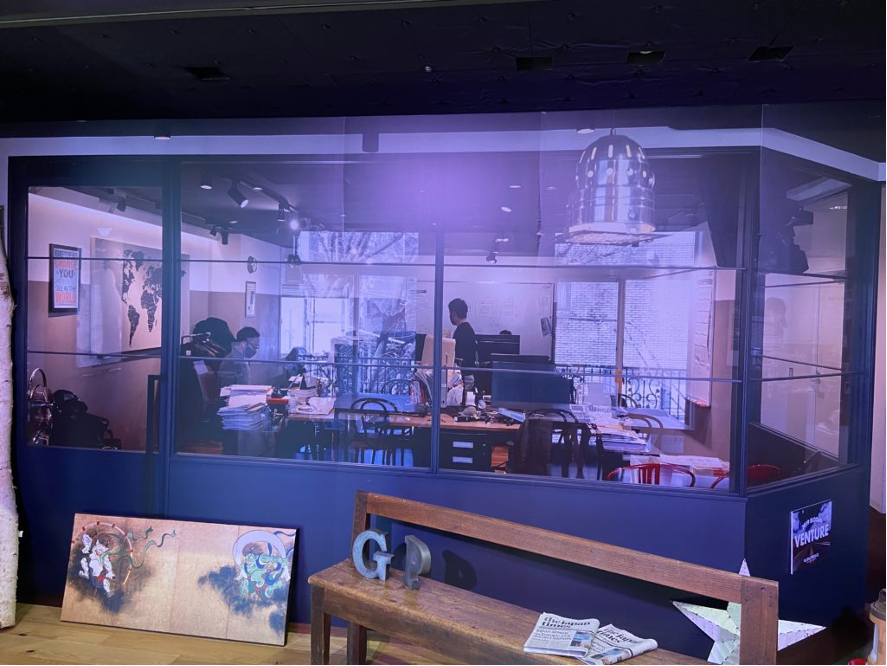 Only at a real venue can you set up gimmicks like this!
Speaking of hospitality that only a real venue can provide, we invited the best barista in Japan, Mr. Takayuki Ishitani, to serve original cocktails and drinks at the counter!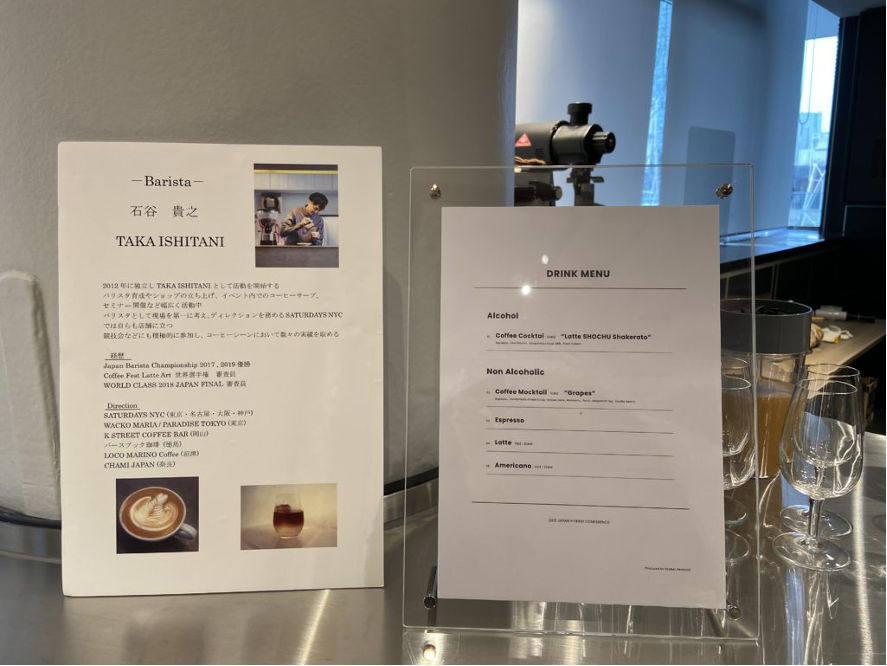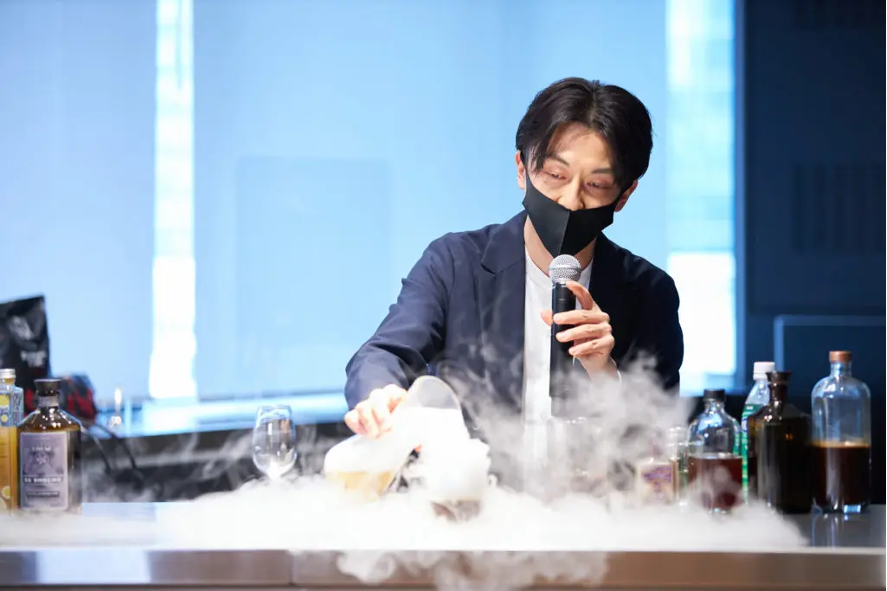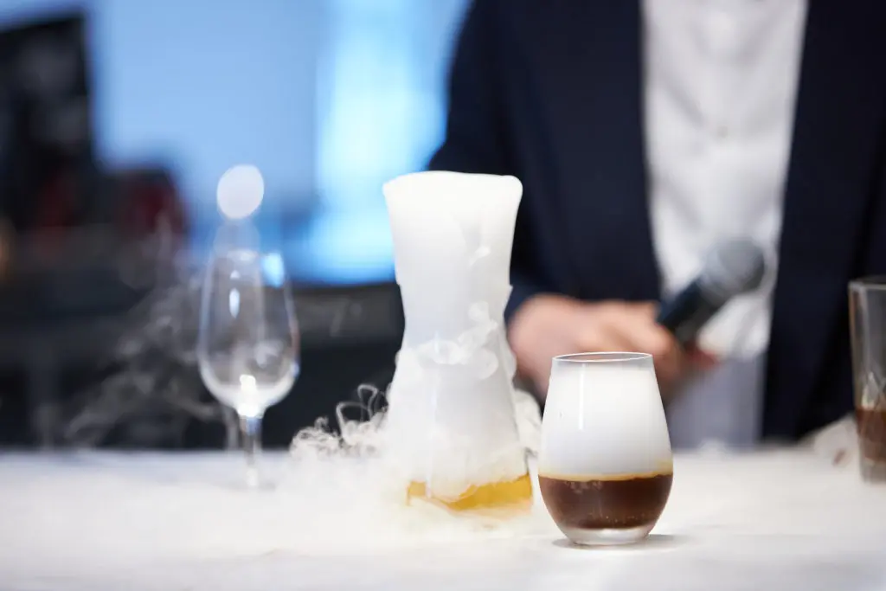 Now, let's take a peek at the actual venue!Since it was just the season of cherry blossoms, the stage was set up with a cherry blossom motif. Since it was a hybrid event, two large screens were set up on the main stage. We decorated them with cherry blossoms.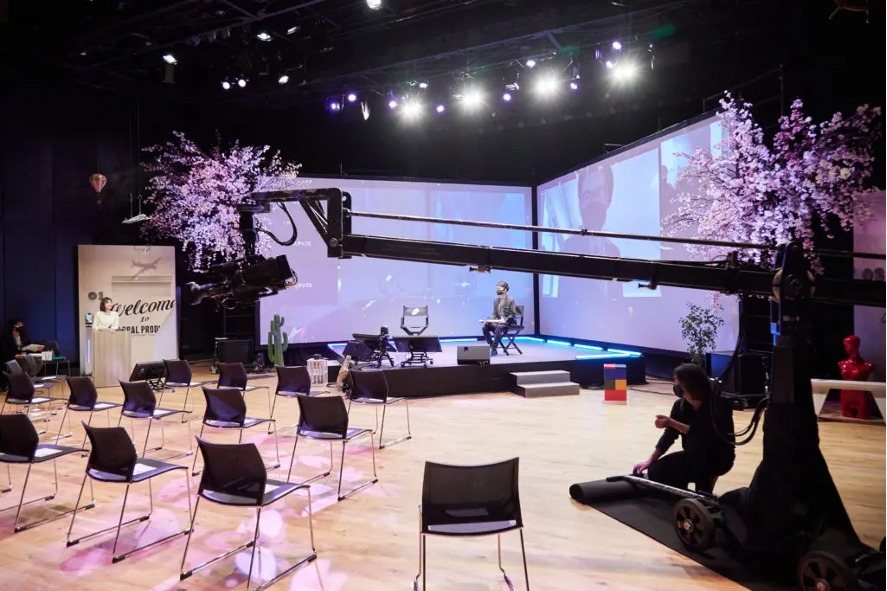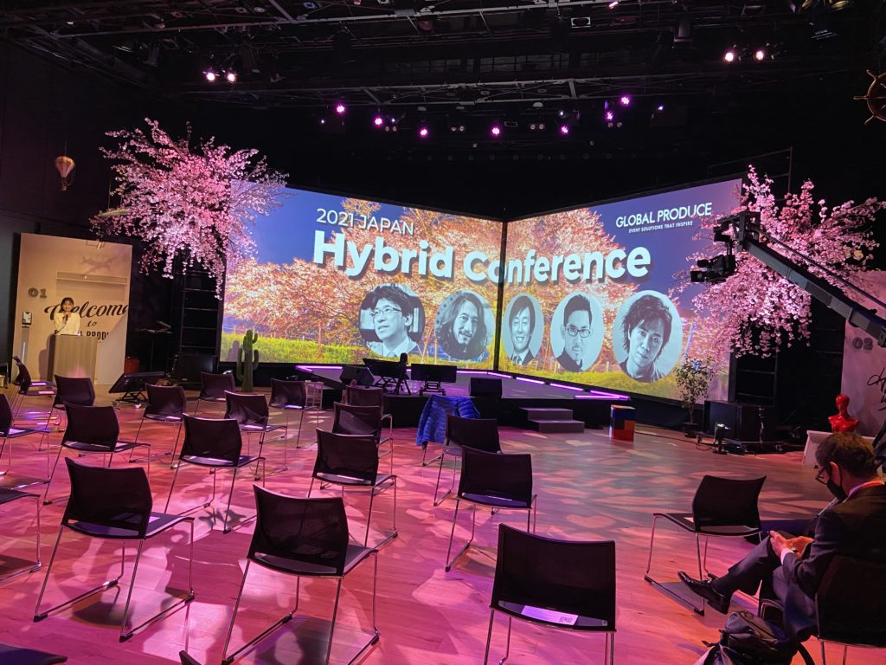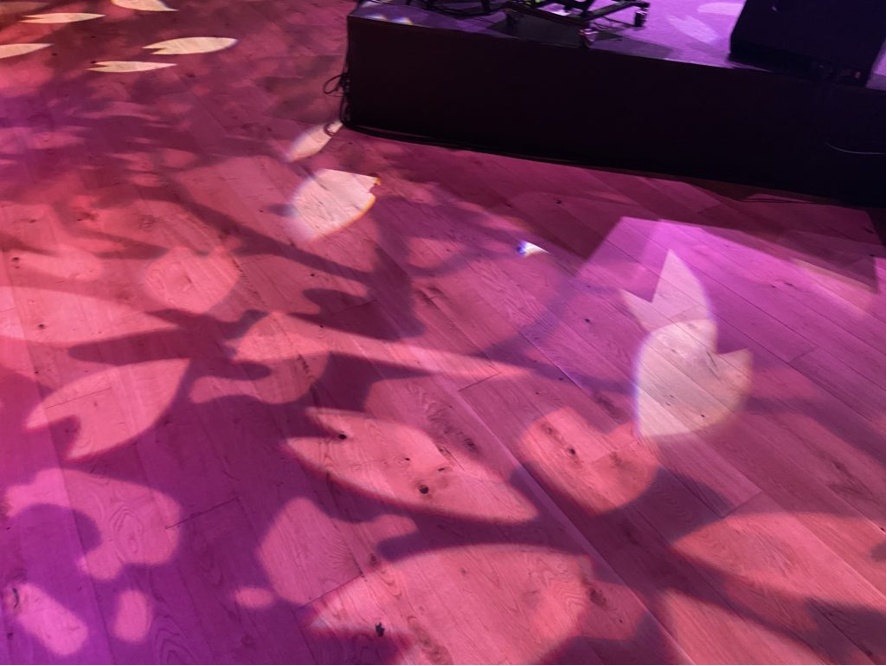 Paintings and photos that usually adorn the GP office will be on display in the venue as well!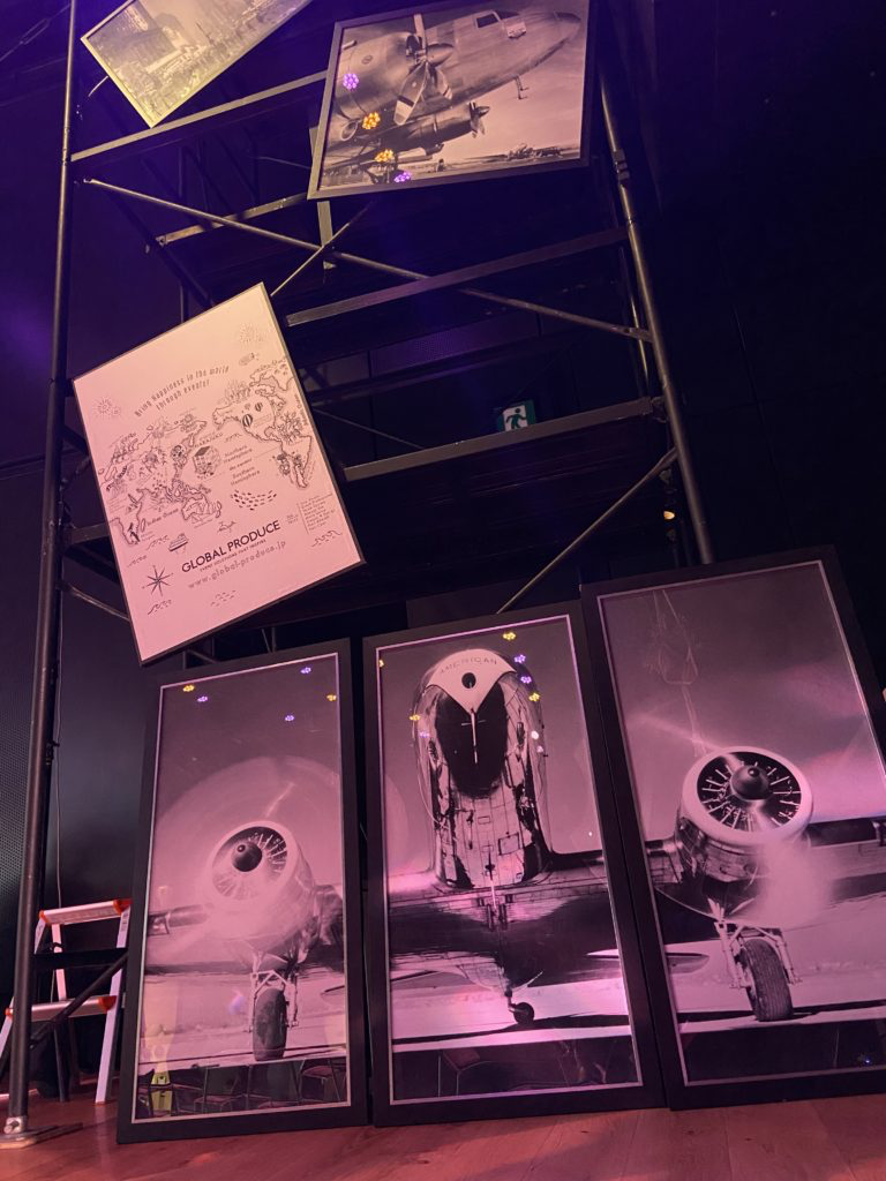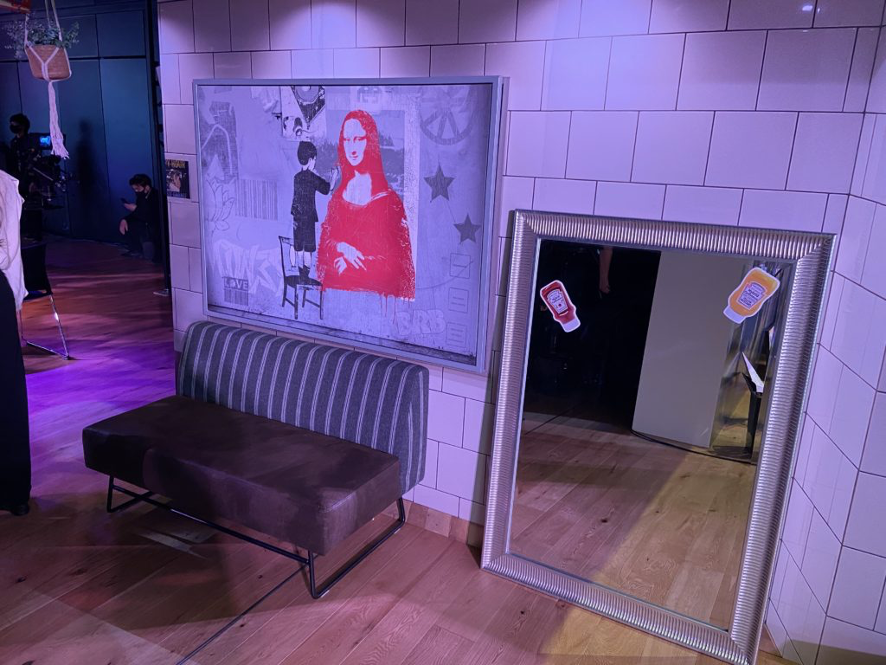 How do you see differently in real life and online?
Now that we have introduced you to the venue, it's time to get down to business.
As I mentioned at the beginning, this is a hybrid event. There will be on-site participants and online participants. The platform for online participation is ZOOM, which you are probably familiar with.
Let's see how the views of each differ, shall we?
First, here is a view of the actual venue.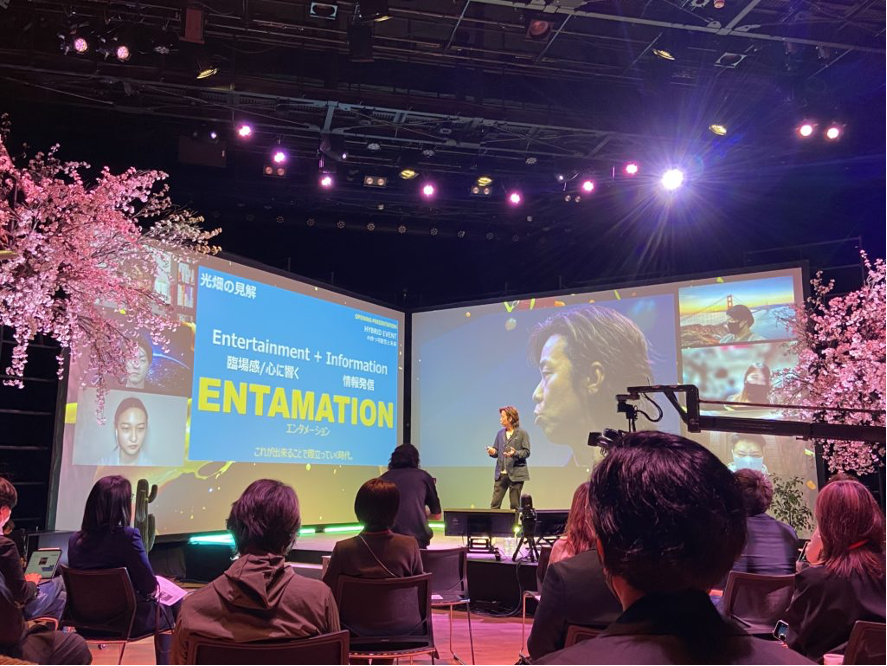 And here is the online (ZOOM) view.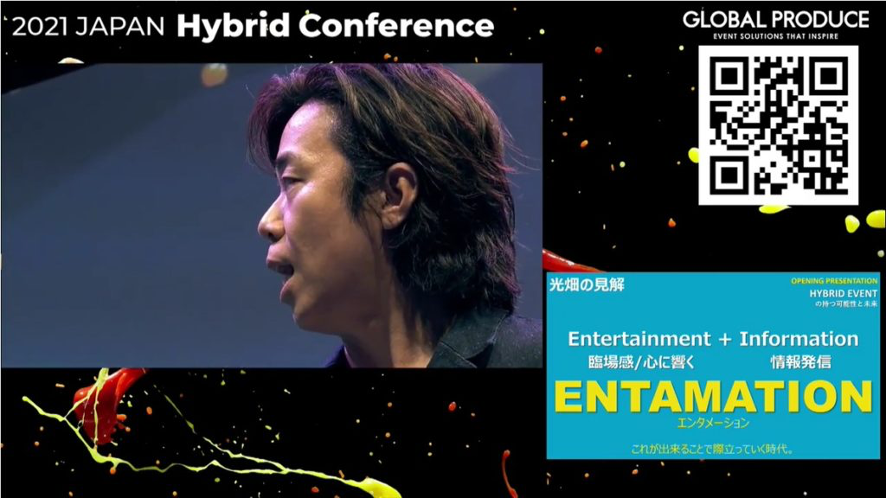 They look quite different.
The venue is set up with two large screens, with slides projected on one side and camera images on the other.
What is even more unique is that each side of the screen displays the "participants in zoom". The reactions of distant participants can be seen at the venue as well.
On the other hand, the online layout has a large camera image and slides in the lower right corner. This not only makes the slides easier to see, but also increases the degree of freedom of camera work and makes it easier to create a stimulating screen.
Hybrid events are all about 'camera work'!
There were many elements that we focused on for this event, such as the stage setup, guests, distribution screens, etc., but what we put the most effort into at was actually the "camerawork".
In order to realize one of the absolute requirements for an online event, "creating a screen that never gets boring", camerawork is an extremely effective means of achieving this.
For example, in the case of a presentation, if a fixed-point camera is used to capture images, the same screen will inevitably be used for a long time. However, it's also not about asking the speaker to make a lot of presentation slides.
Camerawork is the solution to this problem. To demonstrate the effectiveness of camera work, we deployed as many as eight cameras, a much larger number than at any other event GP has handled to date.
Furthermore, instead of simply setting up a fixed point, a crane camera was used to shoot from various directions (up, down, left, right), and sometimes a staff member with a camera would go up on stage to create an image that would never stop, not even for a moment.
What do you think of the fast-changing camerawork, which you would never get tired of even if you watched it in silence? In this case, we intentionally used a lot of movement to emphasize the camera work, so depending on the event, it may be better to use a more subdued approach.
In any case, camera work is very effective in creating a screen that you never get bored of.
Real-time acceptance of questions during the event, full-time question reception using slido
One of the strengths of hybrid events is the ability to exchange opinions interactively with participants in remote locations via the Internet.
In addition to this, the hurdle for asking questions is lowered dramatically when the format is "typed rather than voiced," such as chat rooms, and active questions and opinions are encouraged.
Of course, JHC has also adopted this "interactive" approach.
This time, we used a service called "slido". By clicking on a URL or scanning a QR code, users can instantly access the question screen and post their questions and opinions. Both online and real participants can post questions in the same way.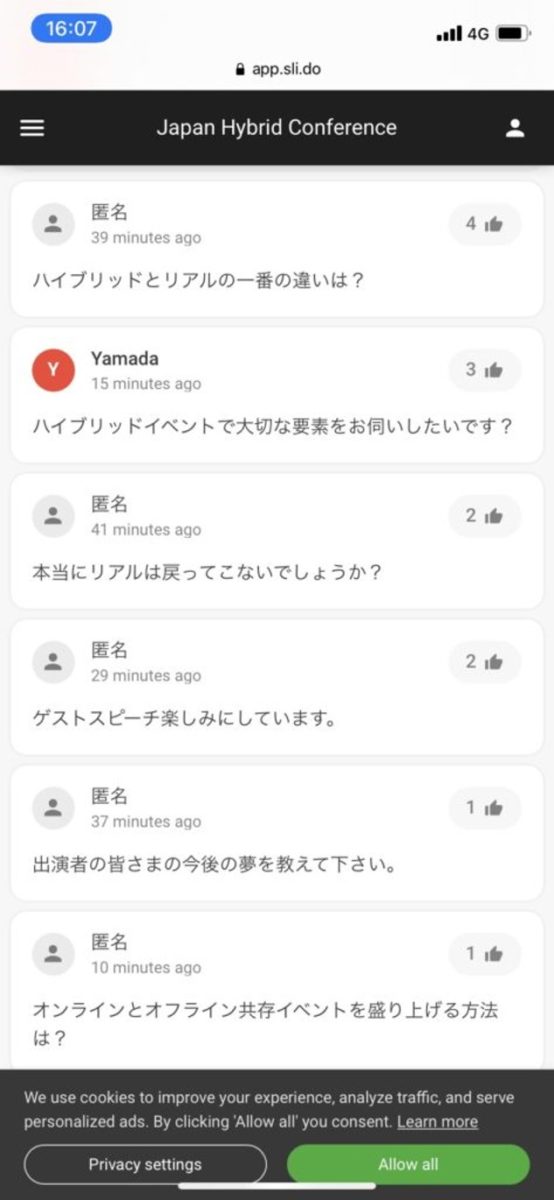 How to design "reactions / feedback" is essential for future communication.
JHC invited guest speakers in addition to our CEO Kouhata, who discussed various topics such as communication and presentation methods in the online age, the role of the office and communication methods with employees when teleworking becomes the norm, and much more.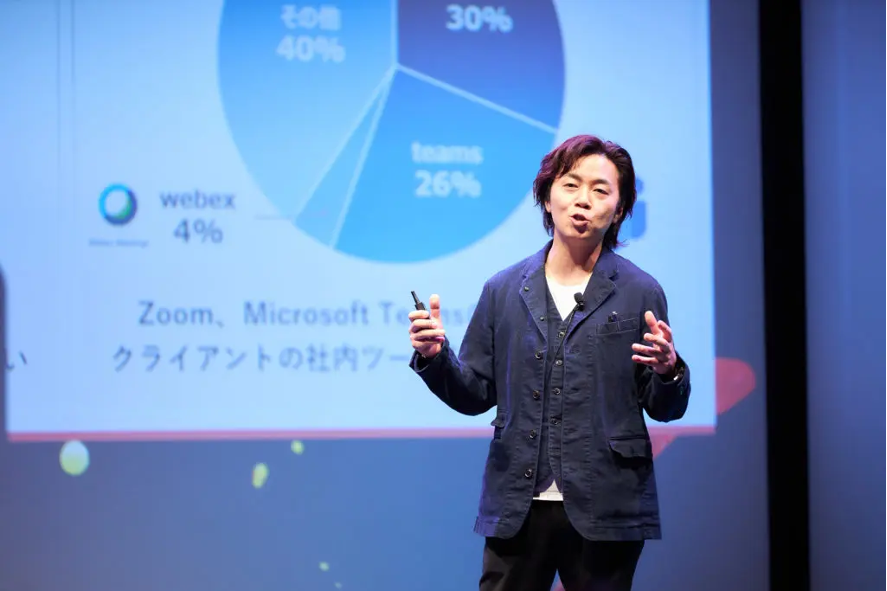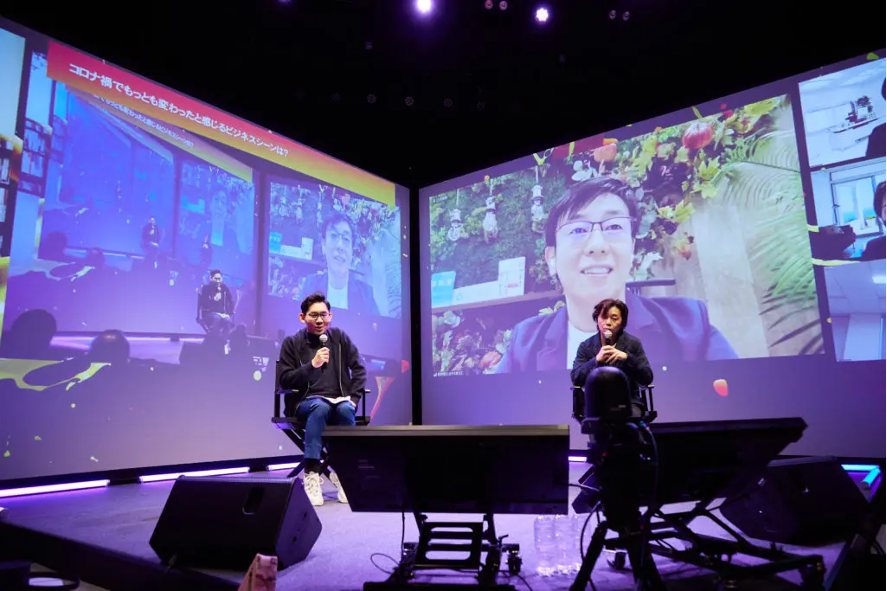 I cannot introduce the detailed contents of each of them here.
A common theme among the various guest lectures and talk sessions was about "how to express (and let others express) feedback" is indispensable in the online age.
When we take action, we are all curious about the other person's reaction. However, with videoconferencing tools that only show the face (and sometimes with masks that obscure half the face), it is often difficult to see, understand, or convey the reaction.
Also, the chit-chat that used to take place in the office has disappeared as a result of teleworking, resulting in a lack of communication.
There is more than one solution to this problem. The audience was introduced to ways to adapt to each environment, such as setting rules for reactions, adding hand actions as well as facial expressions, and lifting the ban on chit-chat using company chat tools.
The wave of going online due to the Covid Pandemic is not something that will stop once Covid settles down. It is important to consider that we have entered a new era, and it will be important to explore how best to "change" and implement the changes.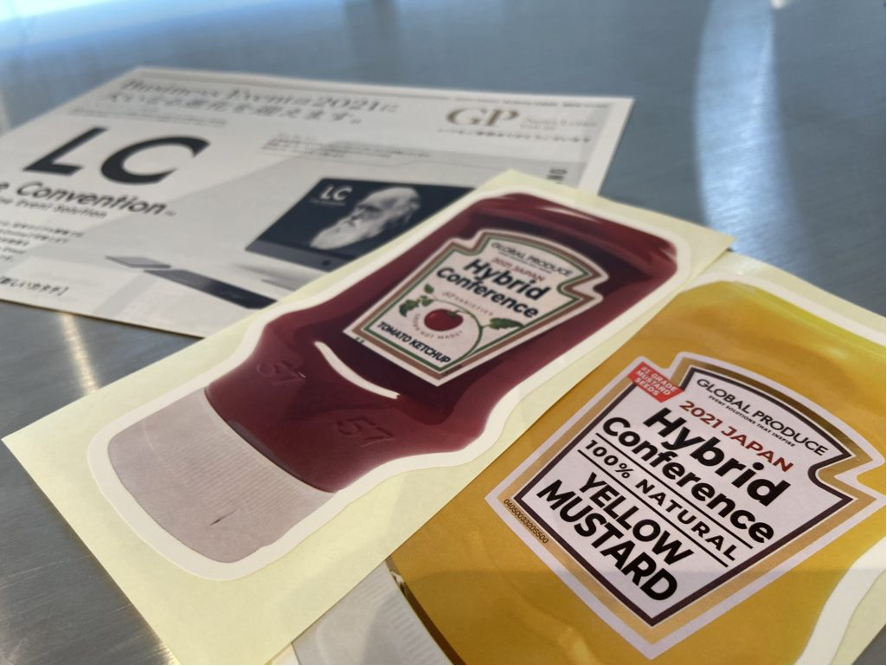 That's all for this report on the 2021 JAPAN Hybrid Conference!