Freddie is still with us: Queen + Adam Lambert concert is amazing in so many ways
2023.05.02
Hello everyone, Mayo from GP here. The other day, I was talking with a friend of mine, and he said something that caught my attention.
He said, "Queen's concert is amazing recently".
What? Queen? Freddie? That Queen?
Queen is a legendary rock band that has left behind many great songs including "We Are the Champions" and "We Will Rock You".
After the death of Freddie Mercury, the front man of Queen, I had heard that the band had started to perform recently after some time, but is it really that great?
So, I watched some of their recent performances and yes, they were bursting with awesomeness!
What was so great? The power they show to strive through the legacy that Queen has built up and also the respect they display towards the history Freddie and the original members have left behind.
I'll be showing you how they currently perform and how they're mesmerizing their audiences.
Recreating a legacy
Queen is one of the historic bands that ran through the golden age of rock, but with the death of vocalist Freddie on November 24, 1991, the band became less active.
And so it goes, the charisma of Freddie Mercury, the iconic vocalist with his tank top, beard, and combed-back hair is essential to the band.
His timeless and amazing voice and performances that capture the hearts of his audiences is one-of-a-kind. Bringing in a new vocalist, is obviously not an easy project.
There were several times in the past where Queen collaborated with other singers, such as the Freddie's memorial concert was once held with Elton John, David Bowie, and George Michael, which raised more than 20 million pounds (about 2.7 billion) for AIDS charities.
Queen will always be lingering on the tail of Freddie's overwhelming presence.
But then along came Adam Lambert, the runner-up on "American Idol Season 8" in 2009, and his appearance on the show garnered the most praise and attention in the show's history.
As he and the Queen members performed together in the finale of the show, this led to a friendship, and then as they spent more time with each other, eventually Adam was invited to sing with Queen.
Platinum Party at the Palace
Queen + Adam Lambert are currently embarking on a world tour, starting in the U.K., in preparation for the 50th anniversary of the release of their first album, which will be in 2023.
The band's popularity has grown so much that on June 4 2023, they performed at the "Platinum Party at the Palace," a concert to commemorate the 70th anniversary of Queen Elizabeth's accession to the throne, held in front of the Buckingham Palace.
Although the Queen did not appear in the audience due to her health, she appeared in the pre-recorded opening VTR with "Paddington the Bear," another symbolic figure of the United Kingdom. This video was followed by a performance of "We Will Rock You" by Queen + Adam Lambert! A Queen for Queen moment.
The cutting-edge performance
Enough of my babbling!
Now for some actual facts on what makes their performance so great.
A rock concert or a play?
Rock bands excite audiences with their great performances and songs. The audience sway to the rhythms and sink into the world of their songs.
But Queen + Adam Lambert's concerts are so much more than that!
As you can see in the video, the production is so well designed that you feel as if you have come inside an immersive theater of Queen, rather than just simply listening and watching their performance.
Queen is named after the British monarch, and the symbol representing Queen is the crown. The stage artwork that imitates this crown is also spectacular.
The stage is designed like a European amphitheater, with red velvet curtains and balcony seatings. The stage design is a blend of classic and modern, the theme under a "New Queen" is truly apt, making you totally engaged.
TREATMENT is the studio responsible for the visual design. In addition to Queen, they have also worked with John Mayer and Elton John.
The 3D model of an opera house is designed in real time, where virtual lighting, curtains, and effects are designed along with stage lighting.
And you can also find Freddie's statue on stage blurring the boundaries between real life and fantasy.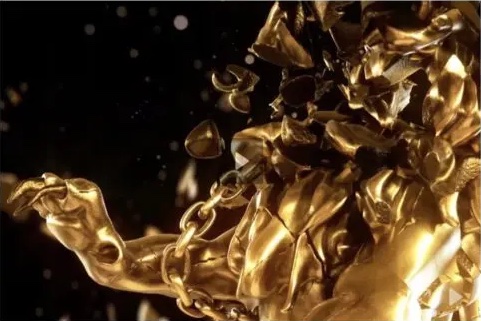 Unparalleled lighting design
This video shows the beautiful lighting that match the music. The grains of light projected on the screen and the spot lights that continue to color the large screen resembling a crown on the stage.
Of course, their music and performance alone is outstanding. But joined with the visual story to that beauty with their advanced technology, they sublimate the performance to an even higher level.
A master piece of stage lighting.
Detailed touches for the Long-time fans
There must be long-time Queen fans who are still thinking back to the original Queen.
If you show them a completely new Queen, it is only natural that they will think "Not quite right. Especially with Freddie no longer with us.
But the Queen + Adam Lambert concert doesn't focus on trying to surpass the original Queen. And I think this is the main reason they are so successful.
For example, a robot on the cover of Queen's "News Of The World" album appeared at the venue and opened the stage! Fans were going crazy at this!
Another one is where Brian May appears in a robot costume with his amazing guitar sound coming out of the billowing smoke. And this dramatic performance will touch the hearts of Queen fans.
Many of you must have seen this one before.
The music video for Queen's classic song, "Bohemian Rhapsody", has been beautifully sublimated into a stage production.
The music video, combined with the surrounding lighting, become a part of the stage and totally grabs the hearts of their fans!
Without Freddie, there is no Queen
In an interview with Discover Music, Adam Lambert said,
"The important thing to understand is that Freddie is irreplaceable. I've seen journalists and fans arguing, 'Who should replace Freddie Mercury?' And I just say, 'Nobody can replace him'. I've always and first and foremost seen Queen + Adam Lambert as a wonderful opportunity to celebrate Queen's music, so it's silly to get caught up in comparing me to Freddie. Of course, I understand the weight of Queen's history as a rock legend and I try to honor Freddie as much as I can, even if I never got to know him."
"We share the same theatricality, humor, and love of dressing up, and am very fortunate to work with Brian and Roger and have it work out so well. We do every show like it was our first show, no one is complacent or lazy about the status quo, and I always try to make everyone smile. I think that's why we've been able to keep this project going for so long." (Reference: udiscovermusic.com)
As this interview implies, their concerts feature Freddie numerous times during the show, full of respect towards the original front man.
A concert with Freddie
Robert Plant of Led Zeppelin, Kurt Cobain of Nirvana, and John Lennon of the Beatles.
Many fans imagine that if they were still alive today, they could have heard them perform as they aged.
Is it impossible for a band that loses its one and only member give a concert that will make people roar? No, that's not true. This is what Queen + Adam Lambert taught us.
What they did was not to bring a front man who surpassed Freddie's presence, but to let Adam, the new front man, lead the audience with his love for Freddie and the band Queen itself. This I see a clear innovation.
Rather than saying that the legacy is too large and heavy to handle, they're saying that the legacy is so great that we should all experience it and embrace it. This perspective that they stick to is what I think is making this collaboration so great and successful.
Queen + Adam Lambert has been performing many times in Japan. And this year, 2023 is the 50th anniversary of the release of Queen's first album. I'd love to listen through Queen's albums again, and if I have a chance, go see a Queen + Adam Lambert concert.
So, what did you all think?
This is a band that transcends time and will always bring us new ways to be moved.
Thank you, Queen!