Calligrapher Ryofuka "What lies beyond the end of the Pile of antiquity"
2016.06.14
Received "Master" at seventh grade of junior high
Mito:
Please let us know from the beginning of calligraphy.
Ryo:
I started going to the calligraphy-class when I was told to go because my grand mother gave me an allowance when I was in second grade.
Sometimes I had a good time, and there was a time when my stage did not go up in half a year, but the teacher was so good to me.
I continued learning it, hoping that one day I wanted to be a person like a teacher of calligraphy, and I received qualifications of a master at the seventh grade of junior high school.
Mito:
With that age!!
Ryo:
It's not very fast, but students in seventh grade, there are many people who quit because of the club activities or exams, so the probability is certainly low.
Mito:
Didn't you hate learning?
Ryo:
Could be better, could be worse. I got allowance, and it was more like going to see my favorite senior than learning those who studied together with like a partner instead of seeing her as a teacher.
Mito:
I learned the piano but I hated it already.
I had a feeling like how to skip from a lesson once a week…
Ryo:
In my case, I learned karate and piano elsewhere, and I was wondering how to skip piano lesson.
Mito:
Did you originally like something that looked Japanese?
Ryo:
That's right. I have been influenced by my grandmother. She did not live with us, but she lived in neighborhood.
Because my parents worked together, I went straight to my grandmother's house and watched the historical drama together right after school.
Then, we often go out for the festivals in the neighborhood and participate in dumplings.
It was a close presence since there were many opportunities to get in touch with the Japanese culture.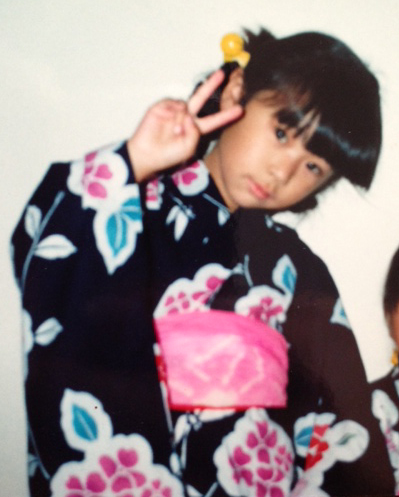 * Mrs.Ryo at the age of five. I was a grandma-girl who loves the festival.
Mito:
You continued learning even after being qualified as a master in seventh grade.
Ryo:
That's right. I also got pen calligraphy qualifications when I was in high school.
I thought that my grandmother would be happy if I appeared in a historical drama, so I thought I should aim for an actress in a historical drama when I start thinking what I should be in the future.
But my parents refused me of going out to Tokyo, because it is dangerous out there.
I started going to a dental hygienist technical school to aquire the technical skill so I could live alone.
I had a dental hygienist for 2 years, and I came out to Tokyo because I had enough money.
I entered the talent-agency while working as a dental hygienist.
I was told to go out on the stage if I had to study the acting to get into the historical drama.
They have told me to do a grid-girl in order to get certain fans if I wanted play a leading role.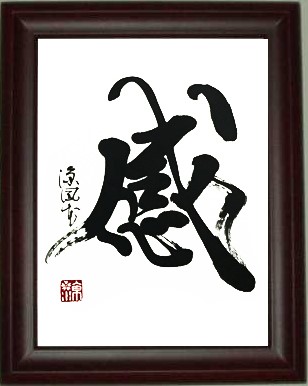 Mito:
That's the flow.
Ryo:
I am told that I can find audiences if I do a grid-girl.
I started getting a lot of work for swimwear after doing an grid-girl for a year.
Maybe the only play that can be taken out in a swimsuit is Baka-tono (Japanese comedy).
Therefore, I quit. So what I thought next was I have returned to the origin because I thought that if I become a calligrapher, there might be a chance to involve in the title of Taiga (Japanese historical drama).
I have returned to the way of writing.
Mito:
Actually, it is a strategic life. There is a reason for everything.
Ryo:
I like to ask people around me for their opinions.
I have chosen the way of my life with everyone's effort.
Mito:
It maybe a strange question, it means that you already teach students when you got a master qualification in seventh grade.
Ryo:
I can do it.
Mito:
After all, did you still went out to the lesson?
Ryo:
Yes. People are reaching at the start-line after you're being qualified as a calligrapher.
From there, we have to extend the artistic talent.
Mito:
I see! It's a long way, isn't it?
Ryo:
It is funny that person who is 90 years old still say "Hey young kid!!" to a man who is 80 years old.
Mito:
That's pretty deep. There is no clear goal, isn't it!?
Professional "calligrapher"
Mito:
Whether it's calligraphy or a dental hygienist, if you decide to do it once, I think the place to finish to the end is outstanding.
You have a continuity strengh.
Ryo:
When I started out in the media, I was struck.
I had the time when I was struck as I started out showing in the media, that was the time when I felt out of confidence ant wanted to quit.
But I felt in order to achieve confidence, I have to get it done well enough to make sense.
I didn't quit because I thought I had to be confident of what I just did.
Mito:
Were you thinking about that "I will return to the calligraphy" even at the time of experiencing dental hygienist and actress?
Ryo:
Ummmm. I thought that I would do a calligraphy-class when I get old.
Mito:
What is the current difference as a "calligrapher" now and the time back at girl's age who love to calligraph?
Ryo:
After all, there is a responsibility arises. It is a duty of a professional to be good to ask.
People just have to be satisfied with what they do as a hobby, but even if I thought I did write it well, it would be meaningless unless I thought that the person who asked me was good.
Mito:
Money also occurs. It's a heavy responsibility, isn't it?
Ryo:
I agree.
In particular, I feel really strong that I was not the type that people received an award at a big competition contest.
I think that I will do my best with the strengh that I have right now so that people don't think that "I have failed by asking this person".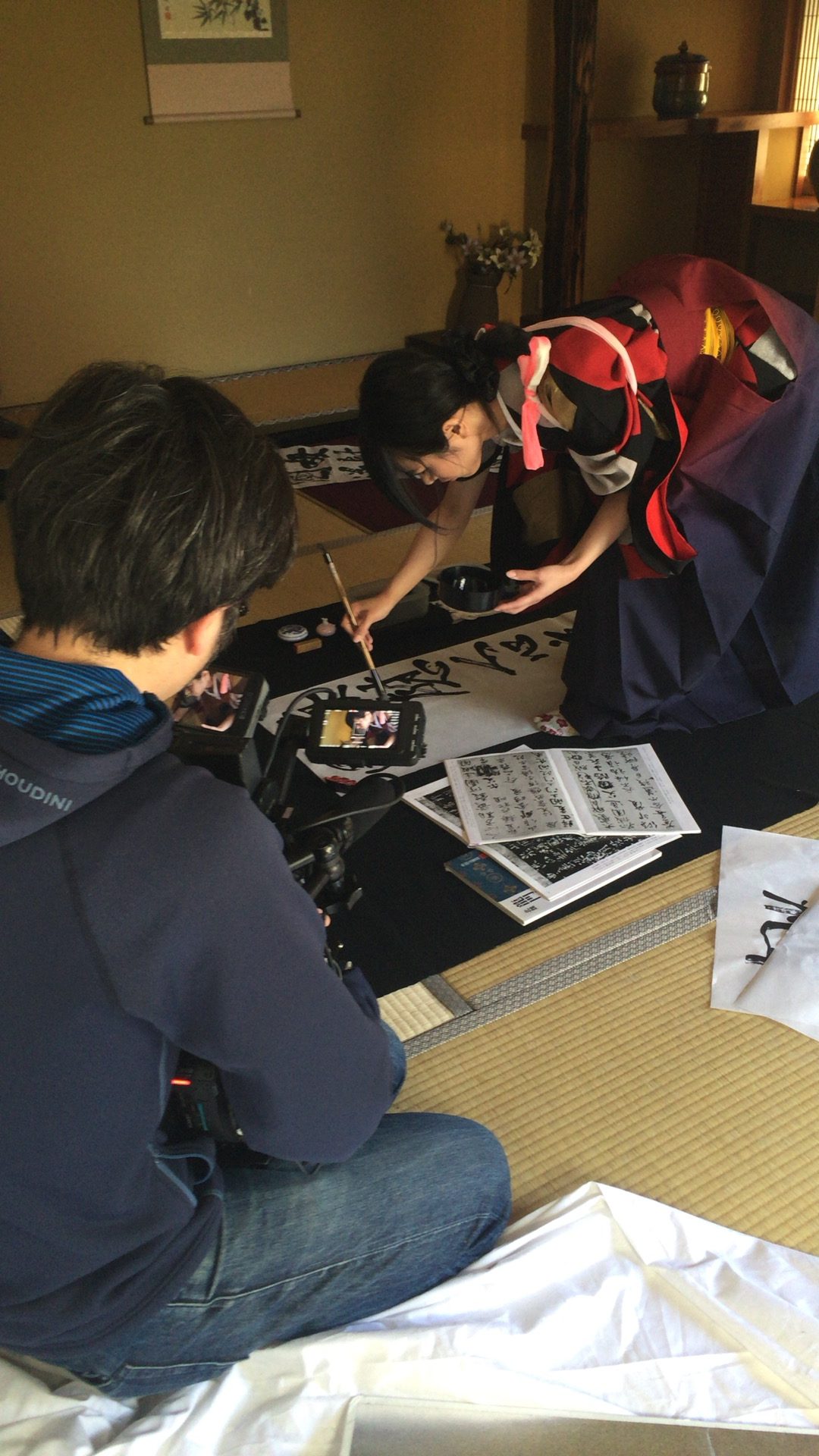 * "Keep on Writing" is the only way to improve my skills.
Mito:
Are you still practicing every day?
Ryo:
I do it every day.
At first I felt that I had not reached the level that I could get satisfied with it, so I wrote it all day long.
I get up in the morning and write, and I thought it was waste of time to spend a lunchtime, so I eat it a little bit and write it again all day long.
Eat dinner and write again. I wrote the same letters all day long.
Mito:
Being proffesional is really amazing.
Ryo:
I think now that I should just write which is meaningful.
It doesn't mean that writing 100 pieces and the 100th piece is the best.
It maybe comfortable if you write something with first impression, there are times when things like the feeling of excitement when coming up even with imitation are out well.
Sometimes I think that the rough part is what attracts people.
However, it may be able to say just because I have gotten to be able to write now.
Mito:
There is no correct answer.
Ryo:
At first people have no choice but to handle numbers.
Mito:
It's pretty difficult. It's not that someone says it's the correct answer.
People should ask themselves.
Ryo:
Anyway, write and write without thinking, and look at what you think is good and look at it and think over again.
I don't know what I'm wrote anymore and sometimes I forgot to write a sonant mark if I've waited for a while and have seen it once again.
Mito:
Is there anything I need to do to write better?
Ryo:
Try changing the brush if I get stuck, or change the slippery paper into a rough one, or try to add the letters.
Which is also effective by writing in a semi cursive style, or square style.
Mito:
What is a good character?
If we go to a certain level, we can see everything well.
Ryo:
It's difficult. It's really like depend on each person, so if that person says it's the best, that become the best!
Mito:
I think that I often write at events, but how about performing in the crowd?
Ryo:
I always think that I need to practice regularly to write even if I my eyes are closed because I am a very tense type of people.
To the level that the arm moves with one's free will.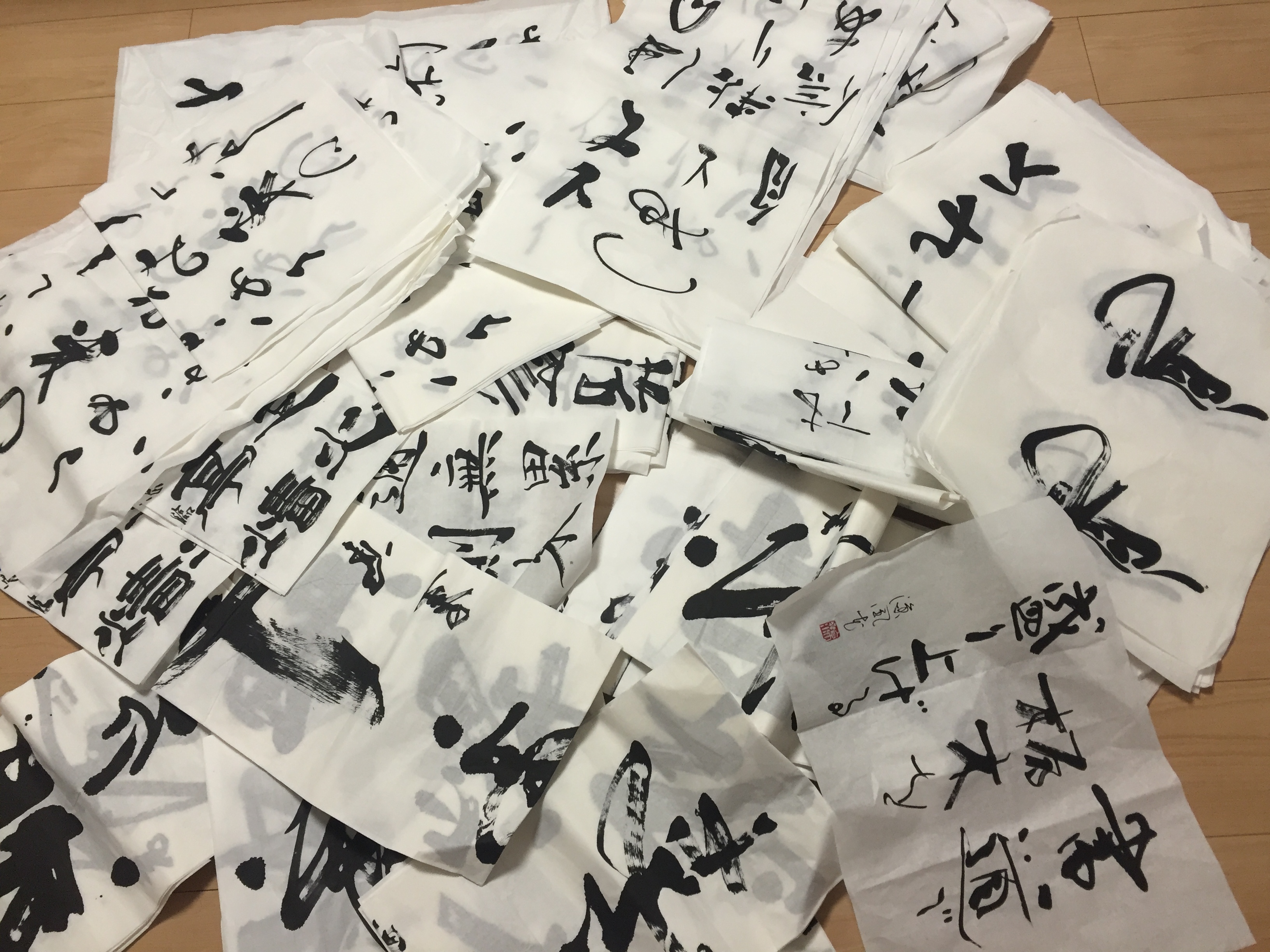 * A half-paper pile of practice. This is the source of creating great works.
Smiles attract people's hearts
Mito:
Do you still teach people now.
Ryo:
There are many penmanship-school.
Mito:
If you think carefully, it seems difficult to teach letters.
Ryo:
I am always anxious if I can be taught properly. The letter is
I think that it is often the case that it is completely different if you try to write because the angle is not precisely determined, even if you look at the example and think "I see".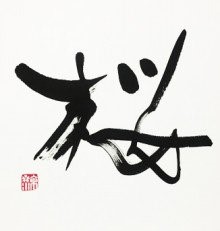 Mito:
Surely. But I like to learn the character.
People who have beautiful letters are fascinating even it's Men or Women.
Ryo:
It is good if the character was good and people think it's wonderful,
even if you're not good at it, people may think "Oh, it's sute".
Mito:
I see.
Ryo:
It's not interesting if it looks like the character on a PC even if it's beautiful script.
I think that just because there is a seam that has come apart, it may be a form of staying in mind.
Mito:
Is it something like humanity?
Ryo:
I agree. I think such things will appear in the letters.
Mito:
Not ready, in a good way
What should I do to write a character that produces humanity with not all being featured and seam that has come apart.
Ryo:
I have not reached it yet.
I write a lot because I think I'm still immature.
I may not write a lot if I really become a hermit-level.
If I get confidence you can save the first one …
I still need a sense of security that I wrote many pieces now.
I have no choice but to keep doing it.
Mito:
Do you have any collaborations with art in other fields?
Ryo:
I do it sometimes. I have done once with a young female calligrapher in a place called Sano-city in Tochigi,
She writes the letters around and I write directly in the middle.
We were able to do it because the letters were divided into Kanji (Chinese character) and Kana (Pseudonym).
Mito:
Is collaboration fun?
Ryo:
Yeah, it's fun.
I can do something that I can never do alone.
I would be glad to have friends and to be on the stage together as I am always alone.
Mito:
I usually look at pictures and listen to music,
Does that make you a good sense of inspiration by looking at pictures and listening to the music?
Ryo:
Yes, I will go, but I can not grasp it easily.
Mito:
You are generally humble.
Ryo:
I can not speak others without knowing and understanding everything.
You will regret later if people talk about it halfway, and you pretend to know everything, you'll regret later..
The only thing that I can say is that people just have to write over and over again, and have to keep writing it.
Mito:
I see. I think that is a great soul of art.
Thank you for your time today.
(End)