Photographer, Takahiro Tsuruta "Think, think, think, photograph"
2016.05.20
I dived into to the world of photography by accident
Mito:
Could you tell me what led you to do this?
Tsuruta:
Originally, my father was a photographer.
However, I have never had a job with my father, and I don't really know what he was doing.
When I graduated from high school, I had the option to carry on my father's mark, but after all, I went out to university and get into a normal company as a new graduate.
Mito:
By the way …
Tsuruta:
SAMMY as known as Pachinko or slot company.
SAMMY acquired SEGA at the third year of joining the company and became SEGA SAMMY HOLDINGS.
I was in charge of amusement among SAMMY, but I was forced to transfer to Sega, I filed for the retirement when I was told that I would never come back to SAMMY.
Mito:
Is that the loyalty of SAMMY?
Tsuruta:
No, I could not feel my future at Sega.
So I made a retirement wish.
Around that time, my father came to be asked to snap weddings, but my father is an advertising photographer and he had no intention of doing such a thing.
Telling the truth, the fee paid was completely different.
My father told me that "If you're have any idea that it's good to start a new company, why don't you take a chance!!"
I did not start after all, but I started with the bridal sales department of the same company.
Mito:
At that time, did your father get an introduction to photographic technology?
Tsuruta:
No, not at all. But there was a longing.
The cameraman looks cool when viewed from the end.
It's different if you actually go inside.
Mito:
I understand. They look so cool.
Tsuruta:
So, I was suddenly handed over the camera.
I decided on the spur of the moment.
But of course, I really had to study because I could not shoot.
On weekdays, I studied as a part-time job at a company doing retouching and I was shooting camera on every weekends.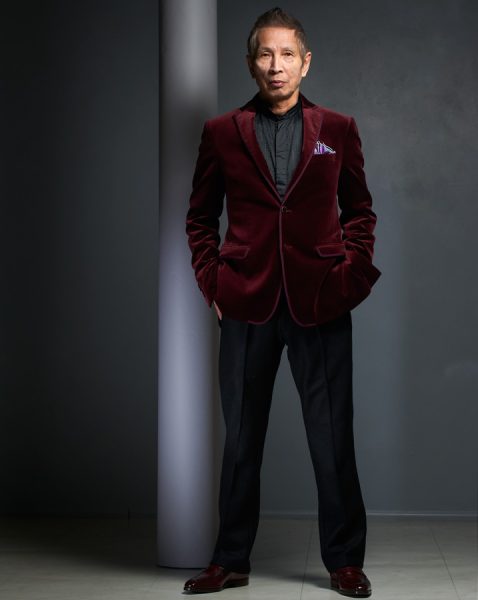 * Father who was a photographer. There is an atmosphere of a great master.
Many immature photographers
Mito:
It's a somewhat unusual career start.
Tsuruta:
I agree. After all, most of the photographers experience the assistant. It's common to want to become a cameraman's apprentice after 4 to 5 years.
Assistant It's common to want to become a cameraman's apprentice after 4 to 5 years.
Just after all snap is too loose. There is no certification to become a professional photographer, regardless of your ability, you will be recognized as a professional if you identify yourself as a professional.
So there are quite a lot of photographers who feel immature even though they say professional.
Without seeing the results, I can tell them even if you have no chance of working together.
Mito:
Do you know without looking the result?
Tsuruta:
First of all, I say that the photographer, who brings only one camera, is completely disqualified.
I wonder what if it brakes!?
At that point, that person is not a professional.
Mito:
Surely. By the way, what kind of photograph is a good photograph?
Tsuruta:
It is important for photographer to think or take that pictures.
It's hard to say that photography has the correct answer like mathematics.
Even if 99 people say that this is not good,
The photographer sealed the deal if there is a person who thinks that one photograph is good, even if 99 people did not satisfied with that.
I try to keep that in my mind that I can not deny it completely.
But I think photographers have to answer immediately if people ask "I wanted to take it this way, I wanted to put this in here, I wanted to take it this way". The reason is that it is important that photographers have their own ideas.
Mito:
My representative oftenly advice me that "It's all about having your own reason or something that can be explained!".
Tsuruta:
That's really it.
I can figure out the photos the one without thinking.
Mito:
Are there people who are not humanly different, like the people with the good photo and the people who take photo with no idea?
Tsuruta:
After all it is the best which describes whether you like the photo or not.
Such people will get better and better.
I can tell the photographer who doesn't like it so much by the deal with "don't you tell it, or even if he improves, he will return again next time".
And the person who does not bother after it.
If the person lean over a little more, who is bothersome even it will be get dramatically better if he moves a little and keep shooting, even if I think he should focus on the picture, but he choose only one or the other, even if he has a plenty of time.
Because such people have abandoned the result despite thinking, that means he refuses idea.
Mito:
Ah, I see.
Tsuruta:
I think that there is no one with a sense.
There may have a genius, but
after all, seeing various things, starting from imitation,
There may be a genius, but after all, it is important how you can make an effort to get there by seeing various things, starting from imitation if you want to reproduce the picture.
Mito:
Mr. Tsuruta, are you kind to young people.
Tsuruta:
Well. I do not think that it is good to be kind, but as I said earlier, it's okay if the photo was taken in consideration.
And I try not to use the word "so" when teaching to young people.
Mito:
…
Tsuruta:
There is a nuance that if I say "So" can be recognize as "I already told you before!".
If I say that, I think it will be difficult for young people to ask questions.
It's the most scary thing to be run and fails without permission.
A glamorous world?
Mito:
Photography is a field that has been well established after many trends.
Under such circumstances, I think that there are many young people who want to work because they like to photograph.
What is the crucial need when deciding to do something you like?
Tsuruta:
Hmmm …. There are a lot of people who don't know that the photographer is physical labor until they go to the scene.
After all, after all photographer can be seen light, the treatment is rather terrible.
If people jumped in that it is a glamorous industry, I've seen there are many people who actually say different things and quit. I think that such unreasonableness is, of course, in any world,
My temper sometimes gets tired by people saying "Please think and take a picture" while being carefully about people, thinking about time limitations, and we also have to care about our standing positions and also limited.
Mito:
Some kind of unsophisticated work, it means that it is difficult if you can not understand the aspect of steady physical labor.
Tsuruta:
So, it might be better to have someone who has been out in society.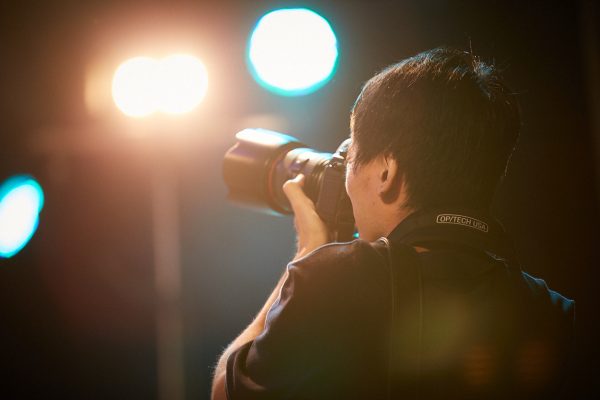 Wedding Snap is a daily story
Tsuruta:
Actually the work of wedding snap is composed of several pieces that is somehow manageable even if the album is managed.
It will be right there if you make full ability with photo-editing.
It is actually difficult to take the data part properly for sale with plans to pass 500 or 600 pieces of data are increasing.
There are cases where you have to add the best photographer because it's better to use data products that are cheaper than albums.
Mito:
I see. You can see everything.
Tsuruta:
Occasionally, people who wish to be hired, there are some people who bring some nice photos taken at a wedding, but what I want to see is not a great photo, it's a flow.
I can't think of handing me a nice photo taken by chance.
However, I say that everything should be taken with certainty, however it does not make sense to have some photos with a perfect score of 100 for our photographers.
Mito:
It certainly means that all 70 points or more.
Tsuruta:
Yes!! That is a pro. I think especially as a snap pro.
There is no chance to ask for a another kiss scene even though you fail to take a snap.
At first, we start with about 70 points, as you get used to it, you will be able to get there.
Well, keep on going to the next stage again and again, and if it's absolutely okay, I will try for furthermore next time.
Next time I can not try this if it is the scene here.
However, if you are a professional, you can not afford to keep to some extent.
Mito:
Bridal photos are like a nice story that tracks the day that can be followed with still picture.
I have a great regret in my wedding photo.
One day my daughter may see it, but I will never see it again.
Such a wedding picture is sad.
Tsuruta:
There are also some photos that make me angry when I see a friend's wedding album.
Mito:
That's sad, isn't it?
Unlike a sports festival or a birthday, I think the wedding picture with not quite makes me so sad, even there are various shutter scenes in the world.
Basically, it is only once in your life time.
In that sense, bridal snap is a scary job that can be seen very seriously.
Tsuruta:
I agree. It's really difficult so I'm still studying about it.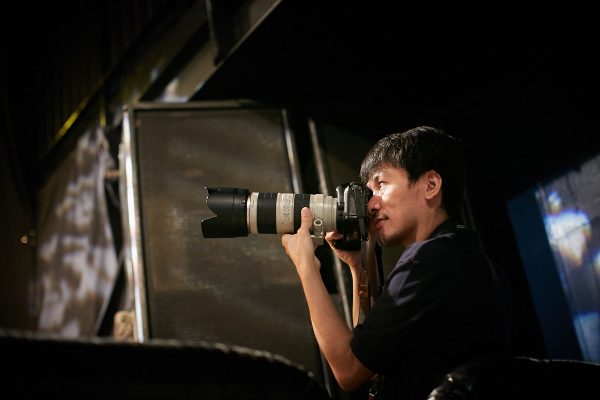 * Mr. Tsuruta shooting at the scene
The point is "How much can you think?"
Tsuruta:
The stance of taking a snapshot has been changed a bit, when I started to associate with GLOBAL PRODUCE.
Mito:
Oh….
Tsuruta:
That's because photographers start from the point of being photographed.
Mito:
I see.
Tsuruta:
It's a little different at a wedding, but after all it was the first thing to make sure that photos have been taken that I was not being asked for quality.
In the past, it was a completely passive feeling, like taking a picture of what was received. So, I have no choice to evaluate my work as if I was satisfied that when I apply the job.
However, GP let me participate in rehearsals and sometimes also in meetings.
Basically I can only make a hard choice that will not be a claim, when I am forced to make a choice while shooting, I can have the possibility to be able to make a choice for quality if I attend the meeting in advance.
They also check the lights on site.
There is a possibility that you can improve the quality of what I am trying to compromise at this level if I can have a request about the shooting environment.
That's a pretty sensational event in my past life.
Mito:
We are all friends! Because that principle ….
Tsuruta:
That's why GP's work is very rewarding.
But, of course, I thought that I would be told something awful if it was not good.
Mito:
They certainly will say awful things to you!! (laughs)
Tsuruta:
I'll be pleased if it was awful, I would like them to say that.
Maybe all the photographers think so, that we have to prepared to work on record photography and be cut off if I fail once.
At the moment, it is only GP who seems to try to reach a certain height to cooperate with each other.
I want to aim for it at the wedding, too. There are some difficulties.
So basically, I can not fail even one piece of things that I can do in such an environment and it will be to what extent the average score can be raised.
Think, think and take photos of all pictures. Intentional photo. Which everybody see the picture by proving "Oh, I wanted to take that" "Oh, this smile is amazing."
It is like a game that how much you can think in limited conditions.
It is a compromise as a professionalism as it is not a negative meaning.
Mito:
I understand. That's right.
It seems that making things in a limited space. It's not a hobby.
Tsuruta:
There are photographers who stand on a tripod where they can not stand, who takes place where you can not go without worrying about the eyes around you, but that's NG.
Instantly judge where the best light is and take the usual thing by finding where is the best angle.
It means that we do not bother there.
Mito:
I heard a lot of things that I can take a notice about.
Thank you very much.
(End)