Flower Designer, Kiichi Yamagami "The dream comfort of world self-branding"
2016.05.20
A lover who likes flowers
Mito:
When did you start working on flowers?
Yamagami:
I graduated from university and worked in the travel agency.
So, when I was thirty, I decided to quit the company and become a florist.
Everyone around me were strongly against my will.
Mito:
About 18 years ago.
Yamagami:
I quit my job and went to America at first.
I had a strong image that flowers will be in Europe, Netherlands, Germany, Belgium, France.
I enjoyed looking around at a British florist and finally in Paris, and I went to school for about a year while working at a flower shop.
After coming back to Japan, I worked as an apprentice for two and a half years at Futaro-Tamagawa, and I independentaly started a business.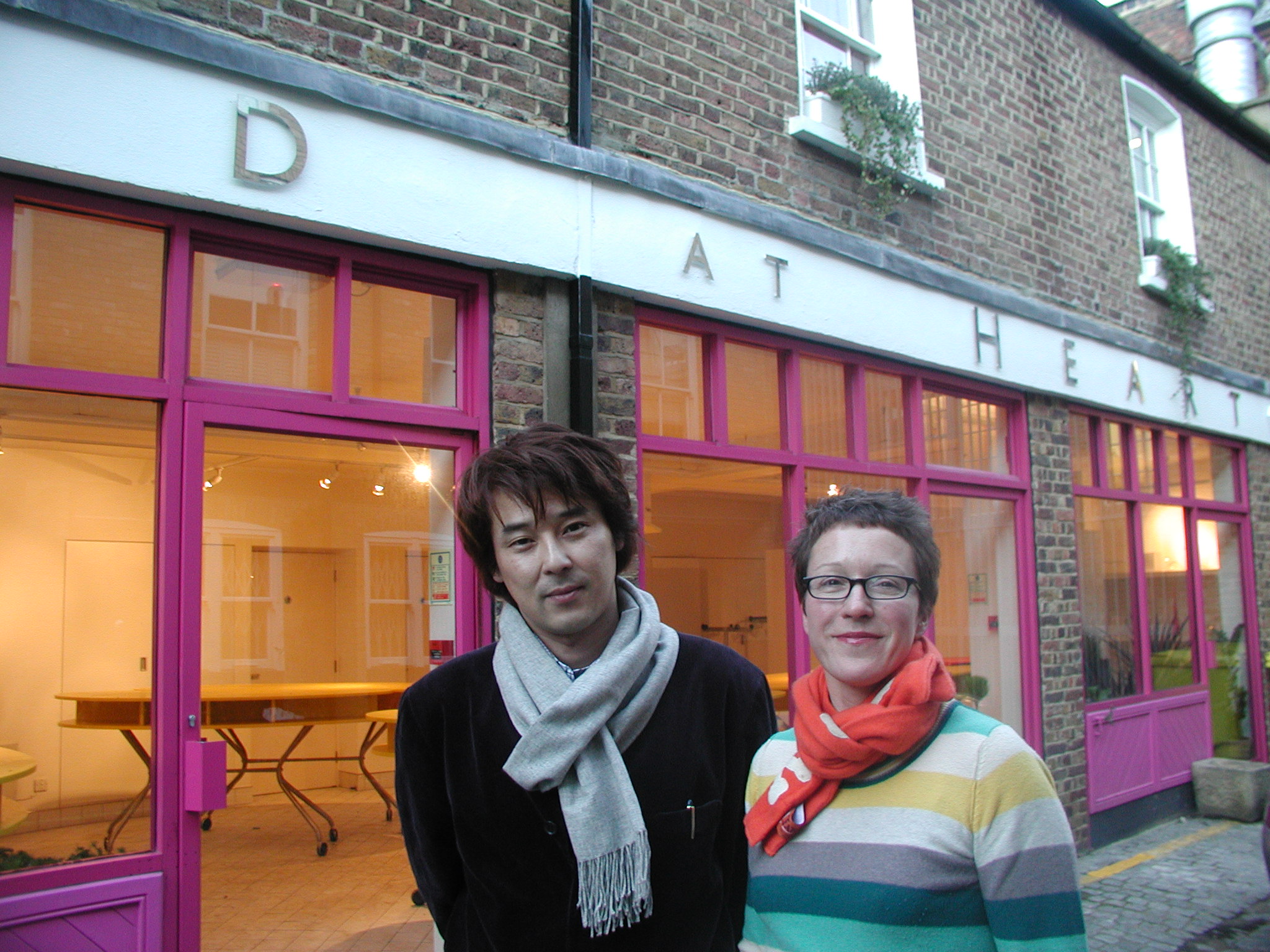 * Mr.Yamagami from the training period in Paris.
Mito:
Why did you pick a flower?
Yamagami:
I oftenly hear that, at the time, my girlfriend loved flower.
She was an international flight atendant, and when staying abroad, she always buys flowers before she went to the hotel and borrowed a vase at the front desk to decorate flowers.
I thought she's fashionable.
Mito:
You like flowers at a little high level.
Yamagami:
It's nice, isn't it? Because we were both liked the pleasant space, after all, we were both hung up on the room where we use lived.
I also like the fact that there are plants and flowers there.
But after all, we broke up.
I felt and had no meaning working as a office worker, so that was the point when I thought of "Becoming a florist".
Mito:
You've suddenly decided like that.
Yamagami:
It was quite common for customers to say "Thank you" the time when I was at the travel agency.
By people saying "I had so much fun, Thank you!!."
I think that's why I want to work like that. Florist is also said to be "Thank you".
Mito:
I agree.
Yamagami:
Whether I wanted to become rich or want to become a celebrity before I leave my company, I was aiming for such an image as a young industrialist.
I already stopped thinking like that, and I wanted to do a pretty flower shop with me and my dog.
By the way, my salary was 70,000 yen when I lived and trained at Futako-Tamagawa.
Mito:
Cheap!
Vigilantly for an opportunity to prey upon
Yamagami:
When I actually opened a florist and when rent and employee salaries increase, I was aware that the general customers don't come to buy flowers so often.
So, for example, I have aimed at chain in development store and supermarkets.
But even if it is a chain, it can not be done by retailing alone.
I thought I had to work at weddings.
However, the wedding industry is also severe, and hotels and wedding halls, there is a high percentage of contract fees.
When I learned the situation, I do not go to the business from ourselves, we thought we must be asked order from people.
We've waited vigilantly for an opportunity to prey upon, we had the great opportunity to do a party of a major brand.
As coverage of TV came in and was picked up as "unmarried handsome flower designer", I became torture, and they were asked me for on television programs.
Mito:
I see.
Yamagami:
Then, I came to be asked to enter by all means from local wedding hall or hotel.
Instead of going to business, if you are asked from the other side, the percentage of the deposit will also be superior.
That was what I was aiming for.
Mito:
Mr. Yamagami became a brand.
Brush up a point of view of coordination
Mito:
I mentioned earlier that "Vigilantly for an opportunity to prey upon" After all, what are the things you polish, is that going to be the flower arrangement skill?
Yamagami:
I think different. Since I was late to start, I can not compete in my career, and there are so many people in the world who can make flowers well.
The only difference is the coordinator's point of view.
For example, the color of Haruka Ayase's image and the color of Aya Sugimoto are different.
Of course, the color and atmosphere of the background are different in Bulgari and Tiffany as a brand.
Once I understand that, I can do an expression that matches the brand of that person or company.
The overseas experience of the travel agency era may have something to say.
Mito:
The difference in accumulating.
Yamagami:
I still go to New York and Paris every year, I always try to polish things like the sense of the times.
In our industry, the hotel of the topic of foreign countries, everyone is anxious and often comes out in the story.
Even now, I will always go and check if a new hotel opens.
Whenever I go out for the meeting, if they questioned me "I want to decorate the one like that hotel", I can respond immediately.
What I want to say is "I think people would like to ask someone who shares the same sense to work".
Mito:
It will be your ace, isn't it?
Yamagami:
I feel confident.
Maybe I think that I am the best in the flower industry.
Mito:
It's not that you're being forced, you like new things, right?
Yamagami:
I am full of curiosity.
For example, even now, there are some troubles when people call me abroad,
If I get a few days off, I quickly buy a cheap air ticket and jump on the plane, and I will try to stay at a hot topic hotel.
Then, I will come back home. It costs money, but I can study alot!!
Mito:
It is an attitude not to miss any opportunity. I have to learn that ….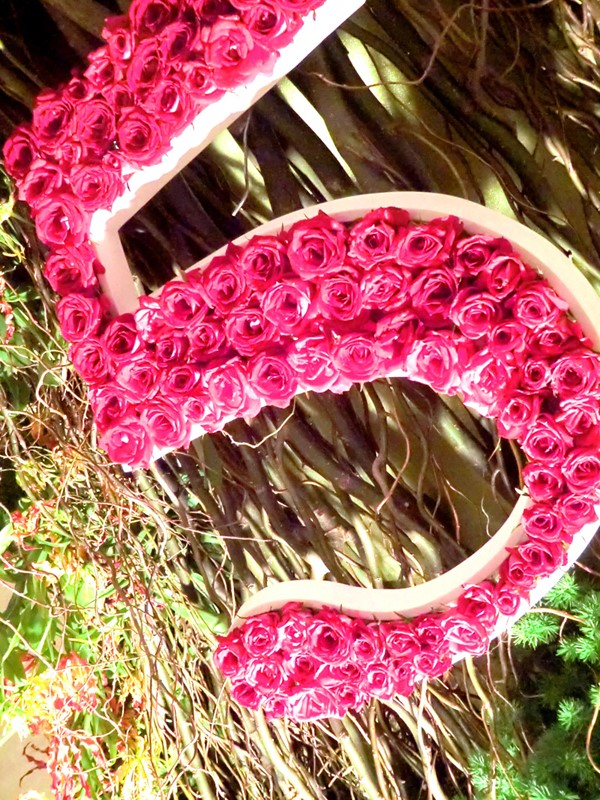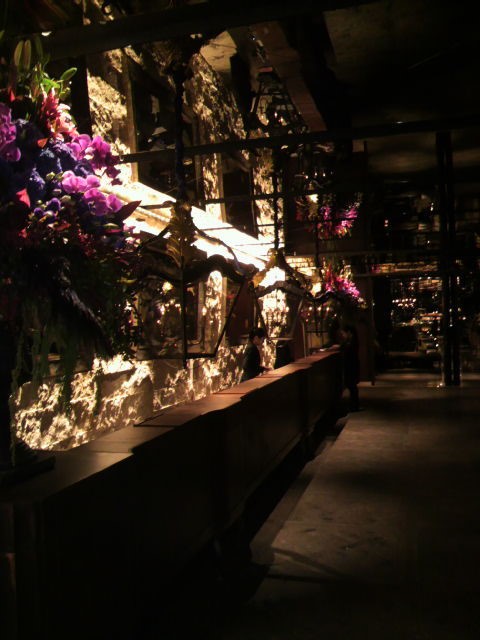 Sense of business
Yamagami:
I think now that there is a strong opportunity to look back on the history or culture in Japan.
In fact, I dare to wear Kimonos when I plant flowers at performances at overseas.
Originally, I studied flower arrangement which is European culture, after all, I feel very keen that I have to have Japanese flower arrangement technique.
In today's globalizing, I must have the skill of being Japanese.
Use my skills properly, look at the situation, and this is how I express, the point here is to go on a contingency basis to be such a strategy.
Mito:
What is the key to success?
Yamagami:
Well. In other words, the way to change favorites to money.
It's really easy and if there is someone who is interested in me, if there are many people who is interested about me, it can turn into a business.
To that end, I think it is absolutely necessary to observe and search the other party's preferences as much as possible.
Anyone can claim to be a flower designer, but it won't come true unless we receive an order from a person.
So, I try not to feel "I admit my art!" Or rather saying, it feels like I'm happy with people's satisfaction.
Mito:
It is not a self-centered approach, but a way of thinking that it is a partner-oriented one.
Yamagami:
What I'm interested in lately is that I can handle high-end stuff, it means that I can offer something and make people happy who enjoy shopping even at Printemps-Ginza.
Mito:
That means meeting people's demands while having your own worldview.
It seems to be the most difficult.
Yamagami:
I have confidence.
I also thought it would be better to bring out my color more aggressively.
But after all, I used to work as a sales during the travel agency period, so I'm always searching for the other party's request.
I want my customers to have a good impression at the beginning and ask for their hope and feel a solid of comfort.
Not just "forcing my opinion to someone", but "sympathize with people's feeling" can prevent complaints.
Mito:
At first glance, the start seems to be late, in fact, it means that the experience of office workers is a strong weapon.
In fact, that the experiences of the office workers are a strong weapon.
Yamagami:
I really think so now.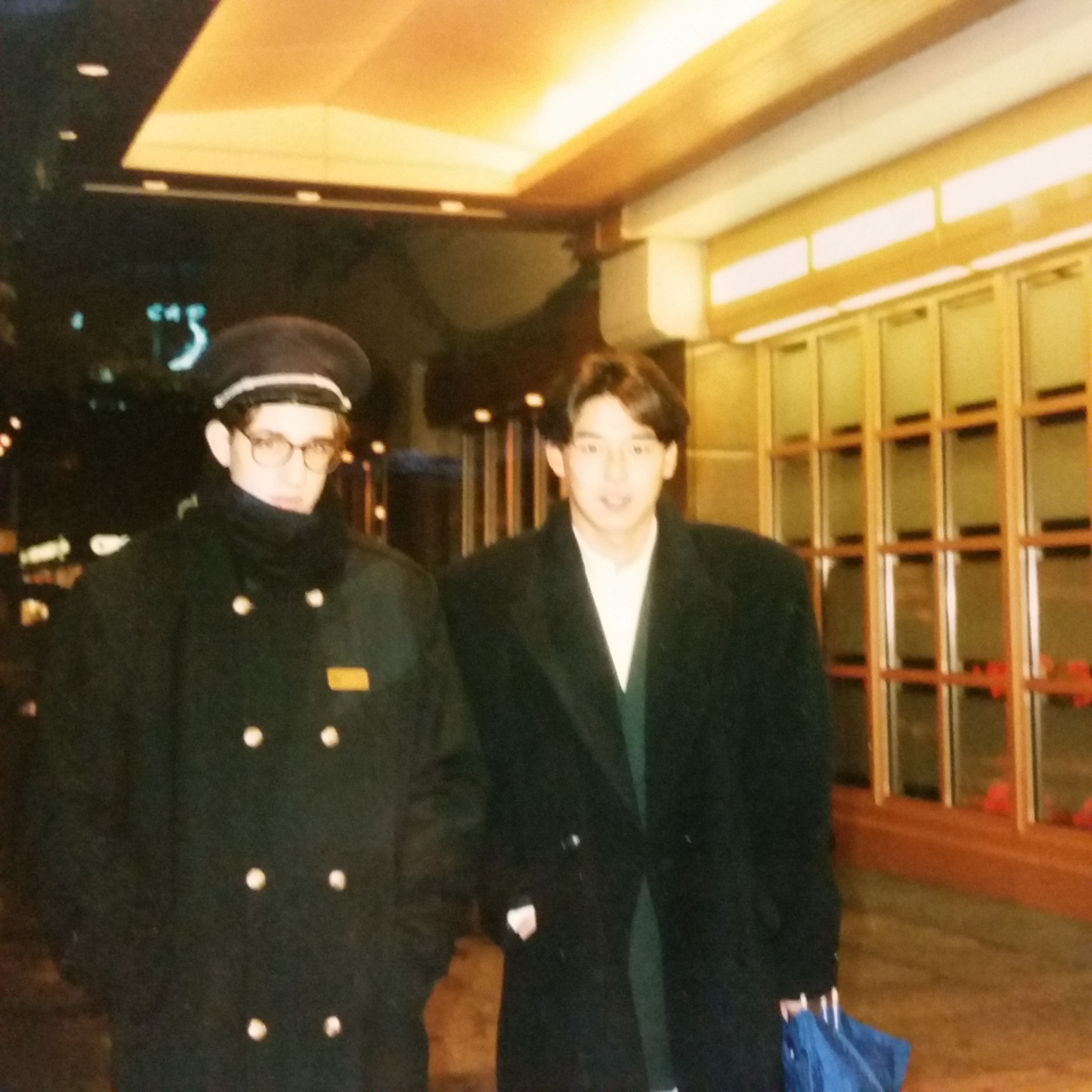 * Mr. Yamagami of the office worker period. Many drawers accumulated in this era, it became a great weapon since he became a flower designer of the future.
Self branding again
Yamagami:
The flower is an image of the dream world.
Mito:
Everybody has a dream, but for flowers.
Yamagami:
If you live with that, I think we have to live a life that people say "It's wonderful."
It is not good to have a style that you can agree with after all like cars and fashion, like with belongings.
No matter how hard I try and wear it,
If you go in a weird appearance with a sub compact car, you will never get a job.
Mito:
It sounds like you are already part of the product.
Yamagami:
I think that is also a strategy.
I can not get a job without self-branding for the goal.
Mito:
I see.
Yamagami:
I will also invest. Rent a house where I can see the beach with the beautiful view in front of you!
After remodeling, I will tak my friends there, when I took my employees, saying my boss has done such a great job!!,
People will start talking like "Hey my boss is fashionable".
Mito:
I agree. That's one kind of outgoing information, isn't it!?
Yamagami:
In the early days, I used to have a square wagon often driven for the flower shops.
But one day there was a competition for a very expensive jewelry brand, I couldn't afford to go by wagon, so I drive my sub compact car to the neighborhood, I parked at the nearby parking lot and took a taxi from there.
I acted when people asked me "What's that, Yama-chan, you took taxi here!!" "No, I overslept!!"
Mito:
That's also the whole strategy.
Yamagami:
Yes!! Everyone came in Maserati, also people with Ferrari, too.
It is hated by what is too glaring.
It's a delicate balance, though.
Pleasant life
Yamagami:
Until now I thought, people who say "It's smart, you're fashionable" became with the idea that it would lead to work.
But from now on, I have a strong desire to live a pleasant life for myself.
I wish I could have a nice life with my wife.
Mito:
In terms of work, does it mean that you will be more aware of the second stage, or more?
Yamagami:
Yes. However, no matter how bad the economy is, it is no different from going with the motto that people are happy.
It is strong and unchanging thought that I have to be thorough.
People can recognize a person who always chases the money.
Mito:
It is just like you said.
In what areas do you extend to?
Yamagami:
Let me think … In order to enter the second stage, after all, the feeling is going to be a residence, an interior, and space.
For example, renovation of an empty house.
Change the exterior or interior a little and make all the walls green wall, make the floor all grass and make holes so that you can enjoy golf.
Besides, replace all the posts with Parisian ones and create a garden at the entrance, make all the walls of the room a blackboard.
You all got a borrower right away.
Mito:
After all, people are asking for that.
Yamagami:
That's right. Today's young children are they are not rich at all. But they want to live in a fashionable place.
I think we have same thought to have and dream of a pleasant life.
Mito:
It may be stronger.
Yamagami:
Flowers and greens are, after all, make you feel good if you have in your pleasant in life.
Not only residences, but also hospitals and boutiques, I had a lot of inquiries when I coordinated from a different point of view from the landscaper again.
I will try to increase such things.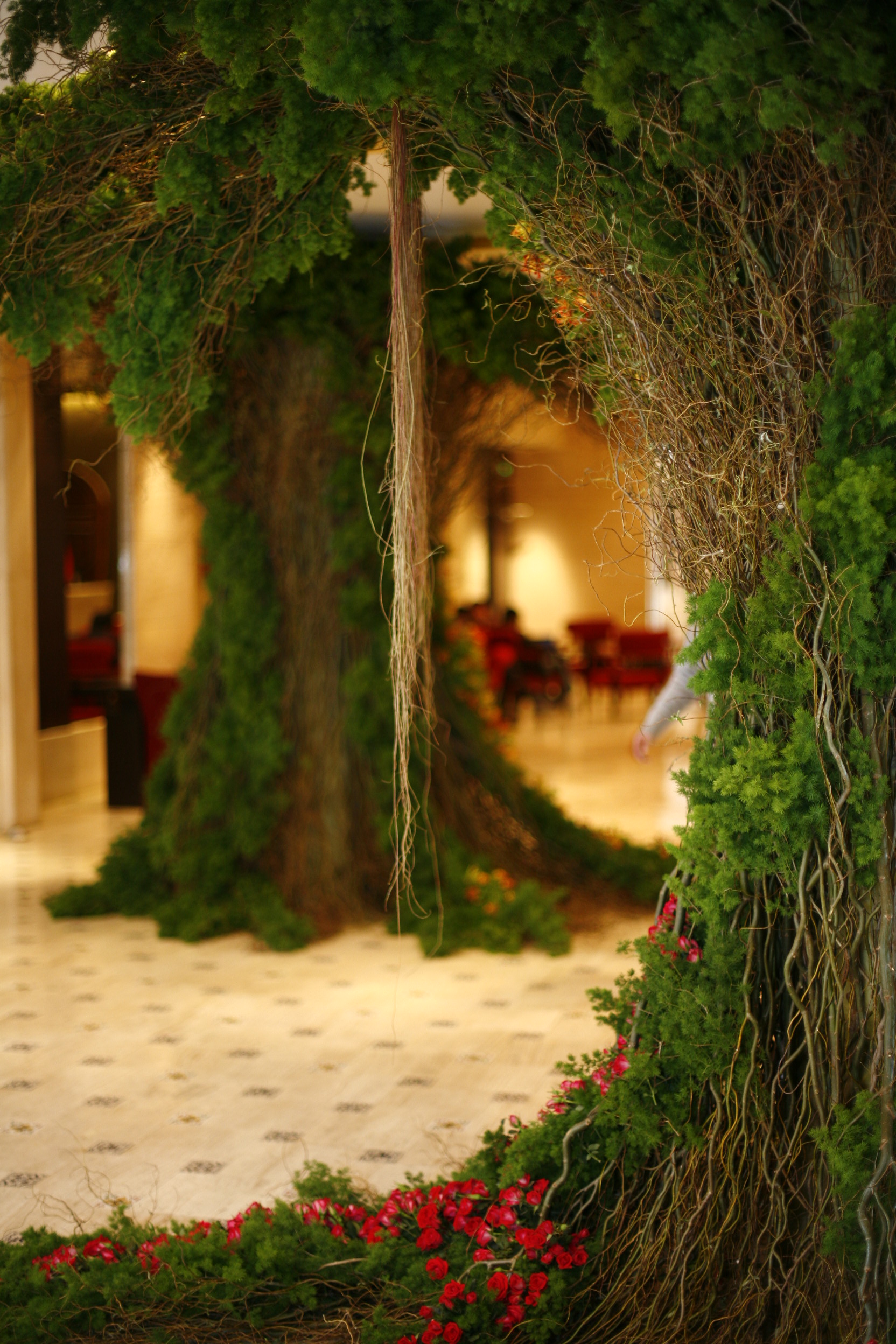 * A wooden object arranged at the entrance of the apartment. It is something that Mr. Yamagami's made of.
Mito:
After all, accumulated drawers are useful for such things.
Yamagami:
That's right.
For example, even if the owner thinks "I want to make a room like a palace in England",
You will miss a chance if you don't know what a palace in England looks like.
I can open the drawer in my mind right away!!
Whether it's a hairdresser or a boutique, more shops are taking in green.
When it comes to us, that's the main business. I will not lose at that field.
Mito:
That's right. It is far from showing your skills.
I look forward to your future success. Thank you very much.
(End)