KICK-OFF, GLOBAL PRODUCE 2020
2020.04.14
Hello everyone, this is Global PRODUCE, Yohei Okawa.
The 8th term has already come to an end and the 9th term is about to start.
Here are a few excerpts from the KICK-OFF that was announced at the GP last month.
There are no other companies that show this much.
GLOBAL PRODUCE 2020 Kickoff Conference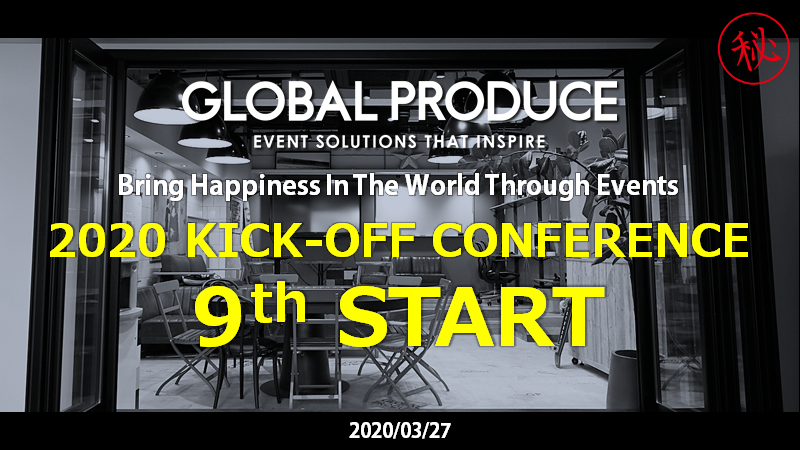 First of all, the first program was a presentation by our representative, Kouhata.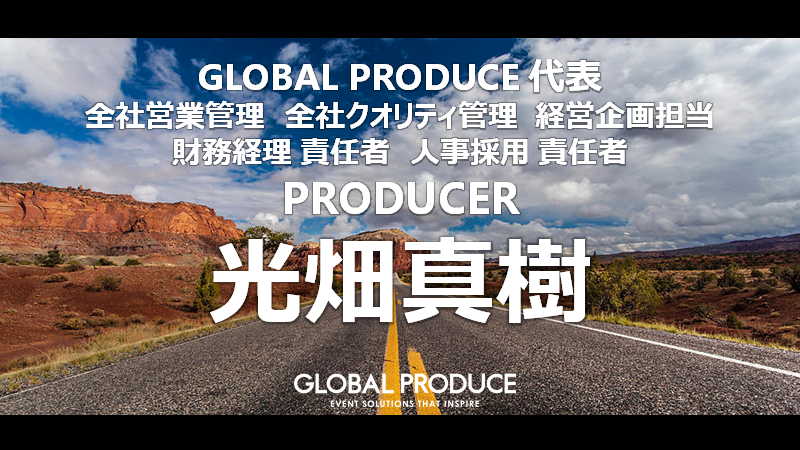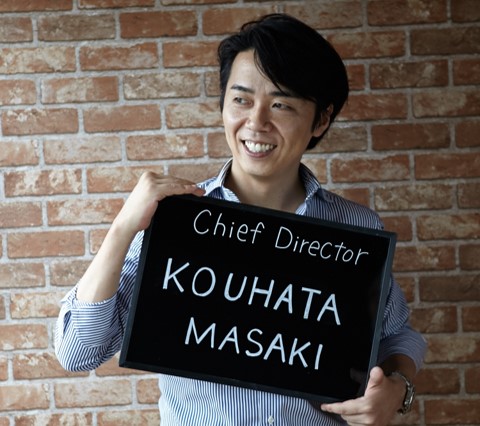 The main contents are as follows
1. what GP should be like: a sense of the world we are aiming for
2. look back at the 8th period, share the main event/analyze each numerical value
3. themes and directions for the 9th term
1) Reflections on the 8th term
Kouhata, who insists on being on time even for normal events, started his presentation at 10:00 a.m. sharp!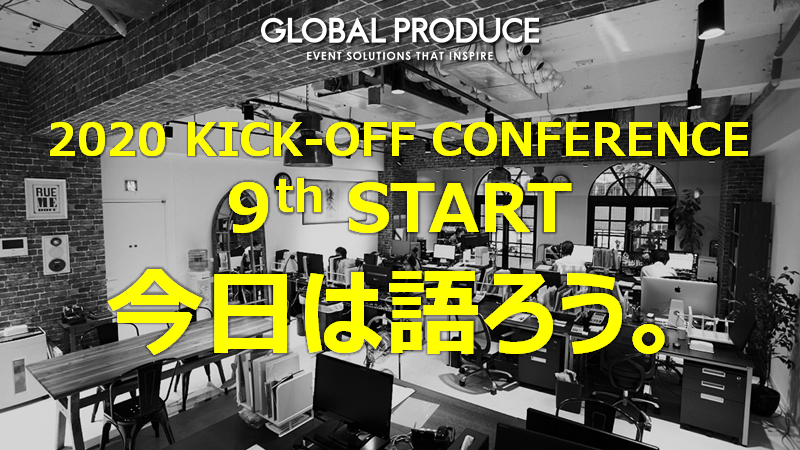 Before we look back on this term…
What does it mean to hold a KICK-OFF?
What kind of company does GP aim to be?
Each student filled out a post-it note and presented it.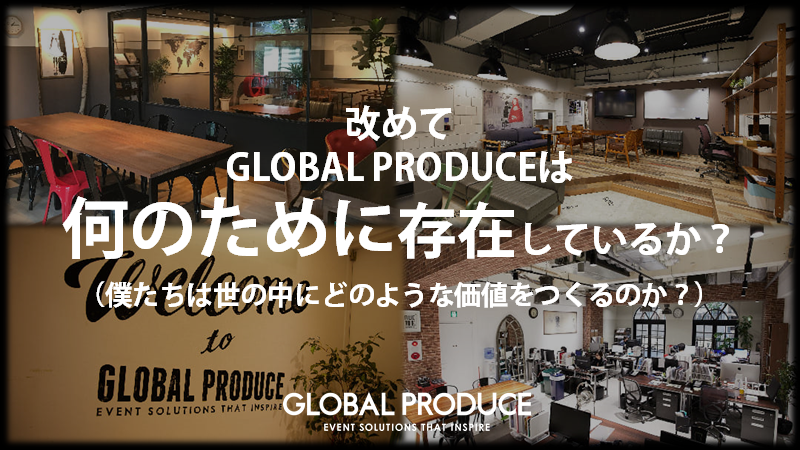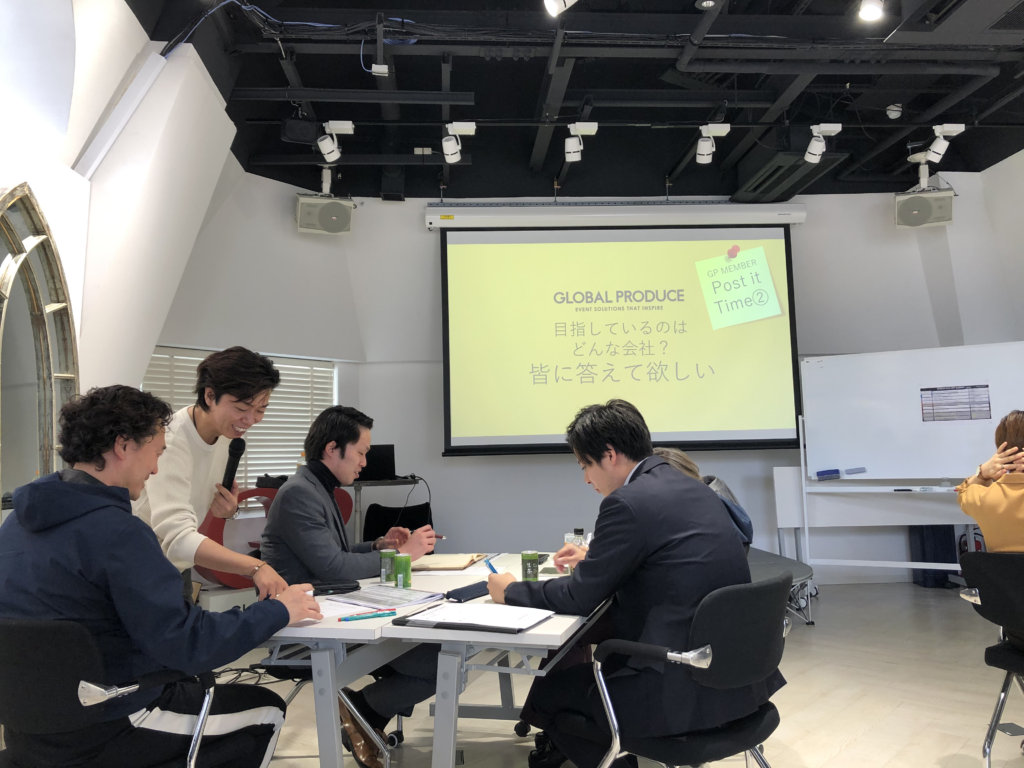 – A company that turns everyone involved into a fan.
– Super professional elite group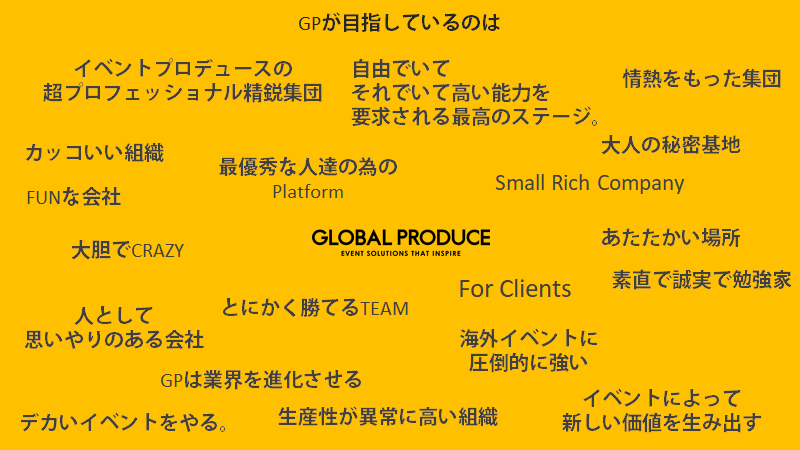 Each person's individuality came out in the presentation.
Transcribing can be a great kicker to find your own GLOBAL PRODUCE.
I do a lot of PC work every day, but the habit of writing stimulates my brain.
I would also like to introduce the kind of company GP is aiming to be, which was also mentioned in the representative presentation.
Here's a look back at this year's results, with the presentation and analysis of various numbers.
From each numerical analysis, all aspects of management can be seen.
Kouhata is often thought of as a man of momentum and passion, but he's terrifyingly good at numerical analysis and statistics from all angles.
He then talked about the three balances in the company of all GP members.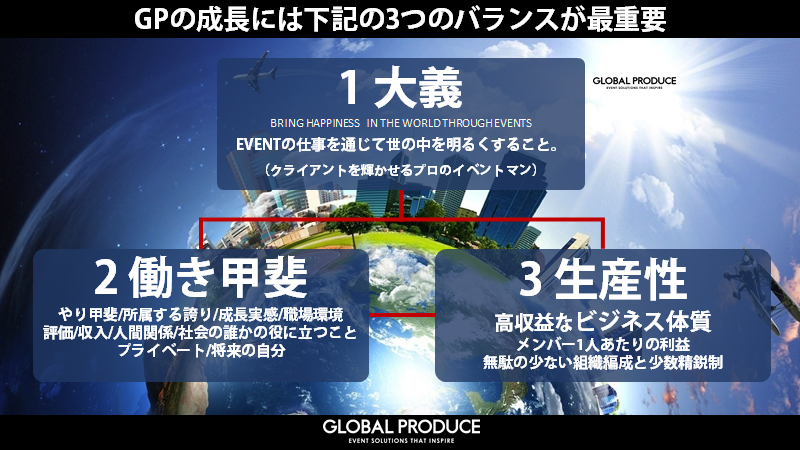 2) GP OF THE YEAR
Next up is "GP OF THE YEAR"!
GP OF THE YEAR is about determining the MVP for the entire year.
This year's GP of the Year is…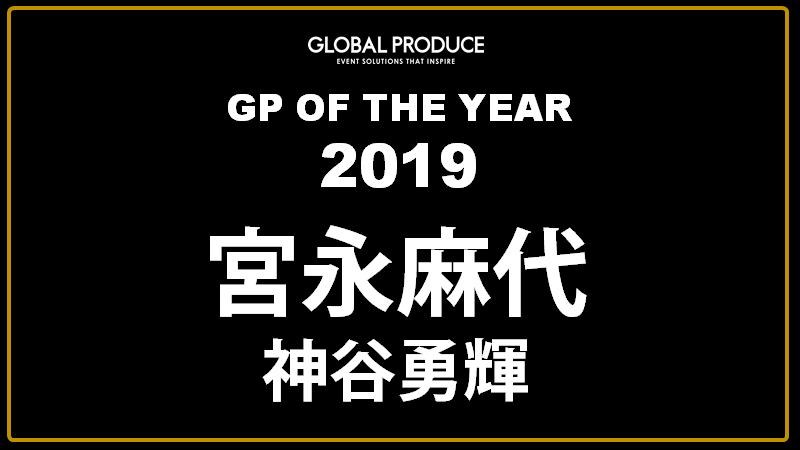 Producer Miyanaga and Director Kamiya!
Producer Miyanaga is not only an event producer, but also the head of web business, the head of marketing, and the general affairs manager.
I think it's really great to see how he's been able to contribute to GPs in a wide range of ways and steadily and speedily carry out many tasks. Let's continue to make the web more exciting together!
Congratulations!
Director Kamiya is a senior member of the same TEAM and is the most lovable senior who is always serious about giving me guidance.
I'm usually too embarrassed to say it, but I'm grateful for his support. Congratulations on your award!
Watching them both win GP of the Year, I was envious that my work was being recognized by the company.
This award was one of the keys for me because I wondered if the participants in the awards event that we usually help with were feeling this way.
3) Presentation of the theme for the 9th GP
Last year it was "VENTURE". And this year…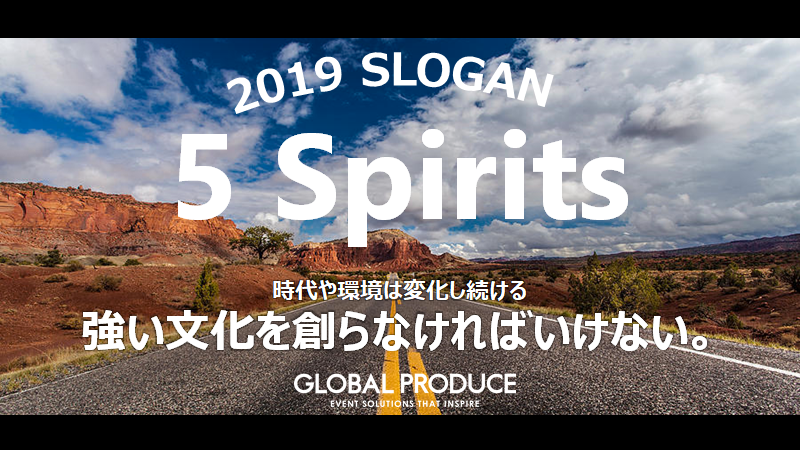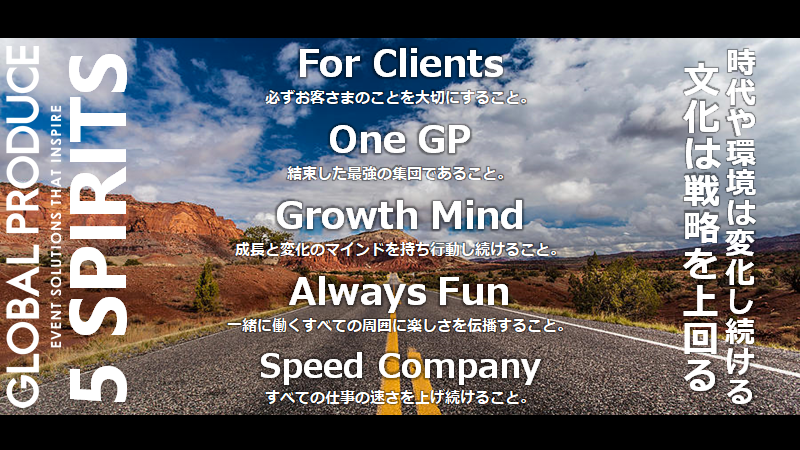 The above refers to the five mindsets that GP members "must practice".
This is a summary of what Kouhata tells everyone on a regular basis.
As if to tell myself that I am too immersed in the day-to-day operations, I have come to want to work for our customers.
And a few words from a special guest…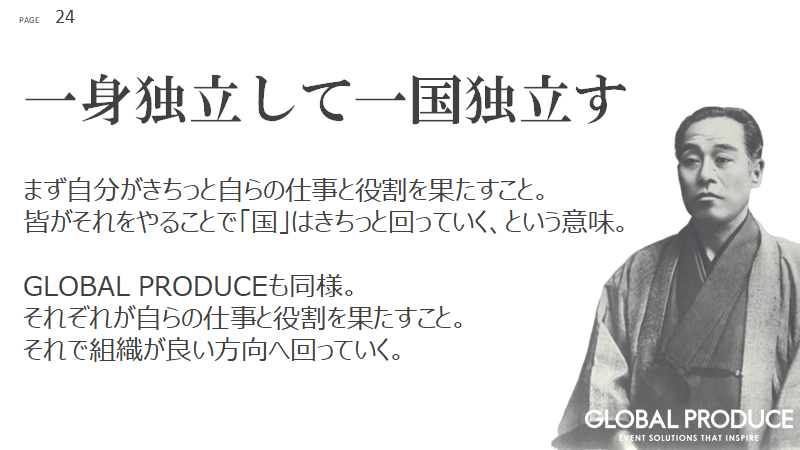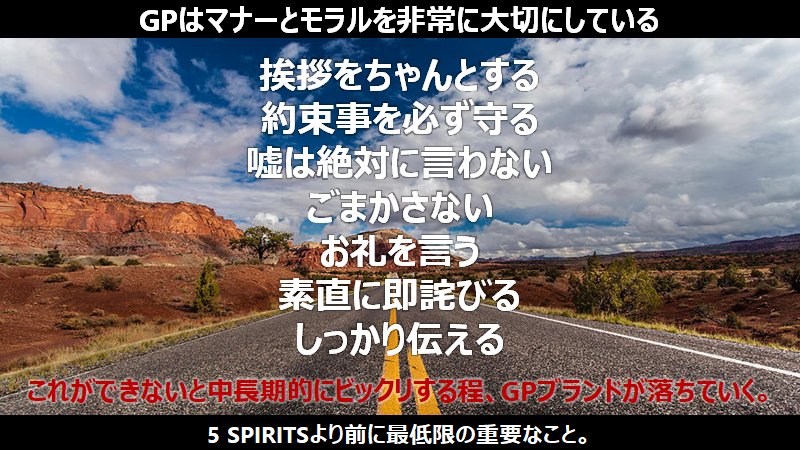 4) GP marketing strategies
Next up was Miyanaga's presentation on marketing strategy.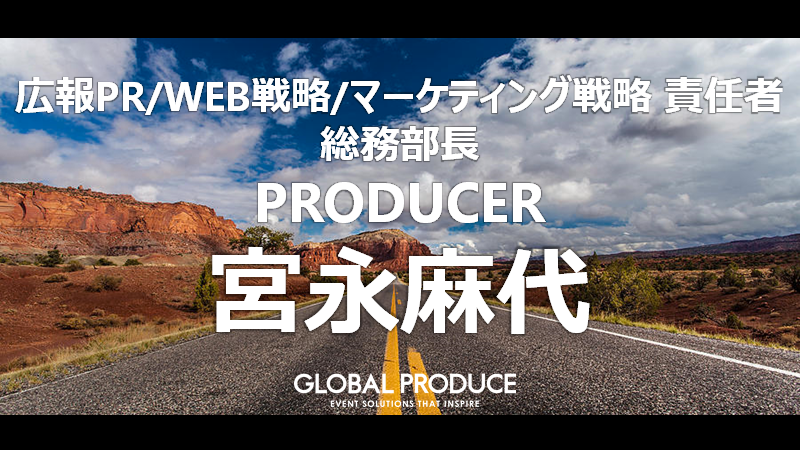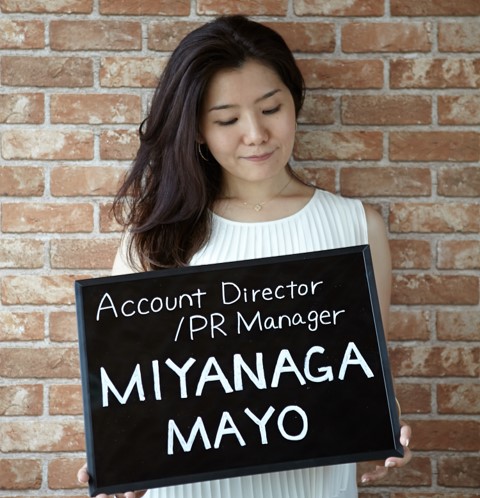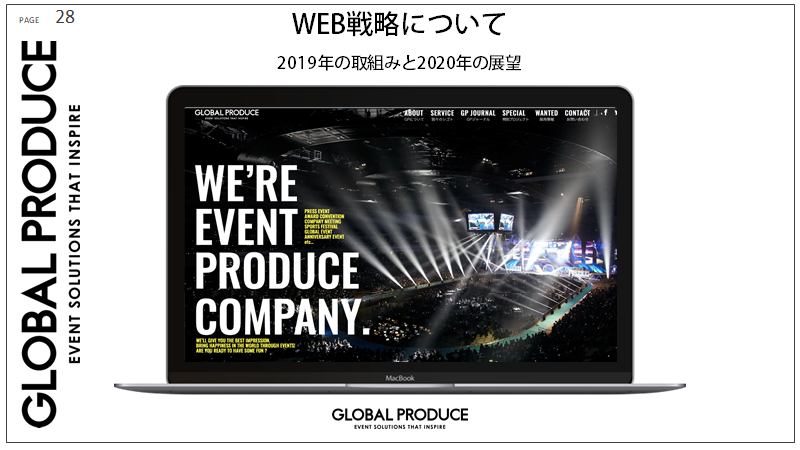 What you need to do in marketing is "keep adding more content that meets the needs of the world.
At GP, we are strategizing from various angles, such as strengthening the SEO of the web, the short film contest, and the Tokyo Beauty Project.
(So much so that it now comes up at the top of word searches for "awards ceremony" and "kickoff event"…)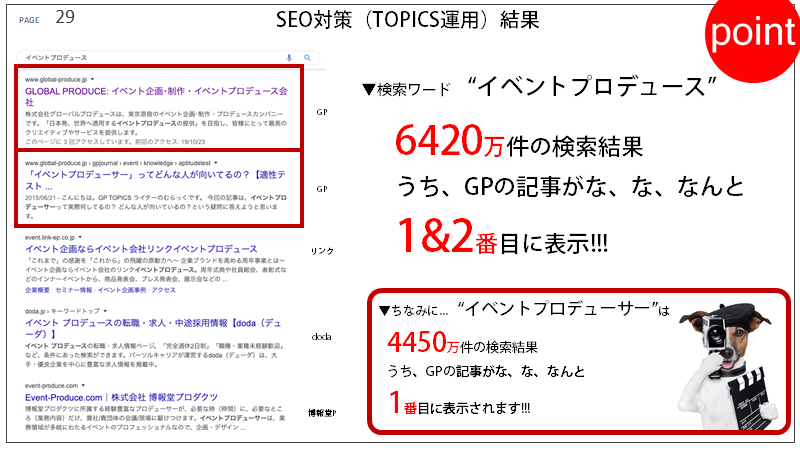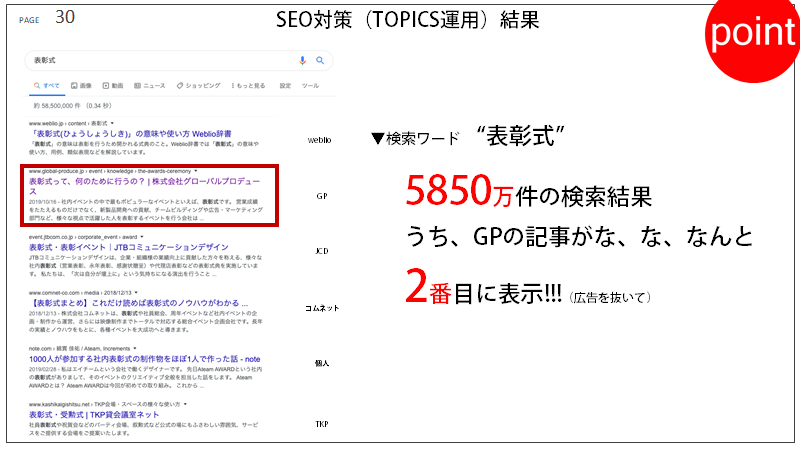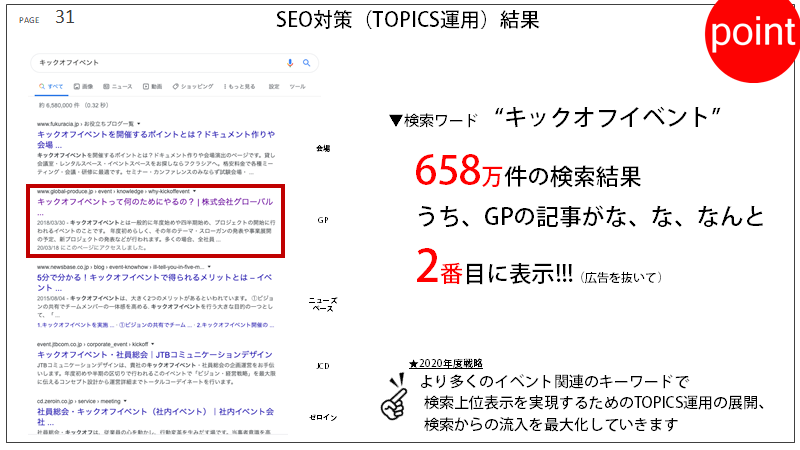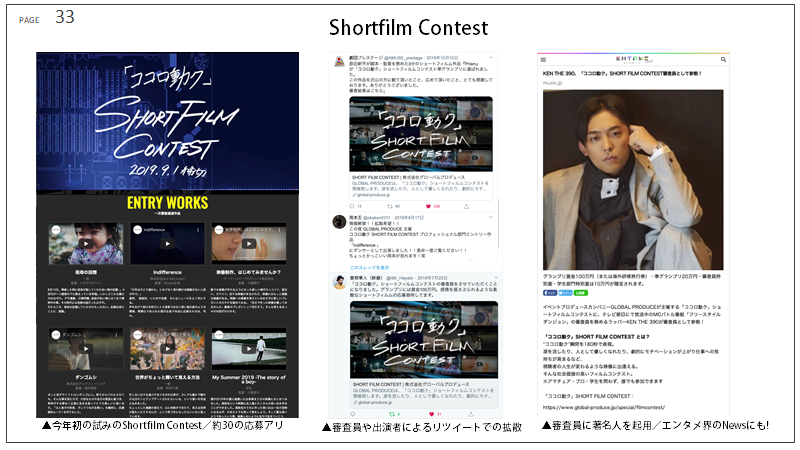 Please take a look at the web where GP continues to evolve!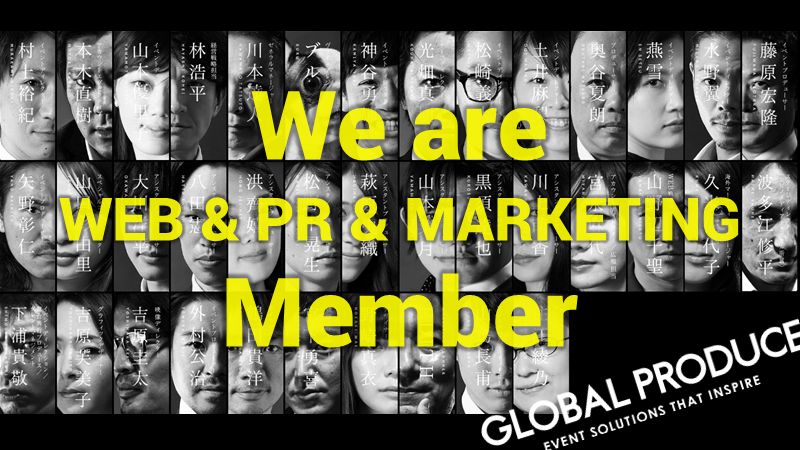 5) Sales strategy to win
Motoki gave a presentation on the sales strategy that GP is now implementing.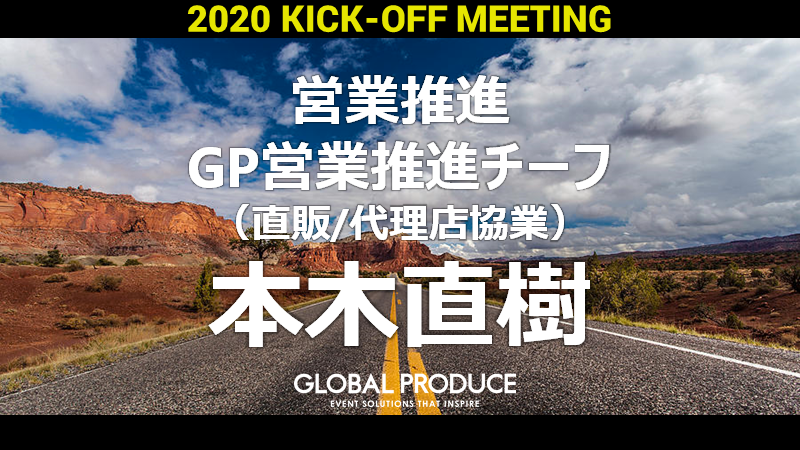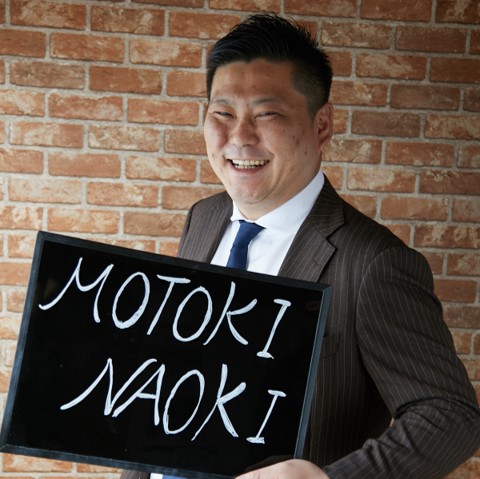 What Motoki had said in common was
A job is something you go out and get, and you do your best in the job you find.
These words struck a chord with me.
Our job is not to work for ourselves, but to find out the problems of our clients and provide them with a "real event".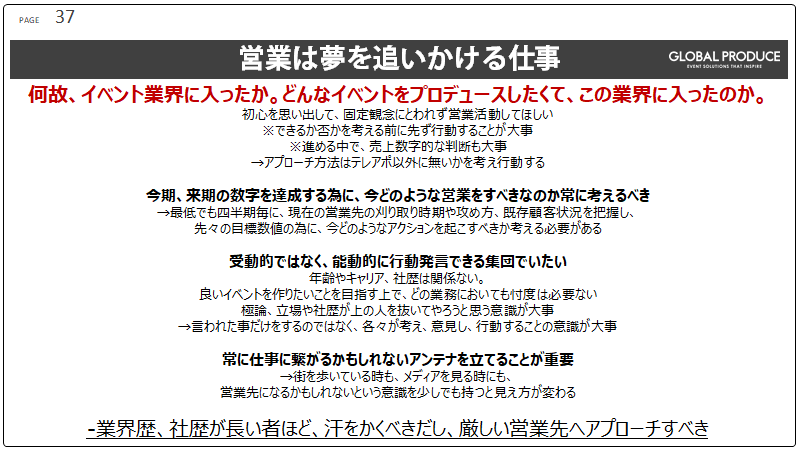 6) Let's do it again this year!
Fujiwara announced the upcoming GP events.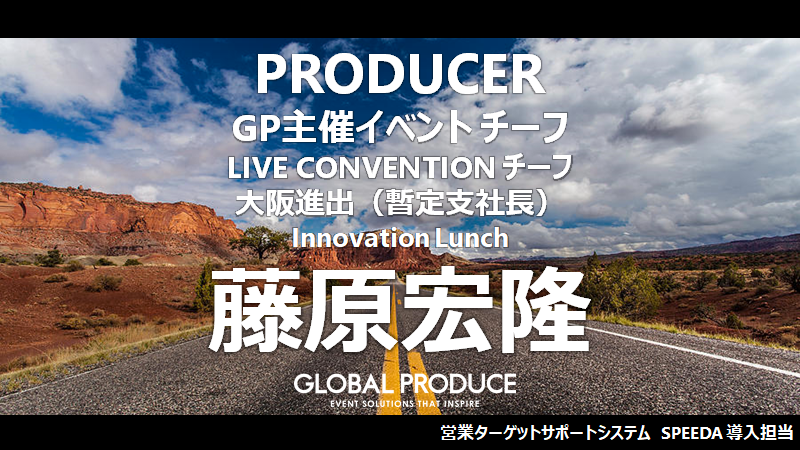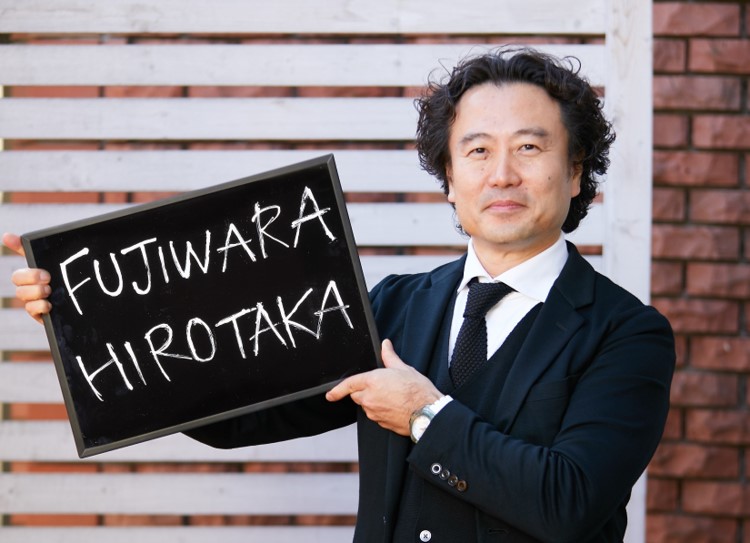 – GP Summer Festival 2020 will be held again this year!
– GP PRODUCERS SUMMIT 2020 will be held!
– VS Coronavirus, about LIVE CONVENTION.
I have a feeling that the GP is about to make a big move…
Wait for the sequel!!!!
7) Measures to improve event planning capabilities
GP's chief planning officer, Kawamoto, presented his efforts to improve planning.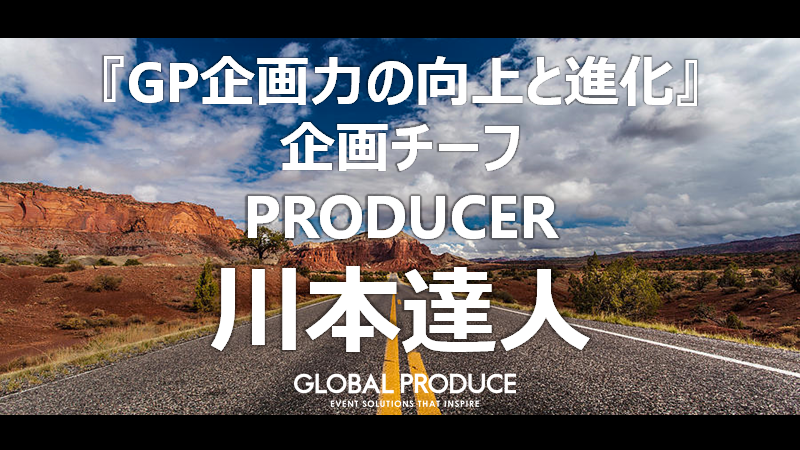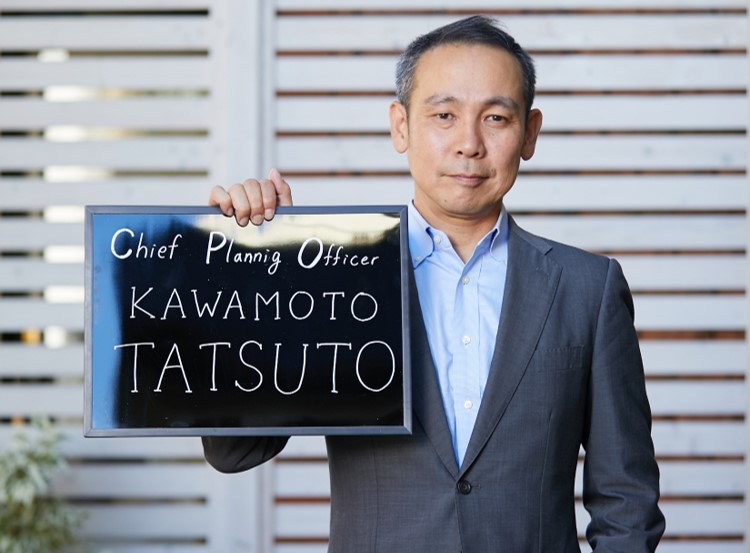 Broadly points are two.
– preliminary measures
– ex-post measures
From these two points, we will strengthen the plan.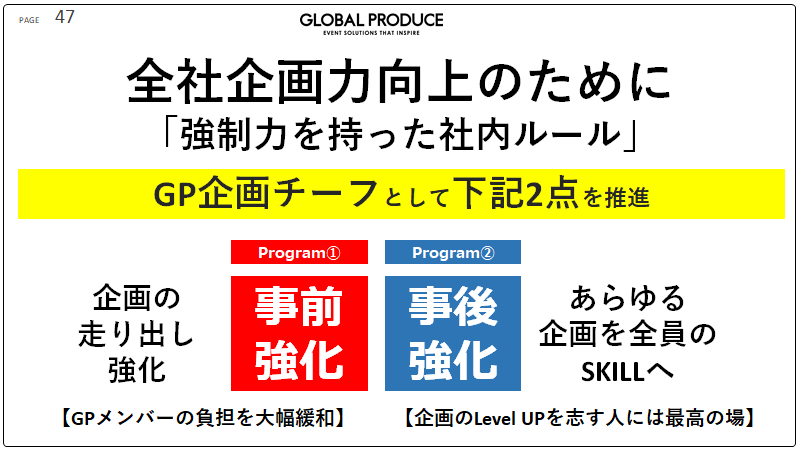 Preliminary measures mean that from the start of the plan, Kawamoto's experience and knowledge will be used to build the plan.
Ex-post measures are to visualize the strengths and weaknesses of ex-post plans and use them as materials for future planning throughout the company.
By doing this with the entire company, we can communicate our feelings and opinions and face the plan objectively and mutually.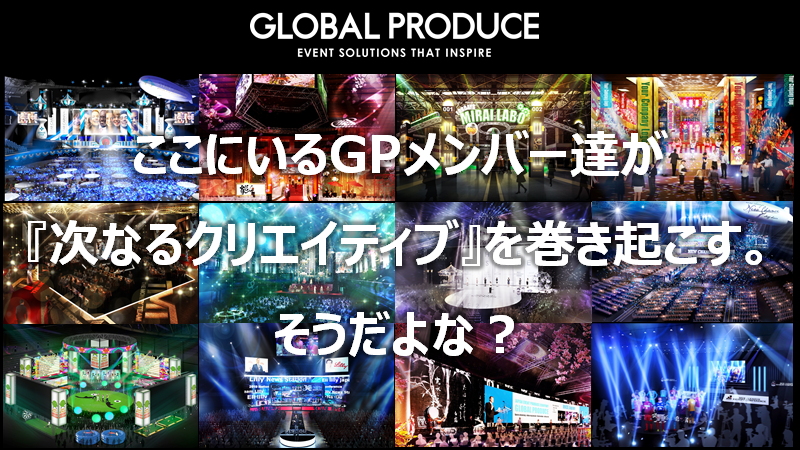 We are looking forward to such a plan that will make other companies think, "I don't want to participate in a competition with a GP!" or clients think, "The GP project is amazing!"
8) You can't take this off! Event Production Improvement Points
Yano and Tomura, the overall production chiefs, gave a presentation on what to keep in mind when producing the event.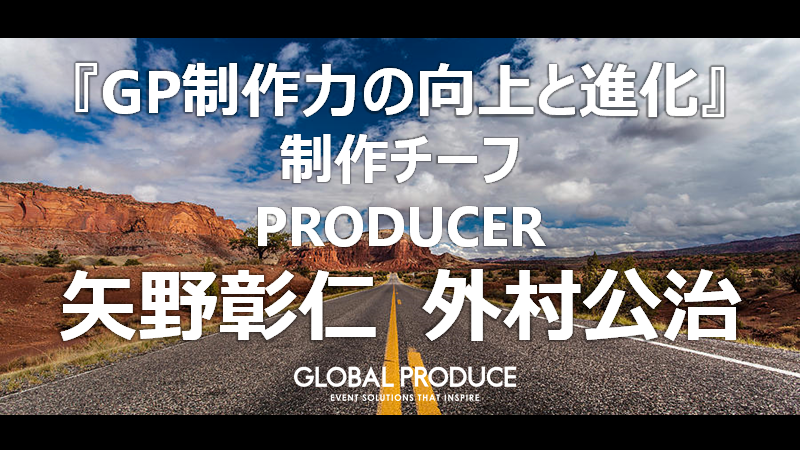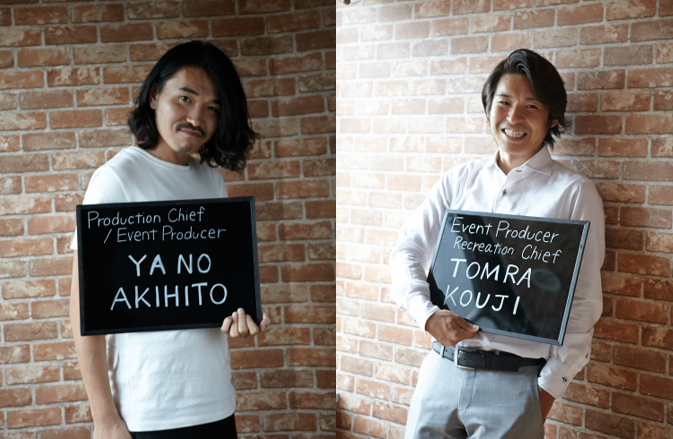 We're event professionals.
If we just do what our clients tell us to do, we don't need to.
What are the client's needs and what is their awareness of the challenges of the event?
What do they want from the production to the event?
Our work is only possible because of our clients.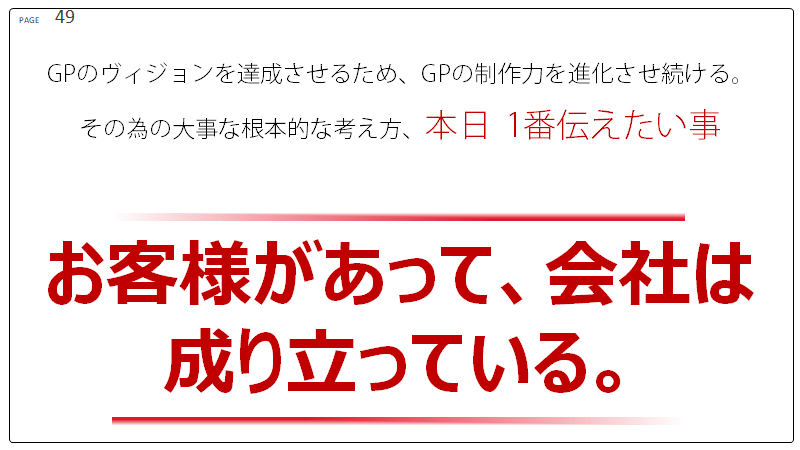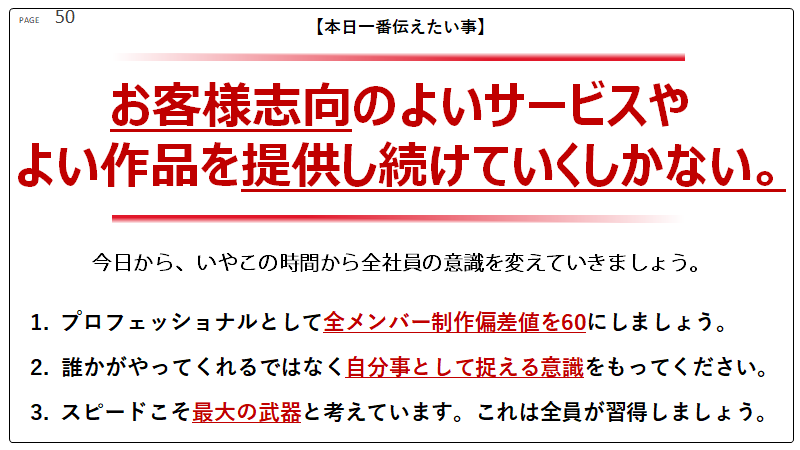 It was a time when I committed myself to this production mindset again, along with the issues.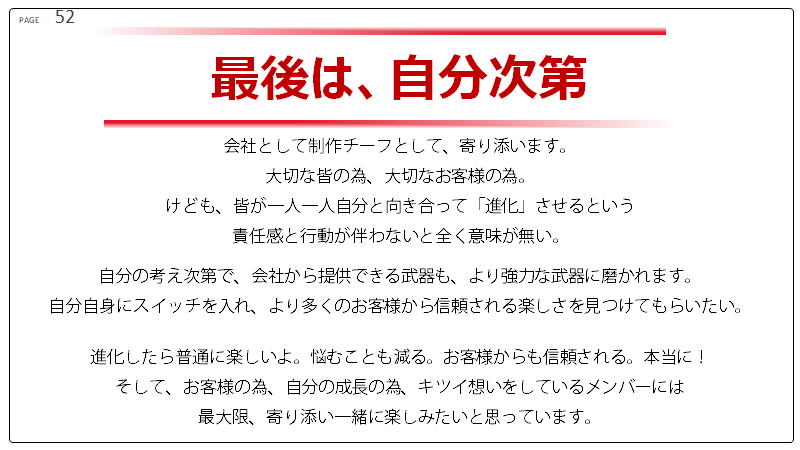 9) Theme "5 SPIRITS" Discussion
Manager Otsuka led a discussion on the 5 SPIRITS, the theme for this year's event!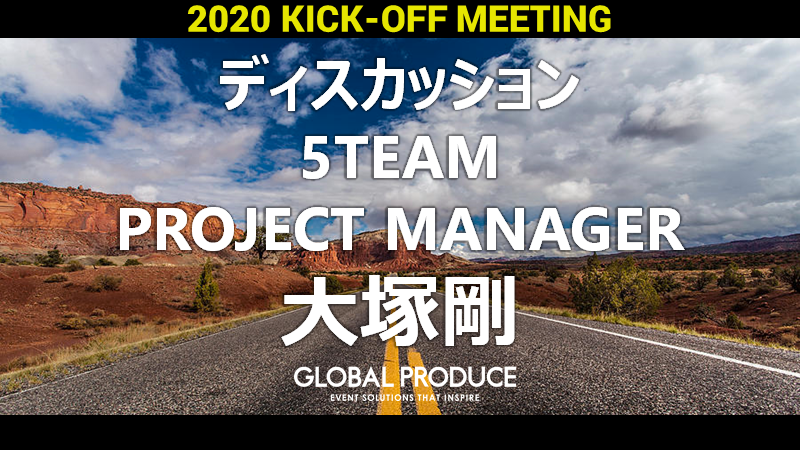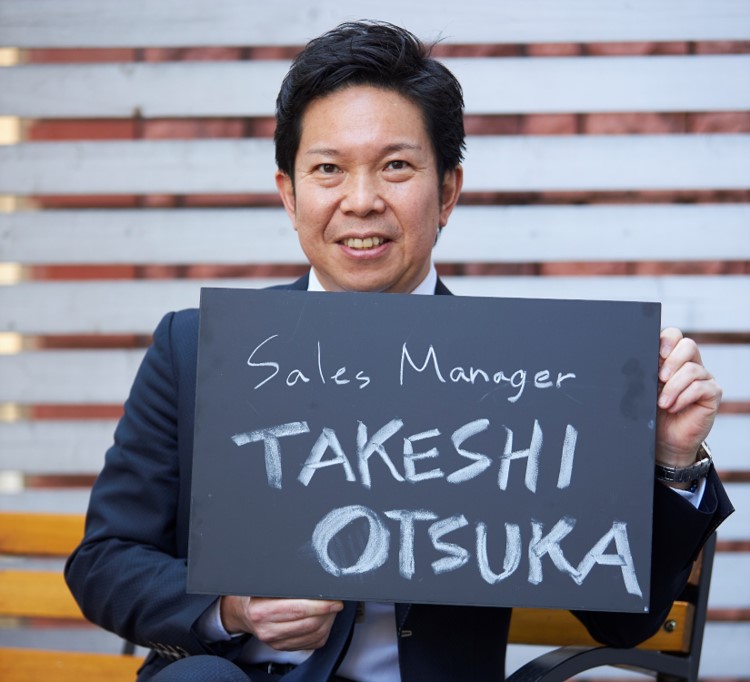 We read 5 SPIRITS in a mixed team, which is different from usual, and brainstormed about specific actions to take in the future.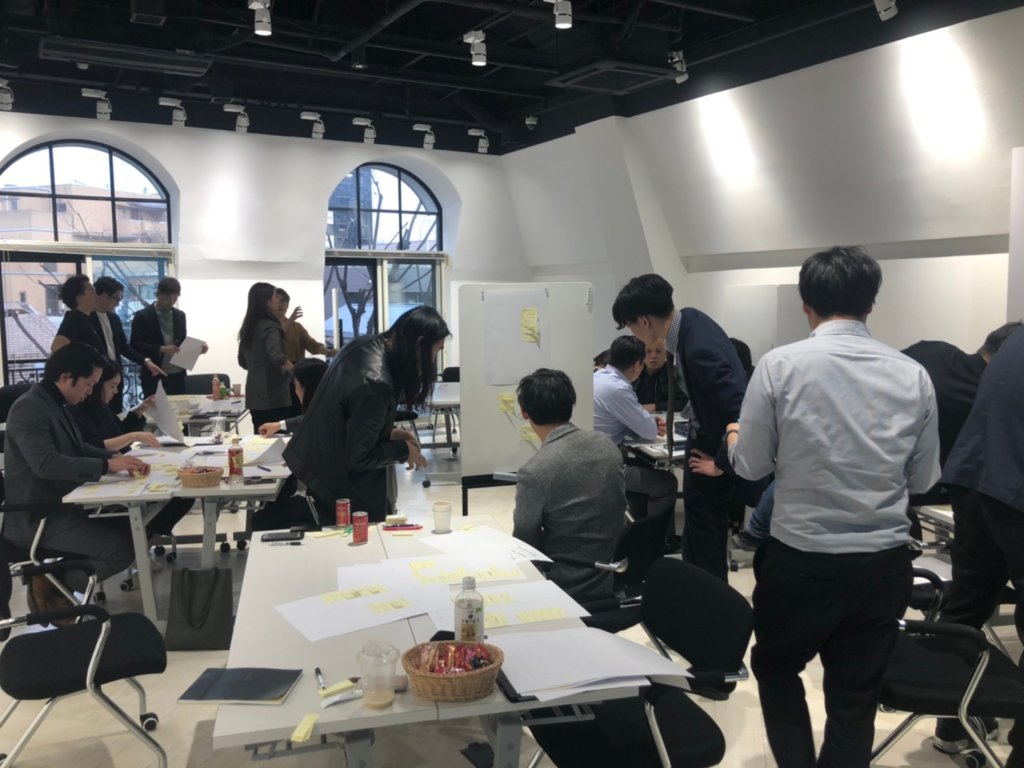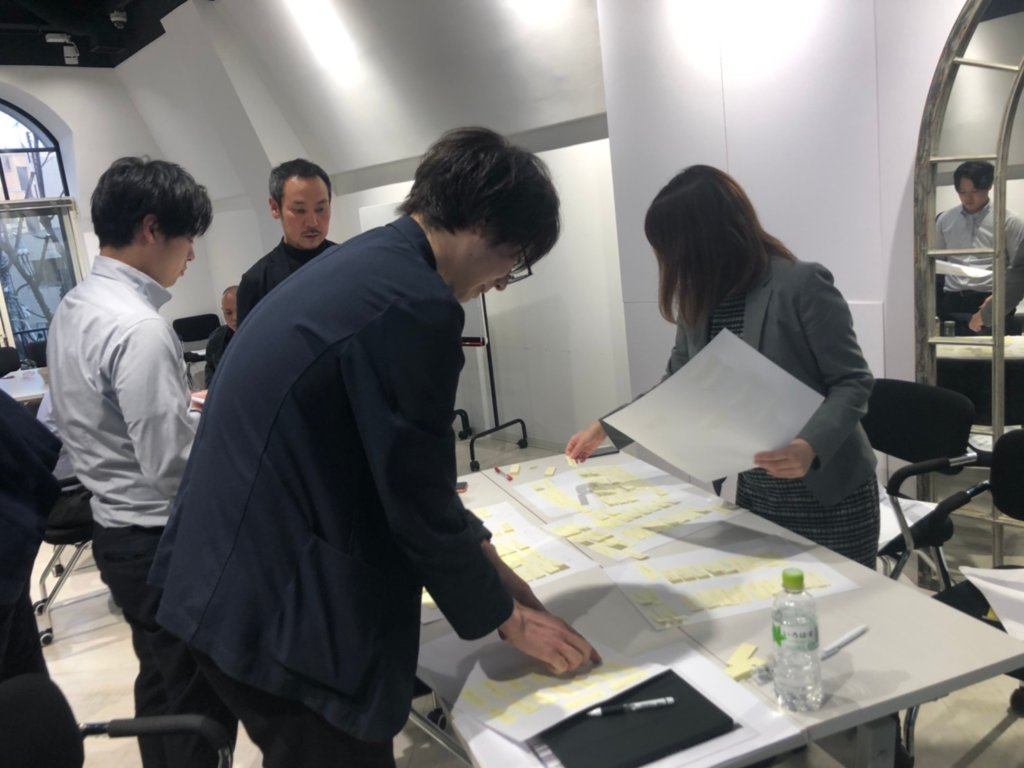 For Clients, we continue to provide the best proposal for our clients, better than anyone else.
Be sure to call out the client's name.
Increase fast and light consultations across the company for One GP. Engage people.
For Growth Mind, we absorb from outside media (anime, newspapers, books, YouTube, etc.) and don't stay in the same community.
Acting for Always Fun without bringing out negative emotions. Ensure basic manners.
Prioritize and eliminate waste for Speed Company and make time to organize it.
There were many different opinions from various teams.
In this way, multiple people get together to brainstorm and listen to other teams, adding new elements to their own thinking and values.
I think it's easier to understand brainstorming in real life, including emotions.
It's a tough time right now, but it's reaffirmed the potential of real events!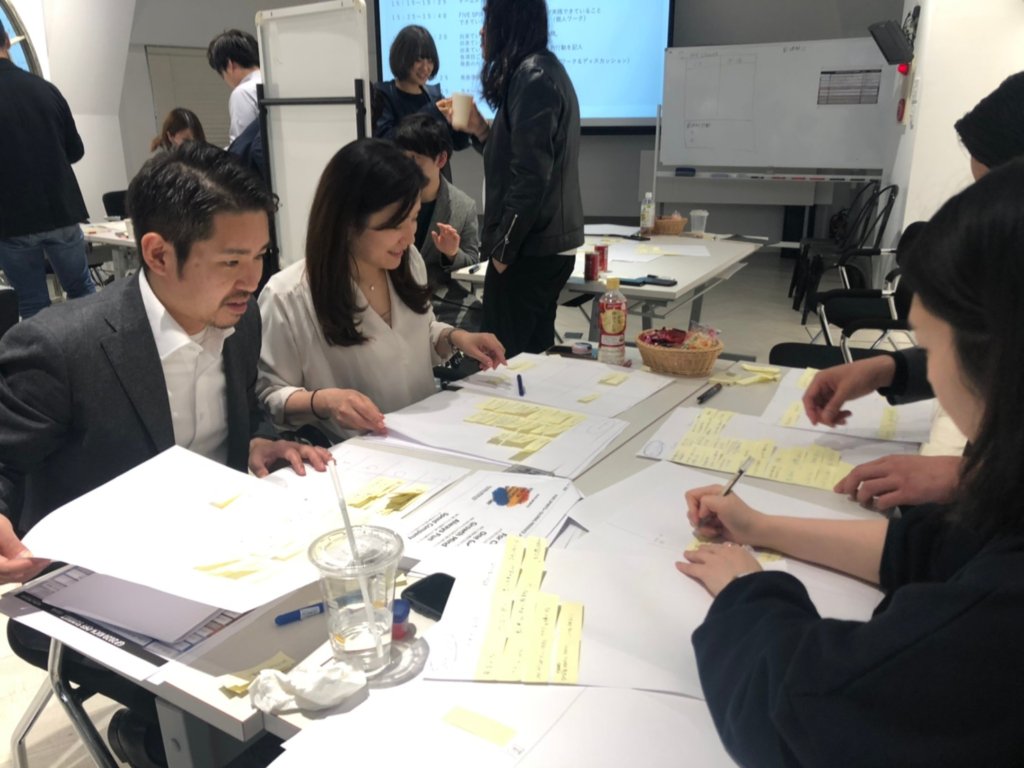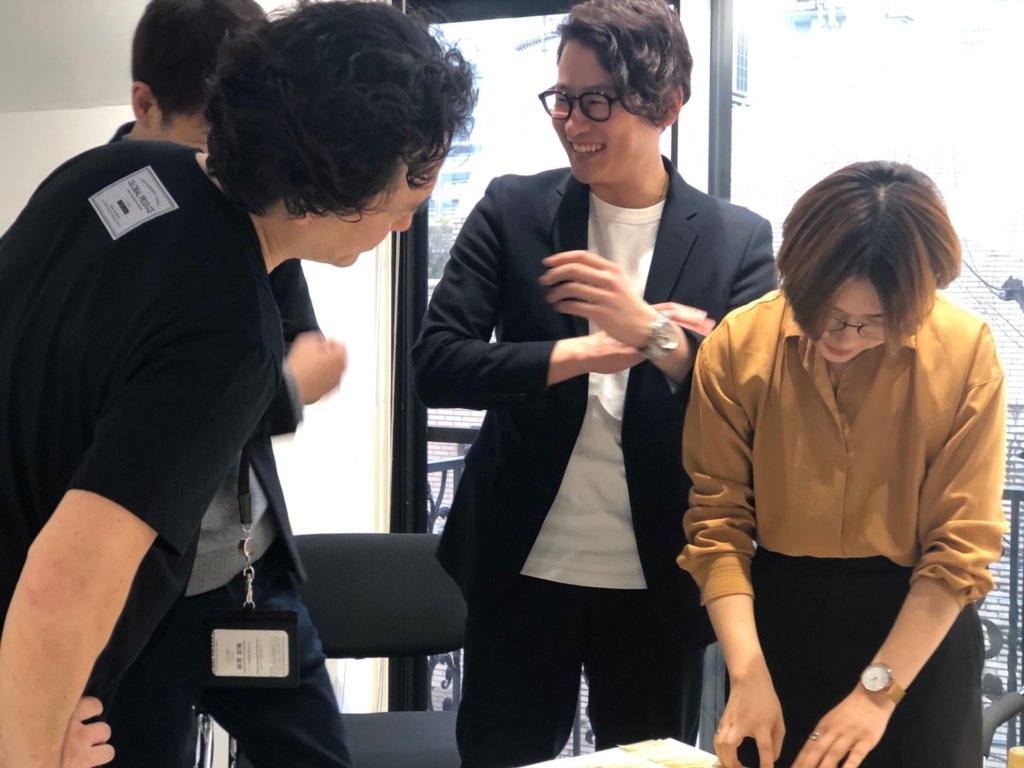 At the end of the session, we brainstormed and presented what the team should do in the future, based on the current issues with the existing team.
It was nice that every team had its own personality.
The one thing all the team leaders had in common was…
It was a pleasure to be a part of this meeting.
To have everyone on the team come together at one time and take time to reflect on themselves and the team as a whole.
It may be the significance of KICK-OFF to take the time to review it like this.
That's the whole KICK-OFF story!
We've been through rough seas time and time again. We will continue to fly the GP's "5 SPIRITS" flag and set off on new routes.
In the spirit of "For Clients", we will strive to show this flag to our clients.
Thank you for your continued support of GLOBAL PRODUCE!
Come on, let's set sail!