Successful Online Events: How to maximize the effectiveness of corporate events
2022.08.22
Since the Covid Pandemic of 2020, many corporate in-house events have gone online. In addition to going completely online, there has also been an increase in so-called "hybrid" event planning, which combines live and online events.In 2020, when Covid struck, everyone was groping for online events. Today, as more and more of these events are planned and held, the quality of online events is improving, and many events are being planned with features unique to online events.
Even if the Covid Pandemic ends in the future, it is unlikely that company events and in-house events will completely return to live events. Online events are by far the most convenient way to organize events in terms of location, time, and number of participants, especially for companies that have branches nationwide.
However, it is also true that viewers (participants) have become more discerning with the increase in online events. A simple live broadcast of a fixed-point camera is no longer enough to hold the viewer's attention. More and more, emotional planning is required to attract and enliven participants' interests.
We will discuss "How to maximize the effectiveness of online corporate events " while introducing some examples of actual online events we have handled in the past.
What are the main types of corporate online events?
There are two main types of online events, both for corporate and for public events.
They are live streaming and on-demand streaming.
The difference between the two is 'whether everyone can participate at the same time' or 'whether the event can be viewed on-demand and repeatedly'.
In the case of live online streaming, it is a prerequisite that all participants attend (watch) the event at the same time. On-demand delivery, on the other hand, allows viewers to watch at their preferred time.
The difference between the two is only "whether or not the time of the event is fixed". For example, even if a pre-recorded video is shown, if it is shown only once at a specific time, it is considered live online distribution (live streaming).
Each of these two has its own characteristics and compatibility varies depending on the company's work system and participants, so it is not easy to say which is better than the other. However, when converting what was originally working as a real event to an online event, many companies are using the online live-streaming (live streaming) method.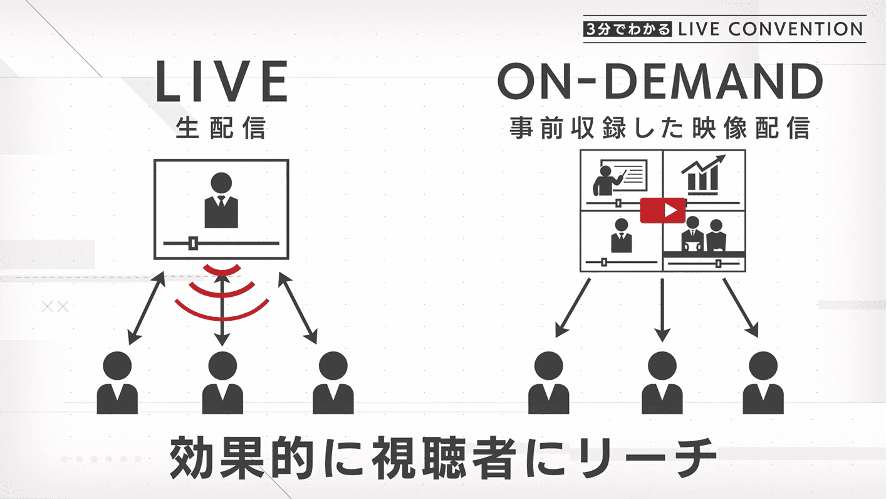 Advantages of Online Live Streaming
Online live streaming is what we call "live broadcasting" on TV. It is a style of online event that is viewed by accessing a specified URL at that time on that day.
This format has two advantages.
1. Easy to obtain a sense of unity
In the case of live-streaming, since "all participants are gathered at the online venue" and "all participants are attending the event at the same time," it is easier to obtain a sense of unity. This is especially suitable for events such as kickoffs and induction ceremonies, where the content of the event is immediately reflected in the day-to-day activities.
2. easy mutual communication
Because everyone is participating in the same event in real time, it is easy to communicate with others by adding comments or showing online gestures.
In addition to discussions and exchanges of opinions, it is easy to incorporate "mechanisms to encourage participants' responses," such as questionnaires, quizzes, and raffles, to make participants feel as if they are participating in a real event.
Weaknesses of Online Live Streaming (Live Streaming)
Since online live streaming is in the form of 'participants gathering at a venue on the Internet at a specific time,' those who cannot make it at that specific time will not be able to participate. In addition, there may be cases such as being in a place with poor reception during the event time, or not being able to watch the event due to a malfunction of the device used to view it. A particular problem is this online environment. If communication problems occur on the viewer side, the organizer can only do so much, and by the time the problem is resolved, the important part of the event may be over. It is important for both the organizer and the viewer to prepare a solid internet connection before the live streaming.
What kind of events are suitable for live streaming?
Online live streaming is ideal for events where you want to share the excitement and atmosphere. Examples include kickoffs, award ceremonies, and anniversary events. Especially when aiming for a unique event design, it is essential to share an extraordinary experience with everyone. It is also easier to include plans that encourage mutual exchange and communication by having everyone participate in the same event. Because participation can only take place once and the details fade away, an event that can provide enthusiasm that will stay with you forever is suitable for many purposes.
Advantages of on-demand delivery (pre-recorded)
On-demand delivery is the so-called delivery of recordings, as typified by Youtube, etc., in which the event video is stored online and participants can watch it at their own convenience.
This format also has two advantages.
1. No restrictions on work type or working hours
With on-demand delivery, participants can watch at their own convenience, so there is no pressure on work hours. It is suitable for companies that cannot afford to send everyone out of the office, such as infrastructure-related companies, or companies that have overseas branches, which may cause time difference problems.
2. Can be viewed over and over again.
Many on-demand services do not limit the number of times you can watch them (although the duration is often limited). Therefore, you can watch them repeatedly as many times as you like. Another unique feature of on-demand delivery is that you can "freely stop, rewind, and replay". This allows you to check your favorite parts as many times as you like, preventing less miscommunication.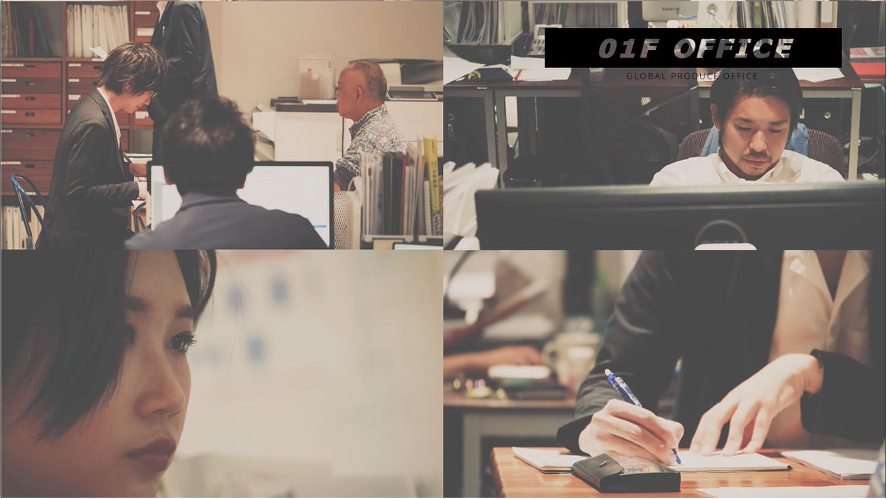 Online events are popular because viewers are not restricted by time or location and can rewind and watch.
Weaknesses of on-demand delivery (pre-recorded)
On-demand delivery has the disadvantage that the participants can watch the video at their own convenience, which makes them feel like they are "watching a video" rather than "participating in an event. Since participants basically view the event from a third-party perspective, it is necessary to put more effort into making the video more realistic and emotional than live-streaming. In addition, since each participant joins at a different time, it is easier to create an information gap between participants and those who have not yet joined. In general, it can be said that more 'ingenuity to get people to watch' is required than for live delivery.
What events are suitable for on-demand delivery?
On-demand delivery is suited for seminars and training events where you want the audience to "understand the content thoroughly," "check it over and over again," or "have something thorough to say". It is also excellent for events that have a promotional element, as it can be spread over a long period of time. Because it can be viewed by a single person at any time and in any place, it is suited for events that require a closer look.
Examples of planning and staging online events to win the hearts and minds of participants
Even if the distribution environment is set up so that everyone can participate in the event, it is meaningless if the event is boring. Online events are always in a battle against abandonment, and if people get bored with the event, it's over. Because of its importance to the company, it is essential to plan and stage the online event to make it a success and maximize its effectiveness.
Just as there are certain aspects of staging that can only be done at a real event, there are also certain aspects of staging that are only possible at an online event.
Here are some ideas to keep everyone from getting bored with the event, which are unique to online events.
A company's internal events are sometimes viewed by hundreds or thousands of employees. You want to choose the best staging to match the purpose and concept of the event.
1. Teleportation to virtual space!
A studio dedicated to virtual sets is used to effectively stage design for presentations and create news program-style sets. The studio can also be used to create original backgrounds for compositing, enabling the production of a look that suits the company.
The pursuit of reality (i.e., a sense of surprise) that makes it seem as if you are really in the space and camera work that makes full use of the space will lead to a production that you will never get tired of.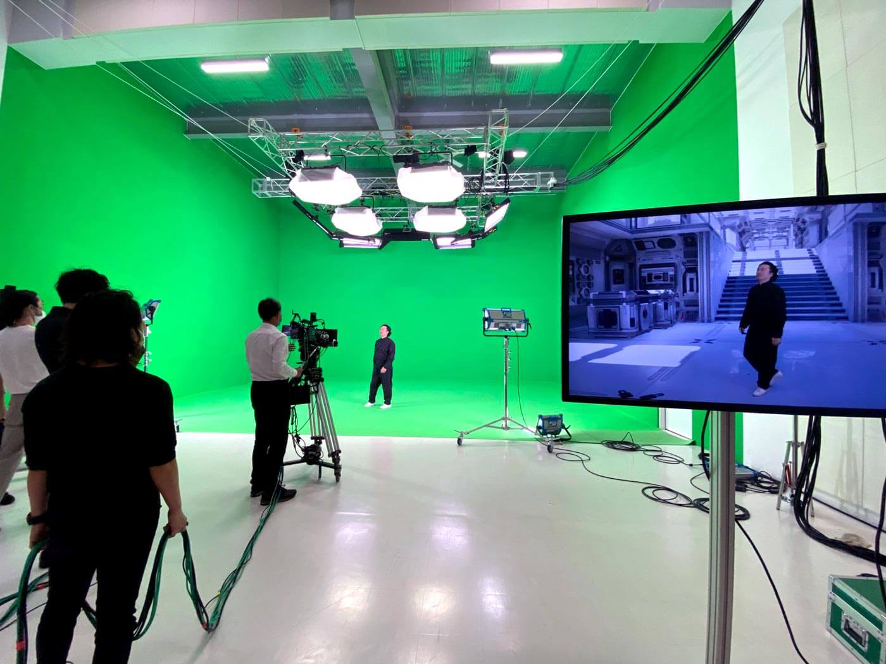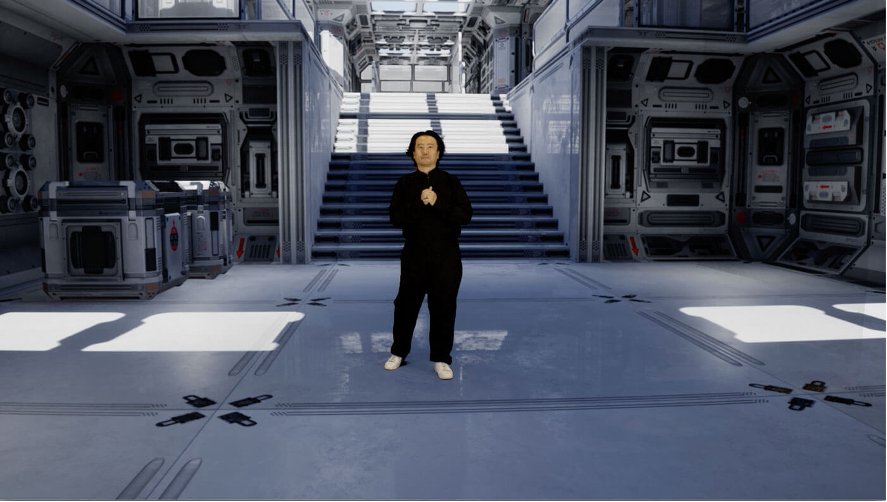 2. Shoot in-house to create a handmade feel
This method is in contrast to the first. The video materials are filmed in-house, distributed live from a room in the office, and video letters are played to give the event a handmade feel. If a company has several branches, it is also effective to connect cameras to all branches and broadcast simultaneously. Incorporating the "usual office" into an online event can enhance the sense of presence and make participants feel a sense of togetherness.
Of course, it can also be combined with 1). It's refreshing to combine the beauty of a well-crafted video with a handmade feel!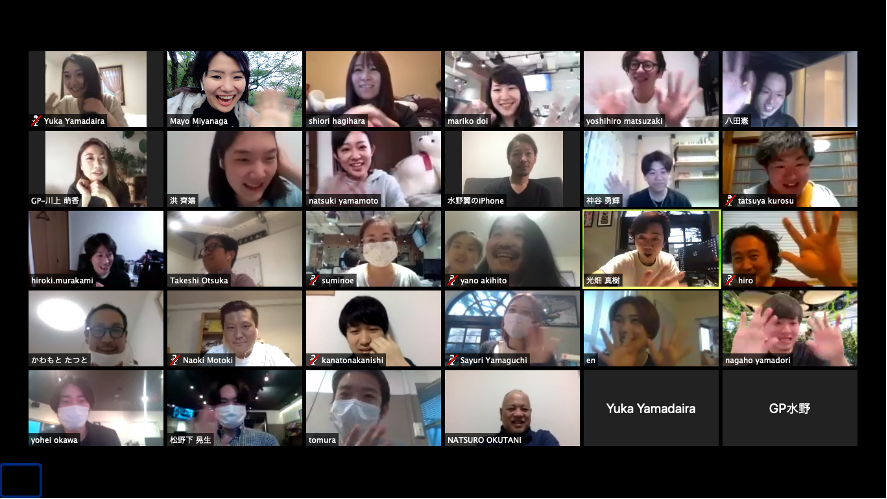 3. Viewer-participation
Viewer-participation content is mainly used to enhance the sense of unity at "live-streamed" online events.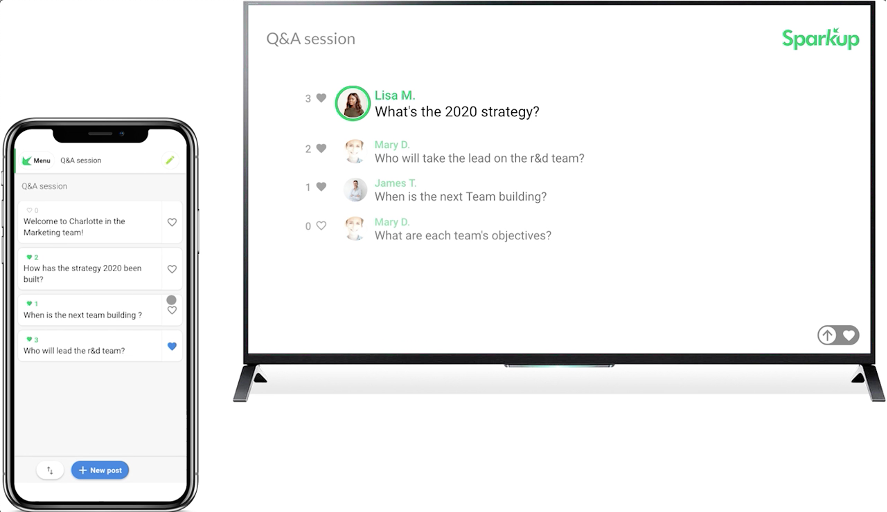 For example, chat software could be introduced to conduct a Q&A session where participants can write their thoughts and questions about the program on the spot, or a panel discussion could be held.
Entertainment-type contents such as quizzes and bingo would also be exciting.
We recommend usage of audience-participation content, as it is interactive and makes it easier for participants to feel that they are taking part in the program.
If you want a higher level of performance, you can give participants avatars (a kind of alter ego in a virtual space) and have them walk around the online venue, or invite viewers to talk sessions on the spot. This can be done in a way that cannot be done at a real event.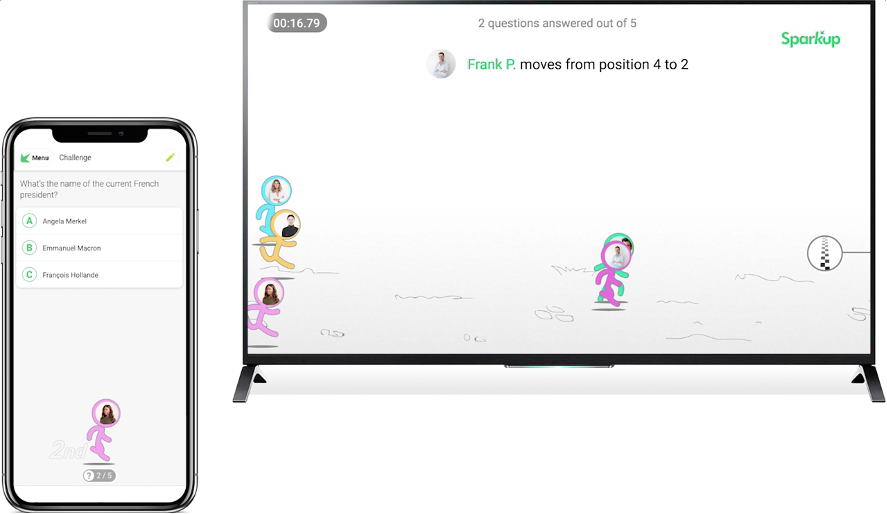 What to Consider When Hosting an In-House Event Online
When conducting online events, it is necessary to understand not only the benefits and advantages gained, but also the risks that are likely to occur.
1. Security risks
While the ability to participate in an online event from anywhere is an advantage, it also creates new risks, such as "being able to view the event even when there are people around" or "being seen by people other than employees".
Depending on the purpose and content of the event, it is advisable to select a distribution platform with an appropriate level of security and to announce precautions to participating employees in advance.
2. Risk of streaming malfunctions
Because participants in an online event receive information via the Internet, the quality of the video and audio is critical. If problems occur during delivery, such as inaudible audio or unclear and difficult-to-understand images, the effectiveness of the event will be halved, no matter how excellent the event program is.
When holding a streaming event, we recommend that you consult with a streaming company or a technical specialist, conduct a thorough stream test beforehand, and receive support on the day of the event as well.
Successful Online Internal Event Planning
Finally, here are some examples of actual events that we have supported using live-streaming. Why don't you all brainstorm what kind of staging and innovations you can make to get the most out of your events?
Case 1: Global Kickoff to Streaming to all over the world (Cosmetics Company)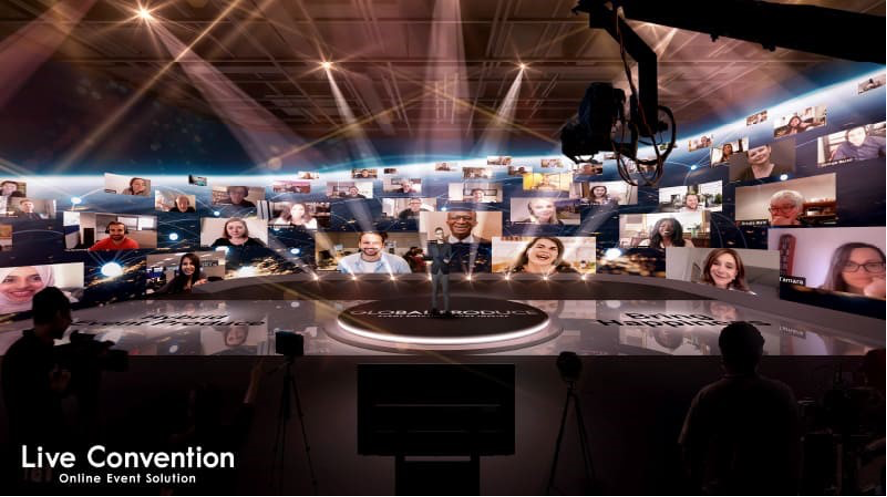 The expression of viewers from all over the world was projected on the back of the real venue with a ceiling height of 7.5m x 25m wide size.
A circular stage was placed at the center to express the image of all participants becoming one.
Furthermore, as content typical of a global company, we connected executives from around the world and realized a talk session with members from around the world.
The talk session was very well received, with many participants commenting, "I was able to hear things that I normally wouldn't be able to hear".
This was a kickoff that made the most of the advantage of online events, which is "connecting the world via a live broadcast".
Case 2: Award ceremony on a widescreen 18m wide by 4m high (life insurance company)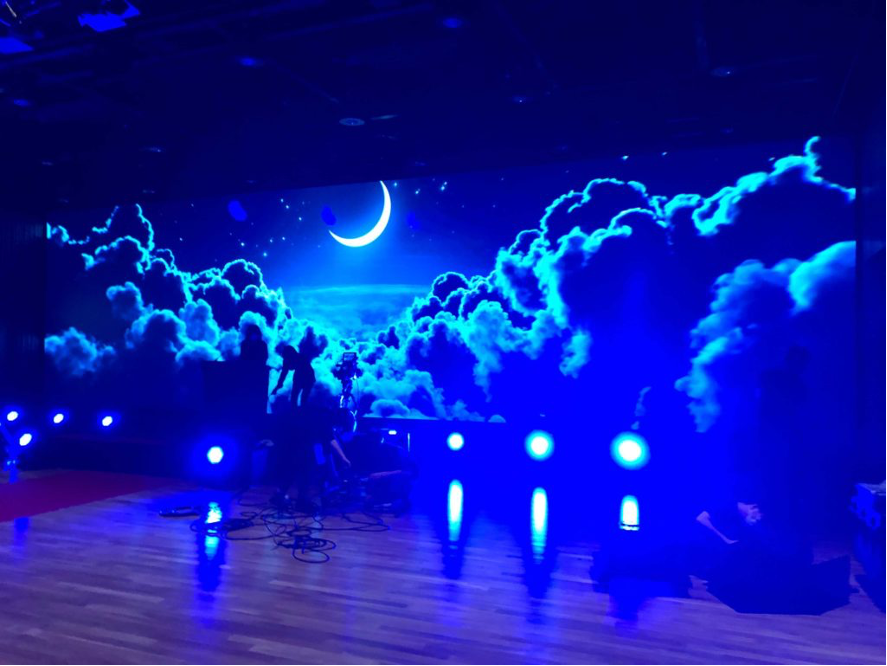 The online event was held with the board members coming to the venue and the award winners (the top 5 performers of that term) taking the stage online.
A wide screen measuring 18m (W) x 4m (H) was set up at the venue to show the executives present at the venue and the award winners participating online together, creating a scene of gratitude and recognition.
In addition, reaction cameras were installed at the seats of all the executives in the audience, and the images from the cameras were displayed in a smaller screen. As a result, we were able to see the facial expressions of the board members even as they were commenting on the award winners, making the screen more realistic.
Case 3: Immersive presentation with LED vision (IT staffing company)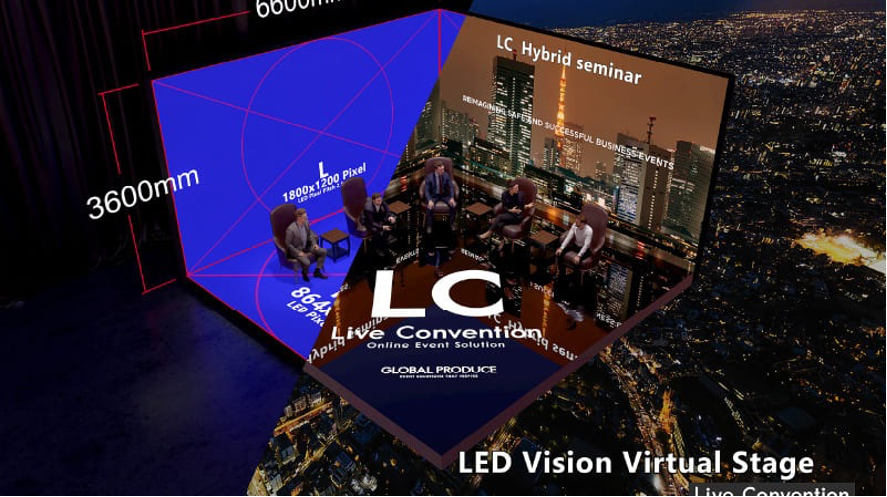 The studio setup consisted of a V-shaped LED vision screen measuring 6600mm (W) x 3600mm (H) and LEDs on the floor to project the background image. This allowed both participants and viewers to experience a sense of immersion.
A questionnaire system was also utilized during the talk session. By displaying viewers' opinions on the LED vision screen as the talk session progressed, an interactive talk session was realized for both viewers and performers, without any sense of online distance.
Case 4: Realistic presentation with various camera work (JAPAN HYBRID CONFERENCE/GP-sponsored event for the general public)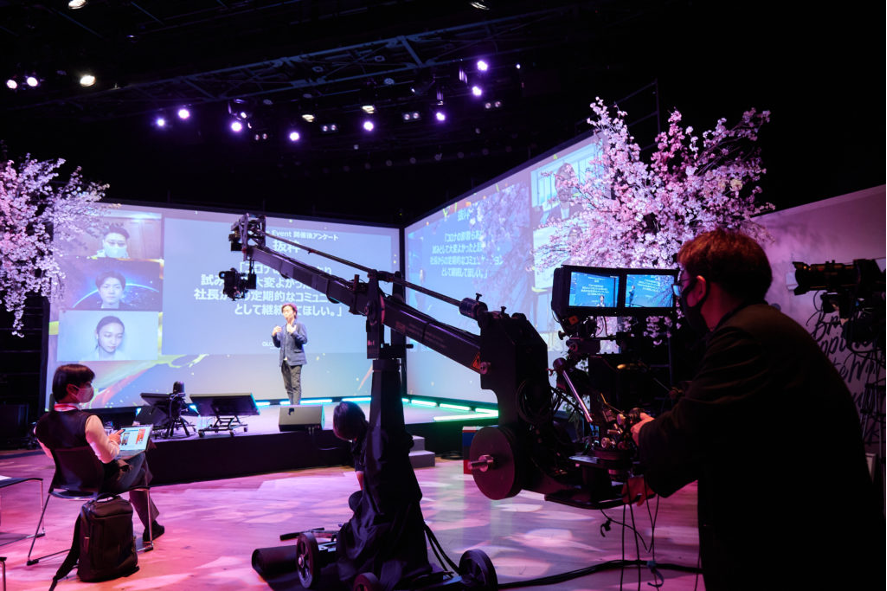 To break out of the "on-screen rut" common to online conferences, multiple cameras were positioned. During the presentation, the camera work was used to create a dizzying array of compositions, including full-body and facial close-ups.
Two screens were prepared. We used two screens for different situations, such as to show the presentation materials, the speakers using camera work, and the zoom viewers.
Case 5: Stage construction utilizing the event concept and screen presentation as if watching a TV program (GP-sponsored event for the general public)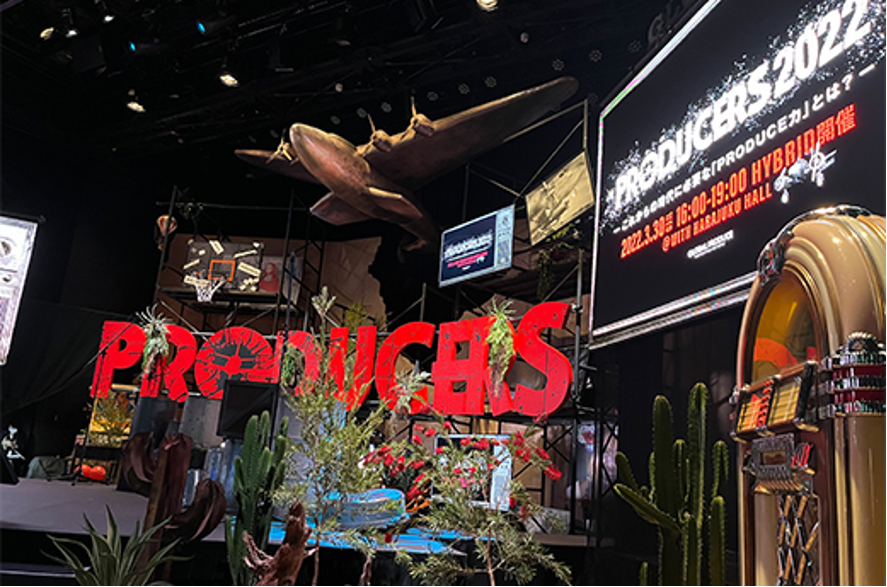 To express the event theme of "chaos," we created a stage where retro and near-future senses coexist amidst miscellaneous items, and the scenery through the camera is always emotional. We devised a way for audience participants to enjoy looking at every corner of the stage.
For online viewers, a screen designed to look like a retro TV was displayed, creating a sense of excitement as if they were watching a TV program.
Furthermore, 11 cameras were prepared to show a variety of camera work to keep the audience entertained even during the talk sessions in which the speakers did not move much.
The most important factors for a successful corporate online event
The most important thing for a company event is that all employees can participate. We realized that this is not "the norm" after experiencing "not being able to get together even if we wanted to" during the Covid situation.
This point of view is absolutely essential when we hold internal events online as well as in real life. Conditions for participation vary depending on the nature of the company's business, employees' work schedules, and other factors. Some companies have the majority of employees working 9:00-5:00 on weekdays, others have day and night shifts, others have a flexible work schedule, etc. The environment varies from company to company.
When real events were the only option for in-house events, it was difficult to coordinate time and timing, but online events have completely changed the environment.
Compared to real events, online events are characterized by overwhelming freedom of location and time. There is no need to spend time and money to come to the venue, and the time of the event can be adjusted to morning or evening, depending on the employee's work schedule.
As a result, we are able to minimize the number of people who want to participate but are unable to, due to location or time constraints.This is one of the greatest strengths of online events.
Online events can fulfill a company's wish to have everyone in the company participate in the event.
Supporting Your Entire Online Company Event! What GP can do for you.

The amount of knowledge and methods for live-streaming large events is proportional to the number of cases and the number of achievements, and as a pioneer in online events since Covid 2020, we have already gathered a great deal of experience and strategies.
For the implementation of online events, we are ready to help you with any questions you may have. How can we make your online internal events more effective? If you have any questions about online events, please feel free to contact us. We can help you with everything from planning and producing online events to providing operational support on the day of the event, as well as distributing the event on your behalf.