What's a Gala Dinner? Features, case studies, and tips on hosting
2023.03.13
Gala dinners are something we hear about from time to time these days. Originally, these events were held mainly in Europe, Southeast Asia and the United States, and maybe, you've heard the term if you're a frequent overseas traveler. However, as the demand for inbound travel increases, the number of such events held in Japan is increasing rapidly. As Japan aims to being a tourism-oriented country, it is highly likely that gala dinners will become an established event category in the future. This article will focus on gala dinners and gala parties, expected to be a very strong domain in the events industry.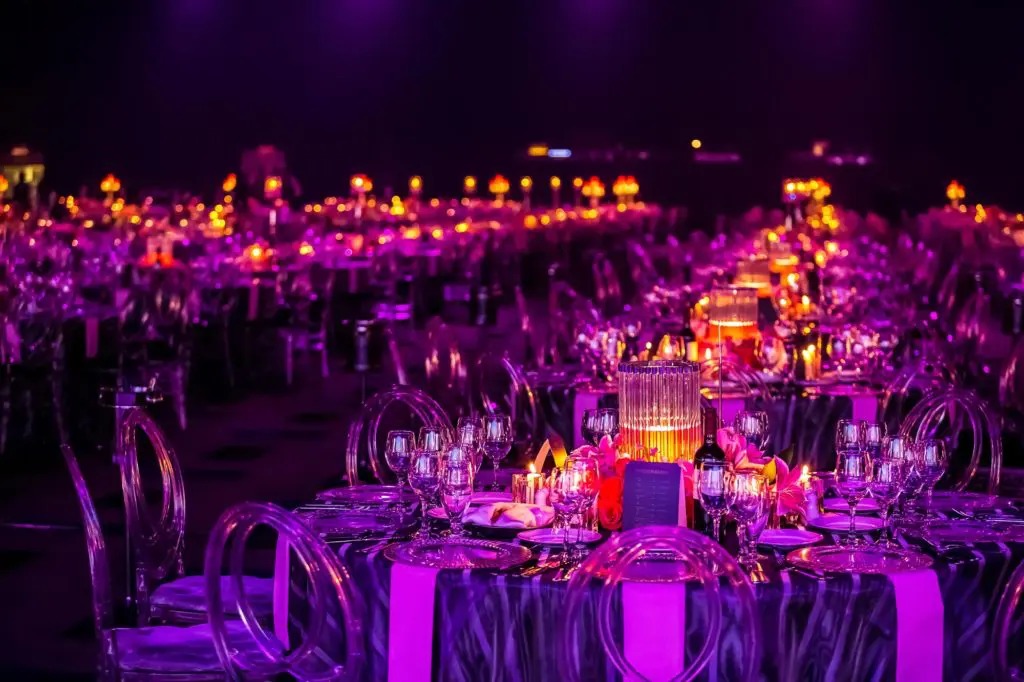 What is a Gala Dinner?
A gala dinner is simply a "special party." Gala means "special" or "festive" and is used for various events. For example, foreign ballet companies and symphony orchestras hold gala concerts with special programs.
Gala dinner is also called "gala party," and is a dinner event held mainly in Europe, the United States, and Southeast Asia. Although there are slight differences in style from country to country, they all have one thing in common: people attend at a special occasion and dress up.
The most distinctive feature of these events is that they are extravagant. There are various types of celebratory events, but gala dinners are considered to be the most prestigious and rarely attended of them all, and the content is often high class.
The Purpose of a Gala Dinner
Gala dinners, as their origin suggests, are held for the purpose of special celebrations. The celebration may be a universal anniversary such as Christmas, the launch of a new collection of a high-end brand, or the 100th anniversary of a company. In most cases, a gala dinner is called a gala to emphasize the special and high-class nature of the event.
Differences between Western and Southeast Asian Gala Dinners
Gala dinners are held in the western countries and in Southeast Asia, but their meanings are slightly different. Gala dinners held in hotels in Southeast Asia are somewhat different from the rest, so we need to try not to confuse the two.
Gala Dinner in Europe and the United States
Gala dinners in Europe and the United States often refer to invitation-only celebrity parties. They are hosted by celebrities to coincide with Christmas and other occasions, held by high-end brands to coincide with new product launches, or held by international environmental conservation groups as a charity event, among other styles. In this case, the venue is not limited to hotels. Also, since it is invitation-only, participation itself becomes a status.
Hotel Gala Dinner in Southeast Asia
In Southeast Asia, the term "gala dinner" often refers to a special dinner held by a five-star hotel during the Christmas or New Year's holidays. In this case, a gala dinner is a celebration of a special occasion where all hotel guests enjoy a sumptuous meal. Since the gala dinner in this case is an event for hotel guests, it is not invitation-only. The dinner on the set date is inevitably a gala dinner, and while it is an unusual experience, the cost of the gala dinner is included in the room rate, which is often more expensive than usual.
Things to keep in mind when attending
The most important thing about a gala dinner is that it is "special," and there is great value in attending. Therefore, a dress code and appropriate behavior is expected of the participants. It is important to attend a gala dinner in mind that it is not a casual party, but a social gathering for adults.
Dress Codes for Gala Dinners
There is usually a dress code for gala dinners. The details of the dress code may vary slightly depending on the host, but here are some of the basics.
Dress Code for Men at Gala Dinners
The dress code for men at a gala dinner (gala party) is "black tie" formal attire. So, an attire with tuxedo and bow tie.
Dress Code for Women at the Gala Dinners
The dress code for women at gala dinners is also formal attire, of which evening dress is recommended. Evening dresses are open at the shoulders and back, and are the type of dress that can be enjoyed with accessories. Since the gala dinner is a special occasion, choose an outfit that is both glamorous and elegant.
Gala Dinner Venues
Since a gala dinner is important for its special and luxurious atmosphere, the venue tends to be chosen accordingly. In Japan, banquet halls in luxury-class hotels and unique venues such as important cultural properties are suitable venues. In other countries, some gala dinners are held in palaces or museums.
Advantages in holding Gala Dinners
Gala dinners are still not too popular in Japan, but are expected to attract more attention in the near future from an inbound perspective. Here are some of the advantages of holding gala dinners in Japan.
Galas create an outstanding sense of specialness
Since a gala dinner is a "special event" in itself, simply holding it as a gala dinner can give participants an overwhelming sense of specialness and anticipation. Also, since it is possible to fill the gala dinner with decorations and contents unique to special events, it is a chance to create a production that is truly memorable for all participants.
Suitable for inbound events
Gala dinners are very attractive as inbound events. Gala dinners are held in a variety of formats, but many styles combine dinner and a show. Therefore, it is possible to provide hospitality that crosses Japanese cuisine, Kabuki, Japanese drums, Japanese dance, Calligraphy performance, and other contents that would be unique for foreign guests to enjoy.
A special social occasion
Western-style gala dinners are basically invitation-only events with carefully selected participants. As a result, they are attended by an upper-class of participants, and as a result, they can serve as a high-quality opportunity for socializing. To use an analogy, a gala dinner is a modern-day version of a ball. It can be a very attractive event for socializing because it gives great meaning to being invited and to participate.
Disadvantages of Gala Dinner
While there are many advantages to gala dinners as described above, there are also disadvantages. Here are some of the disadvantages we see at present.
The need to inform those that don't know what a Gala is
The name "gala dinner" is still not well known in Japan, and as of February 2023, many people may not have a clear idea of what a gala dinner is. Therefore, if the purpose of the gala dinner and the dress code are not properly communicated to the guests, they may say, "This is not what I had in mind" on the day of the gala dinner. Especially when a gala dinner is to be held with participants from countries with a gala dinner culture, it is important to thoroughly inform the participants so that their understanding of the gala dinner is correct.
Severe scrutiny of quality
As mentioned above, a gala dinner is a special event that requires formal attire, and the attendees come to the venue with the awareness that it is a special event. As a result, expectations for the venue, food, show, etc. are high, and as a result, high quality is demanded in every aspect of the event. It is not a matter of just being extravagant, but if the budget is cut, it will immediately rebound in the evaluation of the event, so care must be taken.
Cannot be held online
Gala dinners are dinner-driven events with a strong social aspect. Because the event is meant to be attended in real life, it is virtually impossible to hold it online or at a hybrid location. If your schedule does not allow you to attend on the date of the event, you will not be able to attend, so please be very careful to coordinate dates and venues.
Gala Dinner Case Studies 
Dior Charity Gala Dinner
A joint Dior and Venetian Heritage charity event held in conjunction with the 59th Venice Biennale International Art Exhibition. In Europe and the United States, gala dinners and charity events are often held together, and this event was also held with the aim of preserving Venice's cultural heritage.
The venue was the Venice Theatre. In view of the world situation, part of the money raised was also donated to Ukrainian refugees living in Italy.
APEC Economic Leaders' Meeting (AELM) Gala Dinner
This gala dinner was held in conjunction with the APEC (Asia-Pacific Economic Cooperation) Economic Leaders' Meeting in Bangkok, Thailand in November 2022. It was hosted by Thai Prime Minister Prayut Chan-o-cha and held at the Royal Thai Navy Conference Center in Bangkok, Thailand. As befitting a gala dinner held in conjunction with an international conference, there was not only sophisticated cuisine, but also orchestral performances and artwork, and the venue was decorated to the highest standards.
Gala Dinner TIIMM G20
This gala dinner was held in conjunction with the G20 Ministerial Conference on Trade, Investment and Industry in Bali, Indonesia in 2022. It was hosted by Mr. Zulkifli Hasan, Minister of Trade of the Republic of Indonesia, and Mr. Baryl Rahadaria, Minister of Investment. The gala dinner, held at Taman Bhagawan in Bali, was a truly unique and special time to enjoy traditional Indonesian cuisine and traditional Indonesian dance.
How to Organize a Gala Dinner and What Makes it a Success
Gala dinners are events where luxury and uniqueness are important where a thorough and reliable hospitality is required. Considering this, the shortcut to success is to hire an event company that has experience in holding high-class events, without forcing the event to be hosted by the company itself.
The key to a successful event is to make sure that the participants feel that the event was worth the trip. In addition to a high-class venue, food, and hospitality, it is important to select participants whose interaction will lead to business opportunities, and to incorporate shows and performances that match the trends of the participants, paying attention to every detail and focusing on what kind of unique experience would please the participants.
SUMMARY
Gala dinners are among the most special of all live events, and are held on special occasions. Although not yet well known in Japan, it is likely to become an indispensable format for Japan's development as a tourism-based country.
Even if you are not planning to hold a gala dinner right this minute, it is worth understanding what kind of event it is. We hope this article did the job!