Hybrid Events! Case Studies and Key Points to Success!
2022.11.17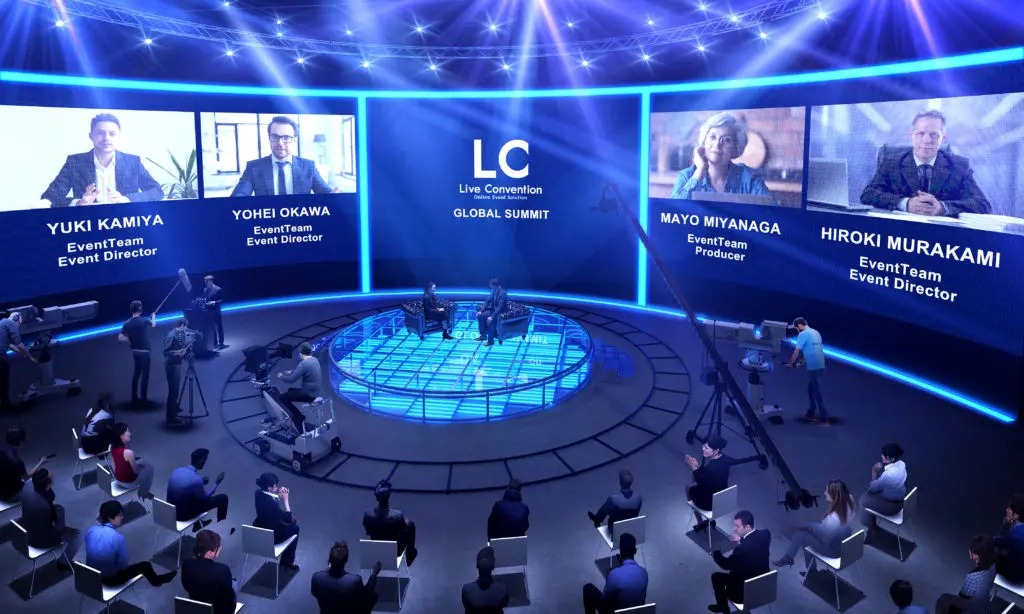 What is a Hybrid Event?
Hybrid events have quickly spread and taken root. However, it is not that clear what exactly this hybrid is combining, and what makes it different from other event formats. First of all, let us tell you about the meaning, characteristics, and the background behind the birth of this format.
Meaning of Hybrid Events
The term "hybrid event" currently used in the business industry refers to a hybrid of "live events" and "online events", an event that combines the best of both formats. For example, let's take an event held at a live venue, and online participants support the event by commenting and voting, etc. Camera crews go and shoot into branch offices as a surprise, and the audience and other viewers watch the event as it progresses. It may be easier to understand if you imagine a live quiz show in which viewers can also answer questions.
There are no specific terms for hybrid events depending on the ratio of live and online participants, and a hybrid event is where both live and online participants take part in the same event, regardless of which has more participants.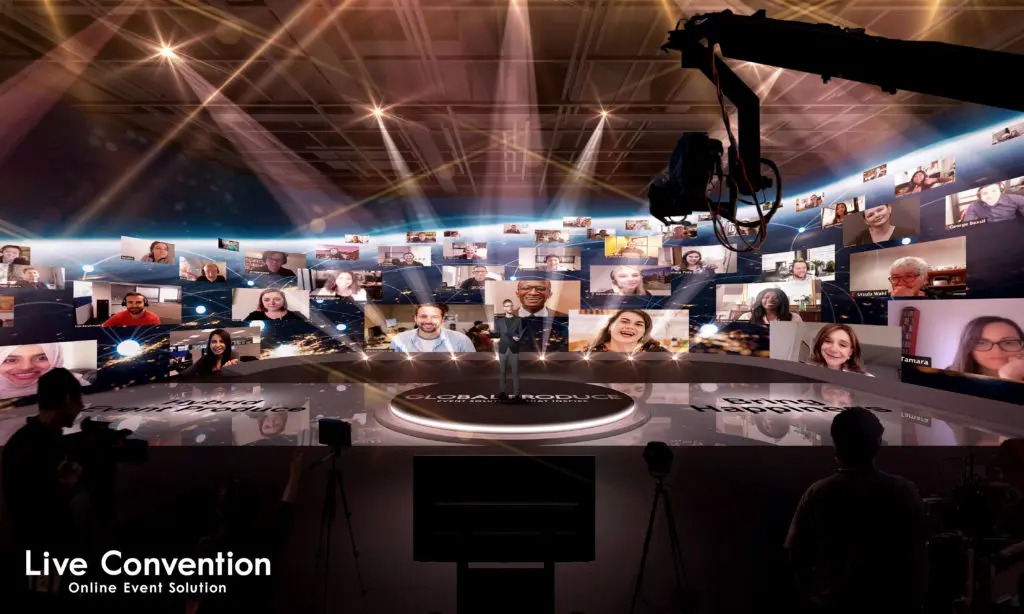 Characteristics of Hybrid Events
One of the main features of hybrid events is that "participants are able to attend the same event both live and online" and that "they can feel a sense of unity that they are attending the same event regardless of their location". Online participants can participate from anywhere in the world as long as they have access to the Internet.
For example, we can prepare quiz contents that can be solved through combining "facts that only online participants are able to know" and "facts that only live participants could know", or to stage events that make the most of various viewer locations, such as bringing together the faces of members of branch offices scattered around the world on a large screen at the live venue.
The Social background of the establishment of hybrid events
Hybrid events spread rapidly around 2020. This was largely due to countermeasures against the Covid outbreak in 2020. Ironically, the rapid spread of teleworking and videoconferencing tools as a countermeasure against the pandemic has lowered the physical and psychological hurdles to online events. There is also the circumstance that it has become more difficult to hold events in real life due to the restrictions caused by the pandemic. Hybrid events have quickly become the mainstay of event organization in response to these circumstances.
Advantages/Disadvantages of Hybrid Events
Hybrid events is an event format that can combine the best of both live and online events, but there are both advantages and disadvantages. It is important to keep both advantages and disadvantages in mind when planning.
Advantages of Hybrid Events
Participants can attend the event at the same date and time, regardless of their location.
There is no limit to the number of participants who can attend online.
Save on lodging, transportation, and other expenses compared to having everyone participate live.
Interactive communication is possible through the use of chat tools, etc.
The use of 3DCG backgrounds and other media can create an extraordinary event design.
Disadvantages of hybrid events
Internet access needed.
There are distribution risks such as connection failures.
Support for online participants is required for technical problems, operations, etc.
The Internet conditions of online participants and their viewing devices may affect the event.
Many of the disadvantages of hybrid events are related to internet connections. Although this is likely to be improved in the near future with the development of 5G and other technologies, it is important to take proper measures as it's the fundamental basis of whether or not the online guests are able to participate in the event.
Key points for implementing hybrid events
The most important thing to remember when holding a hybrid event is that both live and online participants are able to enjoy the event content. Since the event is titled as a hybrid event, it is not intended to be just a live broadcast of the event venue. In a hybrid event, both live and online participants are the "main guests". We need to take advantage of the unique characteristics of each type of participation.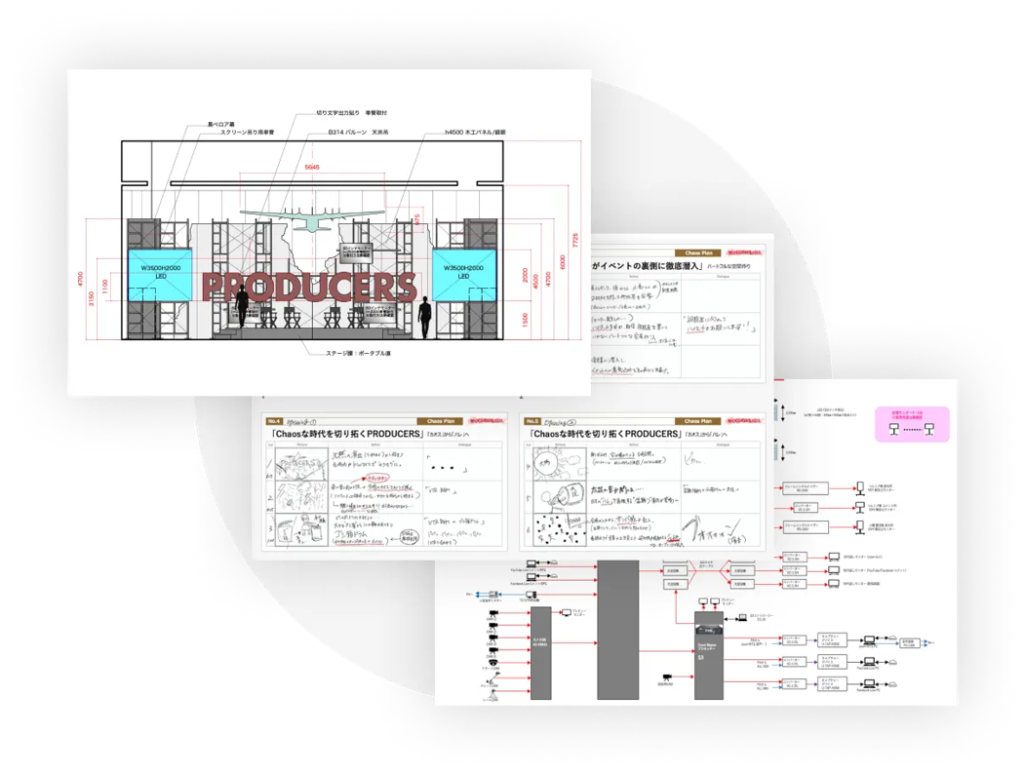 How to Organize a Hybrid Event
So, what exactly should be done to plan and hold a hybrid event?
As the name suggests, a hybrid event is both a "live event" and an "online event", so both live and online preparations are required to hold the event.
It is important to consider the 5W1H (When, Where, Who, What, Why, and How much) for both live and online event planning perspectives.
When
The date of the event. The basic premise of a hybrid event is to "hold it on the same day and time" for both live and online participants, so set a time that is convenient for both types of participants.
Where
The location of the event. For live participants, you can either "gather them in one place" or "set up cameras in several branch offices and connect them via the internet".
For online participants, it is important to choose the suited platform, such as Zoom, Teams, YouTube Live, etc.
Who
The key to a hybrid event is the balance between live and online participants. There is no right answer to the ratio between real and online, it varies from event to event, so it's important to vary it according to the concept of the event you wish to hold.
What
The planning and purpose of the event will vary greatly depending on what the event is about. Whether it is a kick-off, an awards ceremony, an internal communication event, PR, etc., we need to clarify the theme of the event before planning.
Why
Hybrid events are no longer a substitute for live events; they are a distinct form of event planning. Therefore, the key to a successful event is to clearly define "why a hybrid event?"
How much
The budget is one of the most important considerations when organizing an event. Hybrid events use both live venues and online streaming, so it's essential to allocate a budget to ensure that the event will satisfy both participants.
With these factors in mind, let's start organizing a hybrid event.
The ideal streaming platform for hybrid events
The key to the success of a hybrid event is the streaming platform. The streaming platform can be described as "the method by which online attendees participate in the event".
There is no absolute right answer to this question. The best streaming platform depends on the size of the event and the company's situation.
However, there is one thing that can be said. It is that the most suitable platform is the one the online participants are used to.
No matter how sophisticated the platform is, it's difficult to use if you've never used it before. Also, it is easy to have problems such as, not connecting when the application is hurriedly installed on the day of the event. In this respect, a tool that the participants are familiar with is safe. Although security and the number of participants online may be a factor, try to choose a platform that has been used by the majority of the online participants.
Corporate events held as a hybrid event
So, what kind of corporate events are actually held in a hybrid format?
Hybrid events can be held for a wide variety of events, and is safe to say all kinds of corporate events are suited for the format, it all depends on your ideas. Specifically, the following events have been held in a hybrid format.
Kickoff Events and General Meetings of Employees
Events such as kickoffs and general employee meetings, where all employees gather at milestones, are perfect for a hybrid format. Various methods are possible, such as having the board members and president participate in real life in a studio, while employees participate online, or having cameras at each branch office and connecting to a live webcast.
Awards Ceremony
Although most people think of awards ceremonies as being held live, they can also be held in a hybrid format. For example, with the board members and award recipients participating in the ceremony at the actual venue, the other members can participate online and send congratulatory comments in real time, or connect to branch offices via videoconferencing tools.
Conferences
Conference events can take advantage of the hybrid format. The purpose of a conference event is to share information, and the advantages of a hybrid format can be maximized by increasing the number of participants without having to consider the capacity of the venue. The live format of a conference event can also be used to deepen discussions, for example, by gathering experts in the live venue and allowing online participants to ask and answer questions via chat functions.
Anniversary Events
Anniversary events, which are the best havens for companies, also lend themselves to hybrid hosting. This is especially true for companies with thousands or tens of thousands of employees and branches around the world. Some anniversary events also incorporate a promotional element, and in this case, since public participation is expected, the hybrid event can take advantage of the hybrid event's ability to increase online participation.
How to Organize a Hybrid Event
A hybrid event is just one of the formats of an event. Therefore, the flow of organizing a hybrid event has many points in common with other event formats.
1: Determine objectives, analysis of participants, and promotion structure
First of all, we need to decide on the purpose of the event, analyze the event participants, and who will be in charge of the event from planning to the event day. This process itself is the same as for other events, but the "analysis of event participants" is a factor unique to hybrid events.
Hybrid events are divided into "live participants" and "online participants". Therefore, it is necessary to analyze both parties. Not only the attributes of each participant, but also the ratio of live : online participants will be deeply involved in the planning process, so it is recommended to analyze this point carefully.
2: Create and prepare a specific plan
Based on step 1, we will create a concrete plan. Because of the technical nature of hybrid events, it is difficult to hold them solely by the hosting company, so in many cases, an event planning company is requested to handle the event. In such cases, it is important to build a solid cooperative system rather than leaving the event planning to the event company.
Case Studies of Hybrid Events
So, what kind of hybrid events have actually been held? Here are two examples from our own experience!
Case Study A: Kickoff Event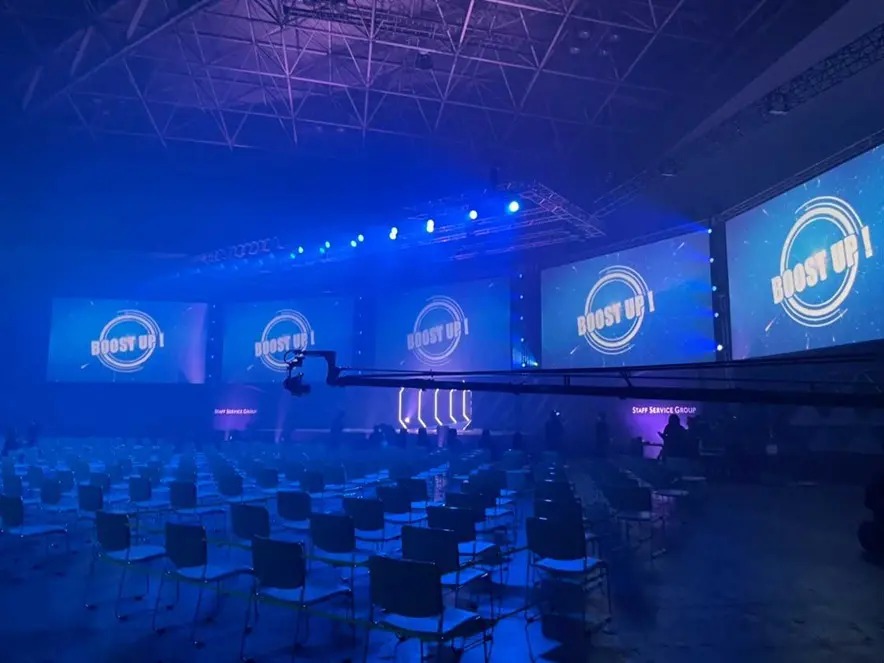 Participants: 1500 live participants (employees in the Tokyo area)/1000 online participants
Venue: Tokyo Big Sight
Features:
This is a hybrid event with a 3:2 ratio of live and online participants, with the live participants outnumbering the online participants. In response to the client's request for a kick-off event that convey the company's policies to as many employees as possible and that both live and online participants are satisfied with, the theme of "Acceleration" was expressed through a video that was shown on five 400-inch screens. In addition, a total of eight crane cameras and live cameras were installed to the venue. In this way, we created a constantly stimulating streaming content that would be joyful for the eyes of the online participants.
Case Study B: Conference Event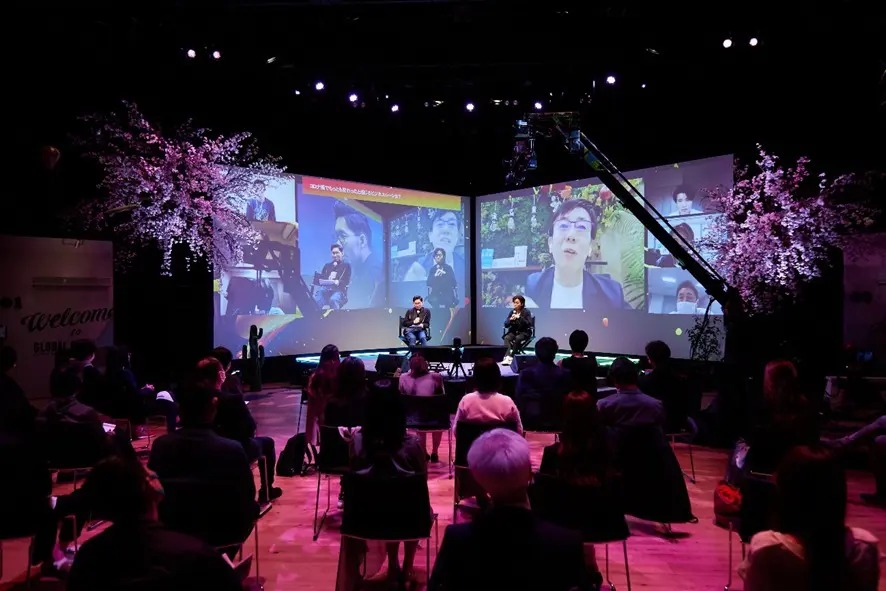 Participants: 50 live participants (invitees) / 3000 online participants
Venue: Event Hall (Tokyo) & Online
Features:
This was a talk session-centered conference event with a team of business-savvy speakers who will discuss the state of business and communication in the new normal era. A major feature is the attention to camera work with 11 cameras installed. The camera work achieves the important perspective of conference events, which is to create a streaming screen that you will never get bored of. In addition, screens were arranged in a V-shape to wrap around the venue space. Taking advantage of the strength of the hybrid event, online viewers were shown on the screen, and live talk sessions were held between live and online speakers.
Key points when hosting a Hybrid Event
There are several key points to organizing a successful hybrid event.
Point 1: Sense of Unity
A "sense of togetherness" determines the excitement of the event and raises the level of satisfaction among participants. In the case of a hybrid event, there are both live and online participants, so it is essential to create a program that allows participants to feel both a "sense of togetherness in each location" and a "sense of togetherness between each location". In particular, online participants are less likely to feel a sense of togetherness than live participants, so it is important to make full use of the comment function and survey function to give participants a tangible sense of involvement in the event.
Point 2: Immersive experience
Immersive experience can also be described as "the ingenuity to keep you from getting bored". There is nothing more disappointing than to be left cold during an event. It is important to create visuals that is not only interesting, but also visually engaging, by incorporating the content of the program, the lighting and decorations of the venue for live participation, and the camera work and computer graphics for online participation. It is also effective to include participatory programs for both live and online participation.
Summary
Hybrid events are the standard for future events and will continue to evolve as an event format. By attempting to maximize the strengths of both live and online events, the effectiveness of the event can be multiplied many times over. Please try and organize your one and only hybrid event!