Music videos are full of ideas!
2020.06.19
Hi everyone, this is Miyanaga.
I'm sure there are quite a few people who have moved to remote work due to the new coronavirus.
If you look at the various industries… apparently, it's not just office workers who are busy being remote.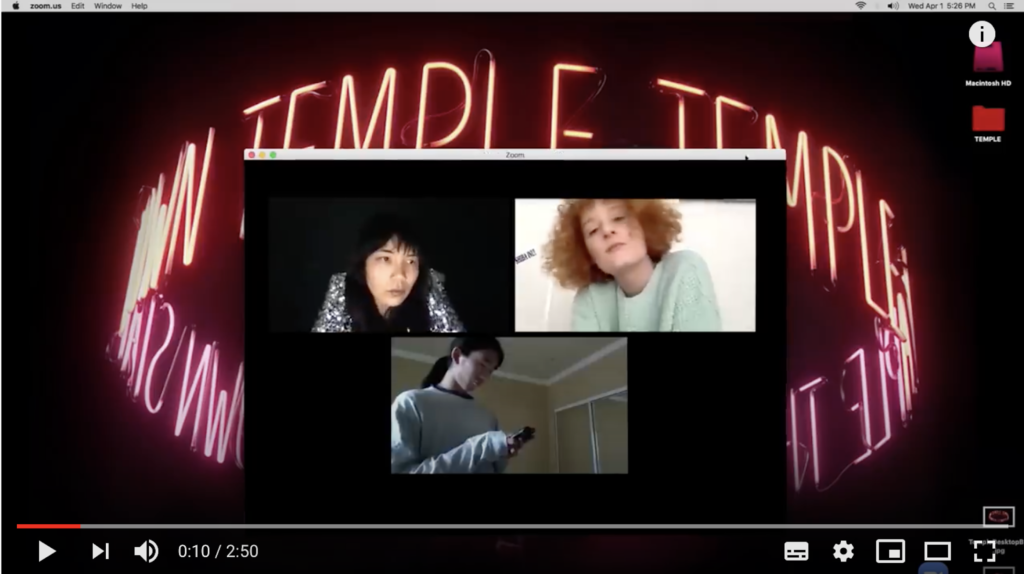 For example, the music industry.
Many artists from around the world are taking advantage of the period of restraint to create music videos remotely.
'We create the best we can without professionals,'
The pinch caused by Corona has led to an evolution in the power of ideas and creative power.
There's a lot we can learn from this, not to mention ideas for making videos using smartphones and editing tools, but mindfully, there's a lot to learn from this!
So, I'm going to share with you a collection of music videos filled with ideas that were born out of the remote!
Five ideas of music video
Thao & The Get Down Stay Down "Phenom"
This is the music video for the American band Thao & The Get Down Stay Down.
They were forced to stop filming the music video that was originally scheduled to be shot due to the lockdown.
However, because of this situation, they were able to come up with an idea that could only be made now.
Here it is!
What they have chosen for their music video, it's the hottest and most familiar "zoom" of all time.
Right from the start, you'll be thinking, "Oh, I've seen that screen before…" and you'll get it.
The music video, which came about after five hours of elaborate strategy meetings, is full of visual ideas. If you watch the video, which is spiced up with ideas rather than technology, you'll be like, "This is great.
Cody Simpson, "Captain's Dance With the Devil'
Singer-songwriter Cody Simpson is also known as Miley Cyrus' lover.
His new music video for "Captain's Dance With the Devil" is also an explosion of creativity.
The director of the music video, which was made at home despite the restrictions on going out, was his girlfriend, Miley Cyrus.
Divided into six screens, the video, which shows various aspects of Cody's life, invites the viewer into their world with beautiful colors and emotional music.
(And even the beautiful footage can be created by you with the help of an app!
The main source of inspiration was a box full of NARS lips that Miley had been organizing He said. A cosmetic product that he usually doesn't pay attention to was interesting and iconic in his eyes… he's been home for a long time. That's why you're aware of it. Artistic work is born from the slightest awareness.
Asaginiyo "Fluffy Spring"
Next up is the work of Japanese artist, Asaginiyo. Next up is a Japanese artist, Asagiyo, whose creativity is as impressive as that of the foreign artists.
This music video was made by the planner at content studio CHOCOLATE Inc. was filmed at the homes of fans who gathered to shoot at home, use zoom backgrounds, etc., and of course So many pets! This is a style that involves the people around you. The screen is overflowing with animals – it's hard to look away .
In the comments, she said, "I made this music video with the intention of enjoying my time at home more than anyone else. I thought that if you change the way you look at it, you can enjoy the little things that we do at home in many different ways. We've shot it! I wrote.
We need this view, in any situation at any time. I think creators and planners who can have this mindset are the strongest in any industry. ?
SPECIAL OTHERS "WAVE"
SPECIAL OTHERS are an up-and-coming band that made their major debut on June 7th. The spread of the new coronavirus which struck at the important time of their major debut, but they had to refrain from playing at all times. This phenomenon has ignited their creative minds and raised their profile The music video was made by the members and staff of the band.
This music video was made by the members and the staff remotely with their ideas. The scene was shot using their phones, and the child creepy that makes the scene uneven depending on the frame of the video The work.
What I also thought was "cool" was the use of a drone to take pictures of the city.
I took this photo of a t-shirt hanging from a drone, floating in the streets of Tokyo, but this is self-restraint! Choosing 'a video that can be shot now' for a music video created in this situation is true It's taken! I think it's such a cool thing to do.
OK Go, "All Together Now"
American band OK Go has always been the talk of the town with their unique music videos.
Their new song "All Together Now" was written with respect for the essential workers, such as medical workers and grocery store clerks, who continue to go out and work for people even during the period of self-restraint.
In addition to shooting the music video, each member wrote and recorded the song during the lockdown. They have done everything…….. It's just 'only in this day and age', isn't it?
We were in lockdown, so of course, the filming was done inside the house.
Wouldn't it be more interesting to film in a house? You might think that's a good idea.
But here it is.
Playing a toy piano, opening a closet to find a member… it's all about the nostalgia and positive moods that are unique to a home.
It's a reminder that there are many "interesting ways to show things" in our lives.
Conclusion.
The new coronavirus infection has been a devastating blow to artists around the world. Concerts, major promotions, cancellations of productions, and many other burdens that had never been experienced before. It weighs heavily on people. The same is true in the entertainment industry, which we are involved in, of course.
In this environment, many artists are creating their own ideas.
There are new and interesting things that are born out of this situation.
A pinch is an opportunity. Opportunities to take a leap of faith may lie in this unexpectedly good timing.