Which Live Streaming Platform is easier to use?
2020.06.12
Hello! I'm Fujiwara.
There's been a lot of talk about live streaming lately!
Although measures against coronavirus infection are the starting point, there are many companies that are thinking "Let's take this opportunity to start live streaming".
When you decide to make a live delivery, the first thing to think about is "What live streaming platforms are available" and "Which live streaming platform is the best?
However, even when you do your research, you'll find the same information written on websites, making it difficult to understand the differences…
So in this article, we've compared the most commonly used live streaming services today.
It's a comparison based on GP's actual use of these services. If you're thinking "I don't know what live streaming services are…", please read on.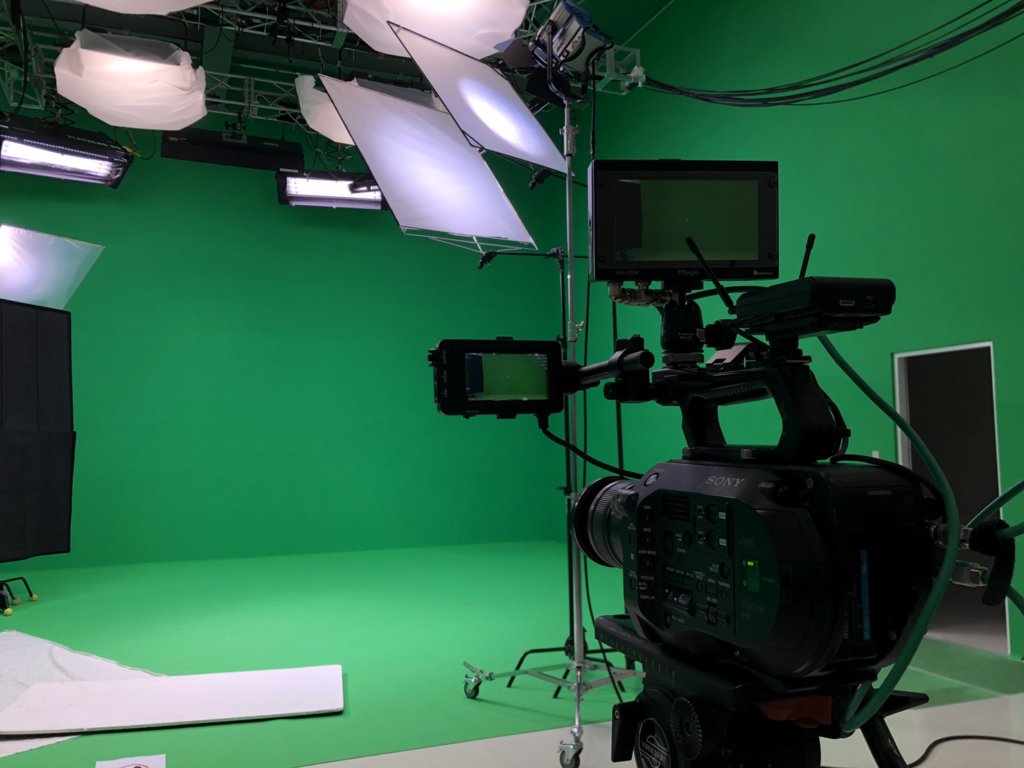 Live streaming services, what should we check out?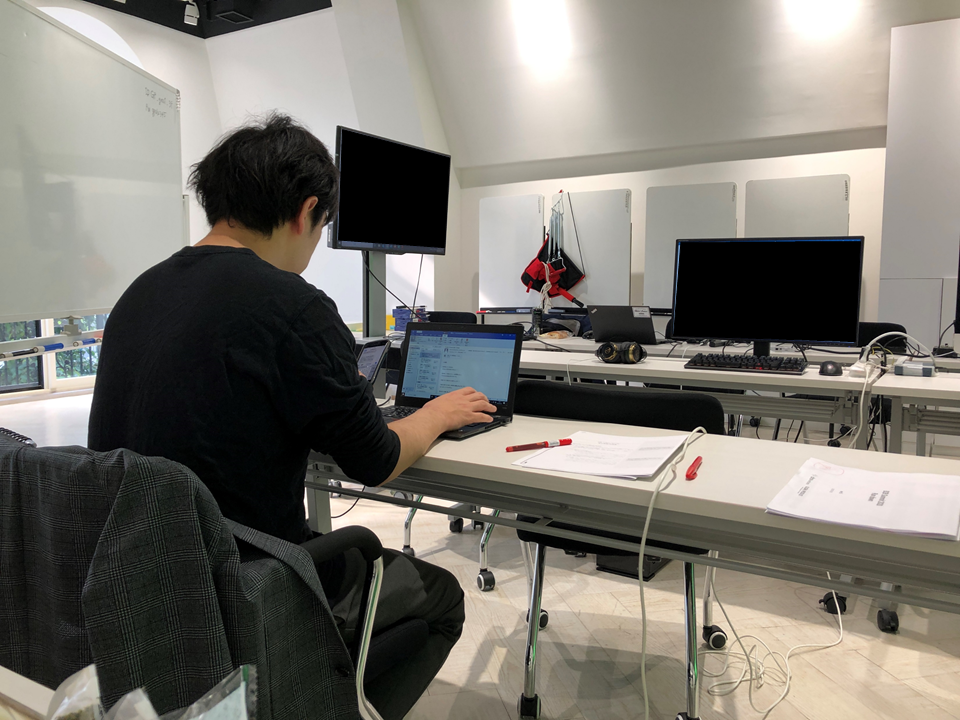 Before introducing the specific LIVE delivery service, we will tell you about "the points to check when choosing a LIVE delivery service".
The main points to check when choosing a LIVE delivery service are the following four!
Number of participants
cost
Image and sound quality
time lag
There are many other differences such as security, commenting features, and recording, but I recommend focusing on these four things when narrowing down the service first.
Number of participants
This is the number of participants who can watch the LIVE stream at the same time. If you don't know this, you won't get started.
It is also the point at which there is a big difference between services.
Please note that the number of participants that can participate in a LIVE delivery may vary depending on the price.
The cost of the service
It goes without saying, but the cost is also important.
Especially in the case of live delivery, there are companies that have a plan for live streaming only, some include it in their service packages such as video conferencing, and some add it to the basic plan as an option, so there is a big difference between companies.
If you want to keep your costs low, it is important to check if the web conferencing system you are already using is compatible with the Live Streaming Service.
Image and sound quality
If the picture and sound quality are bad, it's no good.
Of course, the best thing to do is to have both of them beautiful, but depending on the content of the event, there may be a case to prioritize one over the other.
Also, it depends on the content of the delivery, such as whether you want to broadcast live from the venue in real-time or deliver the video recorded in advance.
Time lag
The "time lag" is a unique feature of the live streaming that is not available in real events. This refers to "the time lag that it takes for the video and audio to reach the viewers after it is delivered. In the case of it, there will always be a time lag unless there is a serious problem.
Understanding the speed of the lag is very important to understand the timing of the audience's response.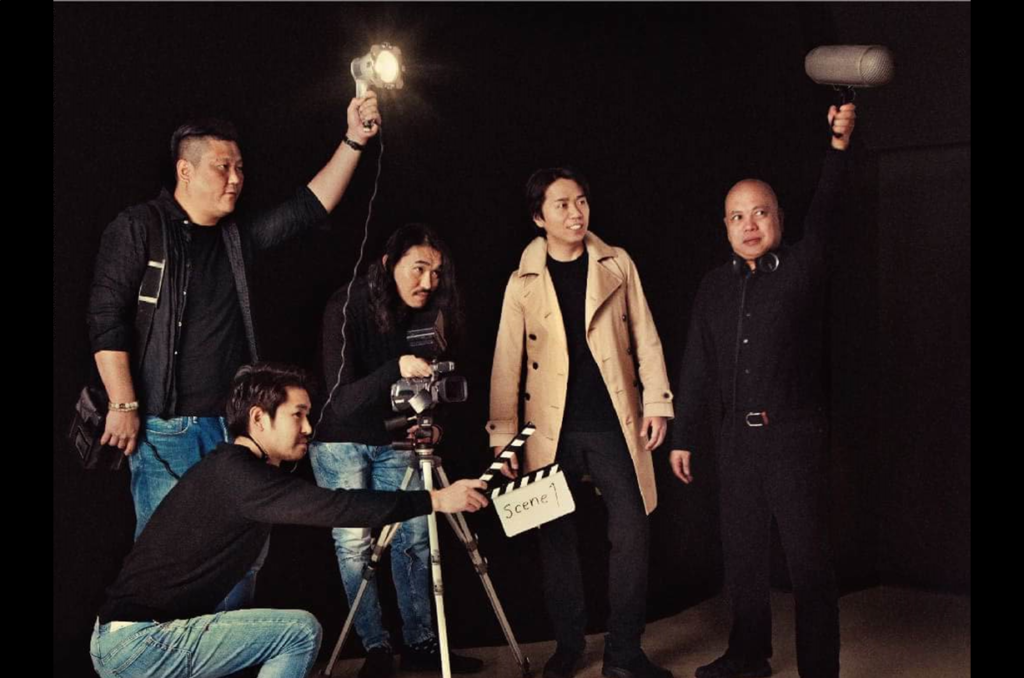 What live streaming platforms are available?
Once you've got the key to comparing services!
There are quite a few live delivery services, including small-scale ones, but this time we've chosen the four platforms with the most users.
As a trend, companies that offer web conferencing and video streaming services tend to offer live as well.
zoom
zoom, which got a lot of attention when it became telework, has a distribution feature called 'Webinars'.
Webinars are paid for and the number of participants varies depending on the plan, with a maximum of 10,000 people able to participate.
Microsoft teams
Microsoft teams is Microsoft's tool for video conferencing, and one of its features is a live broadcast system that allows up to 10,000 people to participate.
The key is that it's free to deliver for Office365 users with a Microsoft subscription (monthly subscription).
Cisco Webex Events
Cisco Webex Events is a live streaming platform by Cisco.
One of the features, webinars, can be used to broadcast to up to 3,000 people simultaneously. Similar to zoom, you don't need to register an account on the viewer's side, which is also important.
Youtube (Youtube Live)
The well-known video streaming site Youtube also offers a function called "Youtube Live" as one of its services.
Youtube Live is basically free, and its main feature is that there is no limit to the number of people who can participate.
However, due to the overwhelming number of users, delays can occur due to excessive access depending on the transmission time.
A comparison of the four streaming services…?
This time, we compared the four services in terms of "video quality," "time lag," "audio quality," and "maximum number of participants" based on our experience of actually testing them.
Here are the results.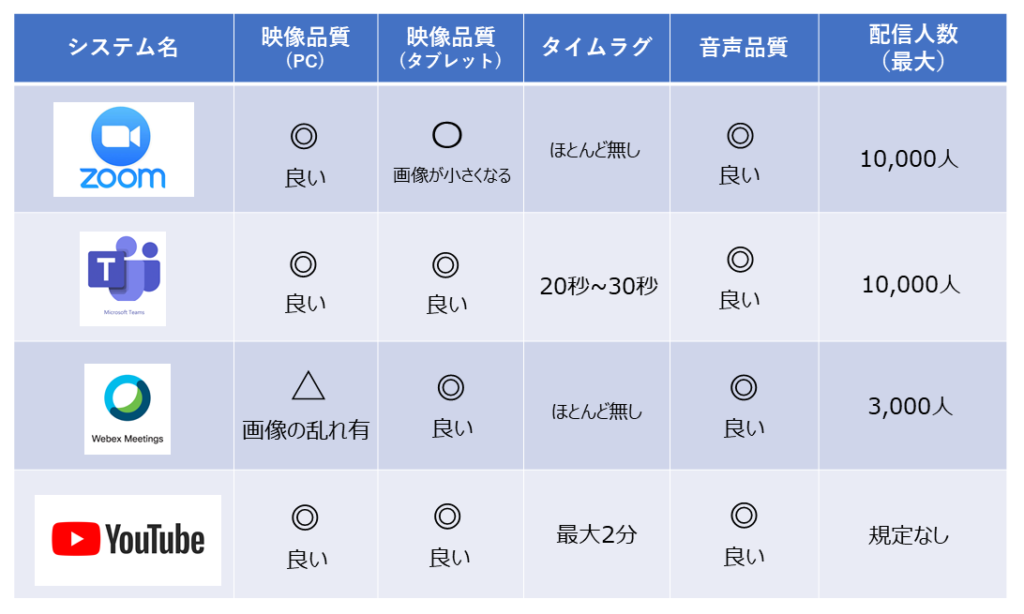 In the case of "almost no time lag", the time lag is only a few seconds.
All the companies are major players and meet the minimum standards for delivery.
The differences in picture quality, time lag, and a number of viewers were the main differences.
In particular, since the viewing medium varies considerably depending on the viewer, it is important to pay attention to it.
In addition, the table above is the data "when used when the connection situation is good". There are cases where it does not become this way depending on the time of day of the live streaming, such as weekend nights, so please be aware of that point Please note that the
As the impact of the coronavirus seems to continue for some time now, I believe that live streaming will be increasingly noticed and utilized regardless of the size of the event.
You can do it in-house or hire an event company to do it for you.
If you have an online event that you want to create, please consider our LIVE CONVENTION service!